Chat Overhaul
Today's update focuses on a totally revamped chat! It brings with it some highly requested features as well as a sleek new interface. As a bonus... no more getting stuck in the wrong channel!

One major change you will notice with this new chat is that you can only be connected to it in one window at a time. This means that if you go to the full chat page, then open up other pages in new tabs, the sidebar chat will prompt you to connect there instead.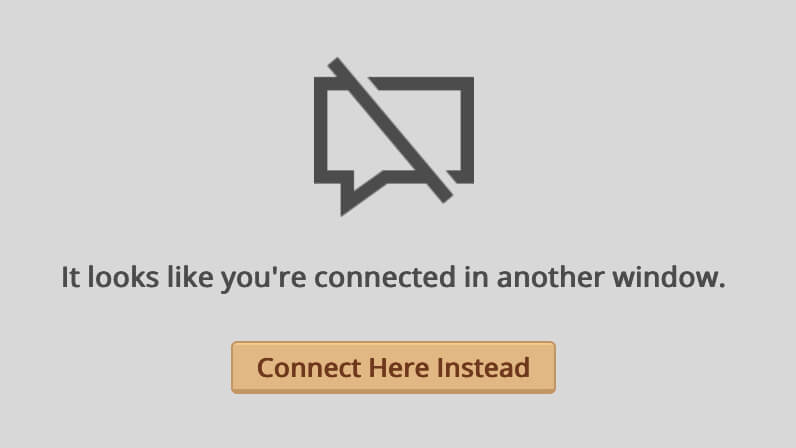 Otherwise, you can do nothing and stay connected in the full chat window. With this in mind, it's not a bad idea to take advantage of the "popout chat" and just leave that open in its own window.
Features
* Mention players in your message by pinging them by their ID (ex. "@[12345]")
* Pop out the chat into its own window
* Flag inappropriate messages to bring them to staff's attention
* Block players directly from chat
* Messages from blocked players hidden from view
* External links signified by an icon (

)
* Choose between standard timestamps or relative time
* Admins can pin messages to the chat
* Colors updated to match site themes
* A new Help channel to ask questions in!
Screenshots
Chat Menu
Clicking the gear icon gives you the option of switching "Relative Timestamps" on and off. For anyone unfamiliar, relative timestamps appear in the format of "1 minute ago", "2 hours ago", etc.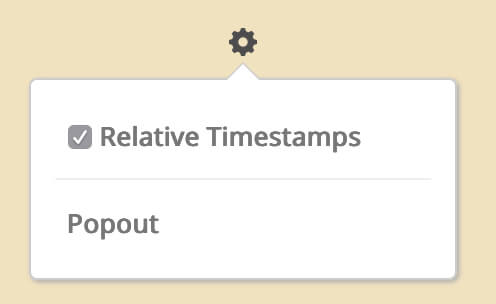 This is also where you can go to pop the chat out into its own window. Handy!
Chat Post Options
Clicking on a chat post menu gives you a few options. Ping the user, copy the message to your clipboard, flag the message, or block the user. Although you can't block yourself...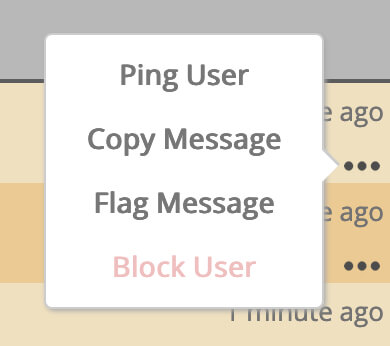 Character Counter
Ever wonder how close you are to hitting the character limit in your message? Wonder no more! A live count shows you exactly how much space you have left.

The closer you get, the more red the counter becomes. Don't worry though, if you somehow manage to go over, the chat will let you know.
Updated to Match Site Themes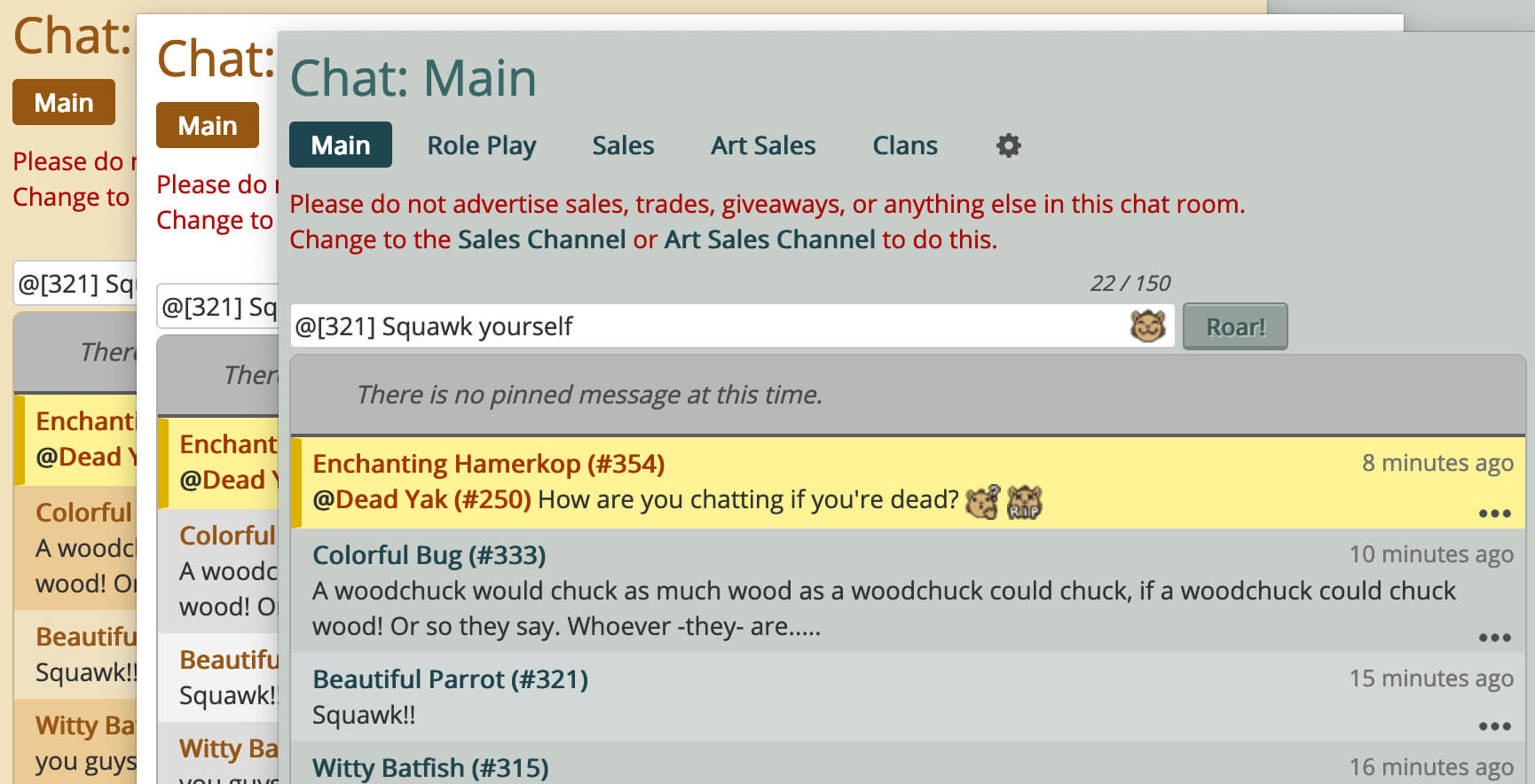 This chat represents a major overhaul, and it is possible there will be some kinks to work out. We have tested the chat in the major modern browsers on Windows and Mac (Google Chrome, Firefox, Safari, Microsoft Edge, and even IE11) as well as a variety of mobile devices (Samsung Note, iPad, iPhone, Kindle HD, and several others). With that being said, it is likely there will be issues with some devices and browsers. We will do our best to make the chat run on modern devices, and ask for your patience as we address any problems!

Bug Fixes
* Zorilla explore encounter had a typo
* Daily lion encounter flavour text had a typo
* "Cubs Sired" were listed out of order
* Vuka Vuka was able to be used on frozen lionesses
* Rock Salt was able to be used on frozen lionesses
* Bumping threads would wipe a drafted reply
* Dwarfism lions were showing under the Falcon's Eye despite being visible from birth
* Explore was prompting players to use Energy Boosts that were entered in raffles
* Eyeless submales were able to patrol
* The Giving Tree would give an error about "cubs" when trying to claim "adolescents"
* A Hyena Stripes marking appeared in the Hyena Spots applicator dropdown - even if not usable, it shouldn't have shown up
* Incorrect links in Unsorted Beetle Mounds
* Certain karma encounters displaying, despite not having access to that karma level
* Leveling up would cause main male markings in slots 11-20 to disappear temporarily
* Mass-leveling and moving lions to different caves would display the wrong text
* Patrolling page still mentioned a 15 minute cooldown time
* The personality chart has been updated with proper information
* Personality masks were unable to be purchased when set to the "Applicator" category
We've cleaned up our Bug Boards from any outdated or irrelevant threads - it should be much easier to find a pre-existing bug now!

Decors!
The following decors are now able to be crafted under the Monkey Business crafting area.

Flamingo Chick > 15x Flamingo Feathers

Greater Flamingo > 30x Flamingo Feathers + 1x Flamingo Chick

Leaf Crown > 15x Underbrush

Honey Bush Crown > 15x Honey Bush

Leafy Sarong > 30x Large Leaves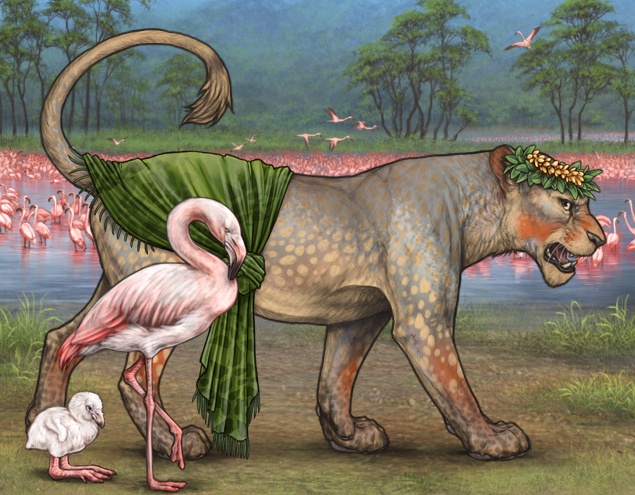 The following decors are now able to be purchased from
Monkey Business
.

- Marbled Emperor

- African Moon Moth

- African Queen Butterfly
The following decors are now able to be won from scoring 4444+ in
Serengeti Shuffle
.

- Black-Eared Mantella

- Beautiful Mantella

- Short-Horned Chameleon

- Brown Mesite

- Coquerel's Coua

- Sitting Fossa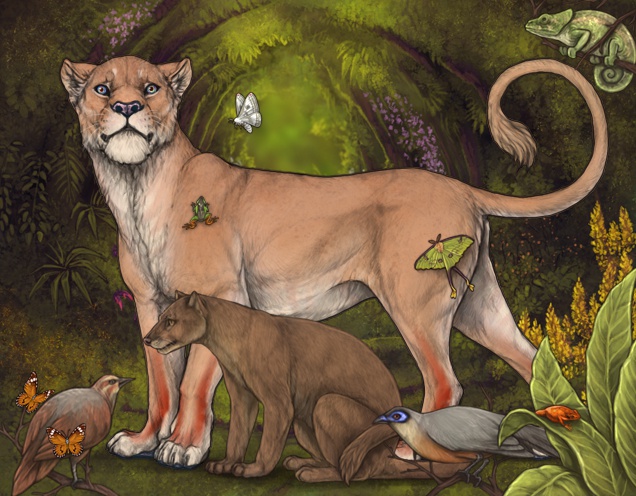 New Gorilla Enclave Theme!
The
Gorilla Enclave
has been updated with new themed decors, based on the India polls - this time, it's the Deccan Forests!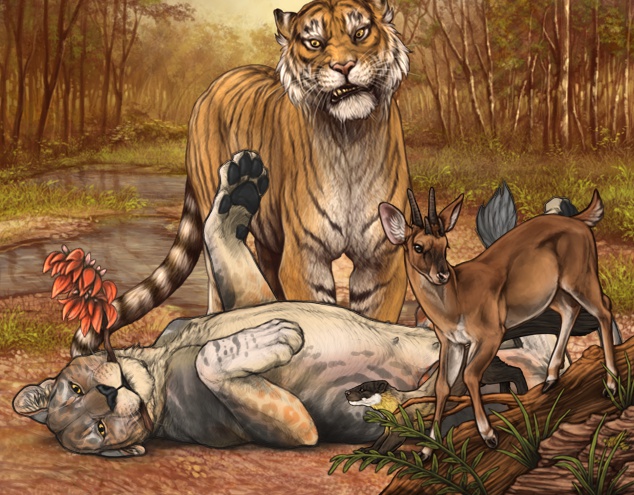 - Deccan Forest BG

- Yellow-Throated Marten

- Four-Horned Antelope

- Gaur Calf

- Chital

- Palash Flower

- Bengal Tiger

Art Fixes and Updates
* Maned Elbows decors have been updated for Blade, Hellraiser, Pariah, Regent, Royal, and Sideward manes
* Battle Beetle Platerodrilus: Ruficolis stages now show up
* Fixed some new decor art that was missing for lion headshots
* Seychelles Parakeet has been fixed for Kind poses
* Striped Hyena Collar has been fixed for Snarky poses
* Fixed missing Clawless art for Thick mane
* Fixed Zarasa, Zarbanu, Zarin, Zer, and Zivar manes not showing up for Dwarfism males
* Fixed Leopon adult female's missing tail tip on the Sorrel base
* Fruit Bats has been updated for Crested manes
* Angel Wings and Black Wings have been fixed for cub stages
The Monkey Business mandrill NPC has been refreshed with new art!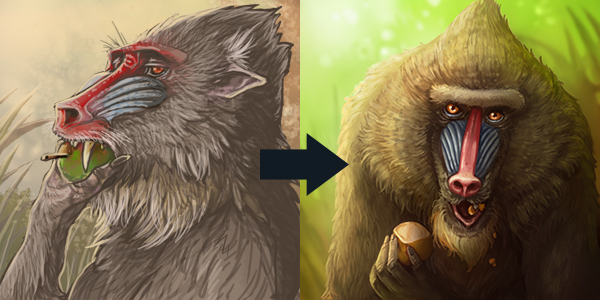 The
art tutorial thread
has received an update!
Snow Leopard - step by step with text
-
NEW!
- warning - large file!
Merry Gray Wolf - step by step
-
NEW!
- warning - large file!
Bengal Tiger - step by step
-
NEW!
- warning - large file!
Big Black Wolf
-
NEW!
Few frogs 1
-
NEW!
Few frogs 2
-
NEW!
Frog, Old Lioness Encounter, Cape Cobra
-
NEW!
Brown Hyena Decor - step by step
-
NEW!
White Tigon Cub
-
NEW!
Pale Chanting Goshawk
-
NEW!
Squabbling Scavengers
-
NEW!
Starving Young Wildebeest
-
NEW!
Also, enjoy some speed art videos!
Tiger Train - Tree Branches encounter
-
NEW!
Timelapse: Twitch livestream recording - Tefnut's Nebula, Fennec Art Redo (april 28th 2018)
-
NEW!
- SEIZURE WARNING - flashing tools

Vix's King Design Contest!
The results are in - congratulations to the winning design, submitted by sadieS2DLabradorite11vitPrimal (#62563)!
Three other runner-ups have been chosen, which can be viewed in
this Imgur album
. Vix's king will be edited when Vix has some time, and prizes will be sent out later today.

Raffle Lioness
Congrats KitKat12 [UnholySmilus] (#113074)! You have won last week's Champagne lady, with the third The Drakensberg background!
A new Orchid lady with Dim Red, Feline 4 Dark Brown, and the fourth Lake Nakuru background is up for impressing in the Special Lioness area in Crossroads, or in the NEWS section under the News Post list!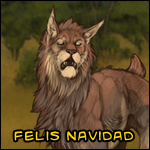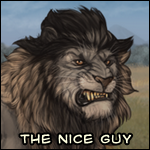 Tags!
Shad has added new tags this week in the
Appreciation
,
December
, and
February
categories!
Additionally, as warned before, Egyptian themed decors were removed from Gorilla Enclave to appear in June later. (Ankh Scar, Egyptian Makeup, Idol of Bastet, Seth and Thoth, Isis wings, Anubis Mask, Buried Sekhmet, Temple of Edfu)
Poll results:
Ahh... obviously you want ALL the glowing things, but your scarce votes in specific choices give us idea on what to focus on more!
LINK
- New poll! How about those green bases? Perhaps you wouldn't like them appearing within normal breeding, or.. you would? Let us know what your thoughts are on the first non-combo green bases we could add, other than the planned Moss Agate base!

Next Update: Community Update - February 15th!
Next Big Update: March 8th!!