Community Update:
As we mentioned before, aside from event news and the 2nd Friday of the month being focused on coding/art updates all at once, all other Fridays are centered around the community!



Official Lioden Raffle
LINK
- this is our Official Lioden Raffle. Everyone gets a chance to win a rare prize + something extra for runner ups. It's a very minimal ticket price, 1 ticket per account to make it fair!

Good luck!
This raffle will automatically end on 2019-03-01 00:00:00.

Ticket Review System
Following yesterday's post regarding anonymising the moderating system, we've implemented a new
ticket review system
for all players. When a staff member has handled your ticket, you will get the option to rate it as either:
Poor
,
Okay
,
Good
, and
Great
. There is also a comment box for you to add additional feedback on top of your rating!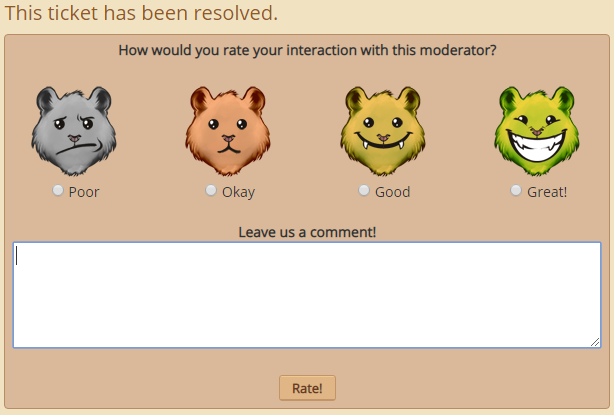 Be advised that moderators are not able to see your rating, and your feedback will be used to help improve how we moderate. If you feel that a staff member did a particularly excellent job handling your case, you can mark the ticket as "Great"! However, if you feel as though the situation wasn't handled as best as it could have been, and you have some concerns with how it was dealt with as a whole, you can mark it as "Poor".
A "Poor" rating on a ticket will immediately flag it for admin's review. While not all situations will warrant a response from us, you may be further contacted if we need more input. We cannot relay back any information on the outcome of our intervention with the moderator as this still falls back into 'player punishment', and we cannot discuss this. However, if we feel a mistake has been made, we will let you know. Hopefully, this will put at ease any concerns about staff not being held accountable for their actions - this is intended to show that we value player feedback, and we want to hear how we can improve our staff functionality.
You will be able to submit reviews on tickets for up to one week after they have been resolved. Additionally, if you re-open a ticket and have the situation further looked into and resolved, you will be able to re-rate it, thus changing a "Poor" situation to a "Good" one, or even vice versa.

Raffle Lioness
Congrats Shade Of Solace (#52372)! You have won last week's Arabica lady, woo!
A new Temporal lady with Quartz Soft Unders, Bone Underfelt, and the fourth Sunset Over The Serengeti background is up for impressing in the Special Lioness area in Crossroads, or in the NEWS section under the News Post list!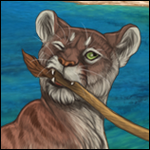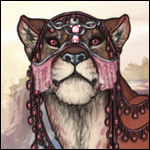 Tags!
Shad has added new tags this week in the
Appreciation
and
February
categories!
Poll:
Dynamic environmental decors and dynamic tints clearly led this poll! Thank you all for voting, we've kept this in mind.
LINK
- We'd love your input on a new marking that's being prepped for April! It's meant to match with the existing Patches marking - please give us your feedback on which shape you prefer!

Next Big Update: March 8th!
Friday goofy doodle comic: