Community Update:
As we mentioned before, aside from event news and the 2nd Friday of the month being focused on coding/art updates all at once, all other Fridays are centered around the community!



Official Lioden Raffle
LINK
- This is our Official Lioden Raffle. Everyone gets a chance to win a rare prize, plus something extra for any runner ups. These raffles have a very minimal ticket price, and there is a limit of 1 ticket per account to make it fair!

Good luck!
This raffle will automatically end on 2019-05-31 00:00:00.

Our scheduled maintenance is all done, for now! Fingers crossed that this downtime did the trick, and that our new server is settling in nicely.

May Storyline Chapter Notice
As was previously announced in May's event news post, we've added in a new chapter this year that will be unlocking at 00:00am LDT tomorrow, May 25th!
Please be aware that this new chapter will not give you an opportunity to switch between brothers - it's meant to offer some closure for you guys regarding the storyline
. The Lioden Wiki should be prepped and ready before the final chapter is launched, so you guys can see what the rewards are depending on your final choice!

Important Notice Regarding Account Information
We would like to announce that we have had a lot of members "joking" about their age in chat or in the forums. We take what you say at face value. If you "joke" that you are 12, we have no choice but to ban you as it is a violation of our Terms of Service.
In a similar vein, providing "joke" responses to security questions, date of birth, or any other private data that we hold about you will not help you if your account is restricted for any reason as we use this information to verify your identity so that you can regain access to your account. If your data is incorrect because you provided a false answer, we will not be able to unlock your account if you lose access to it for any reason (e.g. you are banned, or forget your password).
If you think you gave a false or joke answer for any of this information, we urge you to rectify it as soon as possible by opening up a Modbox ticket and requesting for the data to be changed, or emailing our support team at
support@lioden.com
. We will need to verify other information first, so unfortunately if you provided all false information when you signed up we will not be able to help you.

Raffle Lioness
Congrats Nightcutter (#52052)! You have won last week's Citrine lady, woo!
A new Fiery lady with Dim Silver, Red Crackle, and the seventh The Drakensberg background is up for impressing in the
Special Lioness area linked here
!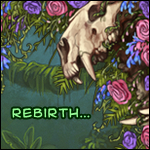 Tags!
Shad has added new tags this week in the
Appreciation
and
Miscellaneous
categories!
Poll Results
- The majority voted that we should put the old server on a boat and set it on fire, giving it a true warrior's death. It was indeed a noble old friend, and we'll be sure to treat it as such. You'll be missed, server!

We shall start the preparation and will provide live coverage from the burial!
NEW POLL
- Can you help us pick next Zimbabwe exploring area for July? :O you have to google those for visuals, but that choice obviously comes with unique decors and a matching background :D

Next Big Update: June 14th!
Friday goofy doodle comic: