Community Update:
As we mentioned before, aside from event news and the 2nd Friday of the month being focused on coding/art updates all at once, all other Fridays are centered around the community!



Official Lioden Raffle
LINK
- This is our Official Lioden Raffle. Everyone gets a chance to win a rare prize, plus something extra for any runner ups. These raffles have a very minimal ticket price, and there is a limit of 1 ticket per account to make it fair!

Good luck!
This raffle will automatically end on 2019-08-02 00:00:00.

Code of Conduct Adjustments
We have added in two new points to our
Code of Conduct
today underneath the
Community Interaction
area:
1.26 b) Some transactions may have unenforceable terms and will not be protected under this rule.
*
* Added within "1.26 Do not scam players."
1.28 Do not try to control what other people do, or how other people play the game.
From this point on, anyone that is conducting sales which aim to control how other players use the assets you have sold them will have one week from today to remove these terms from their threads or trades. If any threads or trades remain after August 2nd, our staff team will then handle them accordingly.
The Code of Conduct now also no longer lists two instances of "2.1" underneath the
Accounts & Trading
area.

Input Needed Regarding Possible New Official Systems: Art Sales and Reverse Breedings
We are aware that Lioden has a very strong art-based market. We have also noticed how popular reverse breedings have been on Lioden, and it seems they're only gaining further traction as time goes on. In order to protect players as well as to make these types of transactions go more smoothly, we are considering adding in official systems for art sales and reverse breedings.
This is where you guys come in.
We'd love to hear your input on how we can put these systems in place, your suggestions for how they can work, as well as anything else you might have to say about them!
Official Thread for Art Sale System
- please post there with your ideas, input, and opinions on an official art sale system.
Official Thread for Reverse Breeding System
- please post there with your ideas, input, and opinions on an official reverse breeding system.
Please be aware that these are both major updates. If the general feedback is positive and our coders can figure out a system that works well, they will take some time to implement.
These threads do not mean that they will be implemented; if we cannot come to a conclusion or the majority of the feedback seems to be against these systems, they may not be implemented at all.

Raffle Lioness
Congrats Lynxes 🐾 (#136933)! You have won last week's Wine lady, woo!
A new Cocoa lady with Shell Lace, Dim Black, and the ninth The Drakensberg background is up for impressing in the
Special Lioness area linked here
!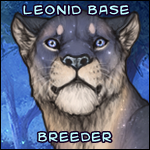 Tags!
Shad has added new tags this week in the
Appreciation
,
Breeding
, and
July
categories!
Poll Results
- The majority of votes seem to be in favour of Scoundrel having Red Medium Countershaded genetics. Worry not, though - we know Goldens need their time to shine and we hope to implement some unique Golden bases soon!
NEW POLL
- Official free studdings! How do you feel about it, and is it something you'd like to see implemented? Let us know your thoughts through this poll!
Please keep in mind that this poll is not asking if we should remove the ability to stud for currency entirely - it would only add the option to stud out your king for free.

Next Big Update: August 9th!
Friday goofy doodle comic: