I reworked this thread because I really rushed the old explanation (and drawings) of why I would like this creature to be a part of lioden.

The aspect is still the same, but I tried to get a little bit more into the scientific stuff.
Alrighty, let's start.
___

Thylacosmilus is a extinct mammal, that is believed to live in the Late Miocene to Pliocene. The interesting thing about this animal is it's unique headshape. At first glance you might think this is some really weird sabertoothed cat.




Thylacosmilus headshape, that could be easily confused with a roman nose - often found in other animals like Bull Terriers, Oriental Shorthair cats and Kladrubers - is caused by its teeth. While the other species got their headshape because humans bred them to be like this. But Thylacosmilus teeth had such long roots, they deformed its head and ended just above the orbit.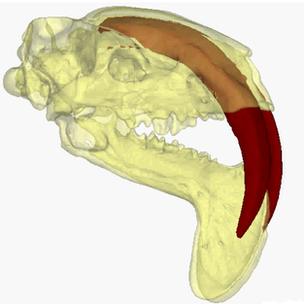 However, Thylacosmilus was not related to felines. It belonged in the extinct order of Sparassodonta and is more related to marsupials.
Thus said, I can totally understand if people don't like the idea of having a primal version based on a marsupial. BUT - lioden is a fantasy game. We have green, blue and pink bases, we also have piebald mutations, which have never been recorded on lions, but instead quite often in deers.


I actually was able to find a species, that is kinda related to cats and has a few Thylacosmilus traits. Barbourofelis was a Felioformia (still not a feline, but hear me out) and had just like Thylacosmlius very large teeth and the big chin, so the idea of cats possibly having this isn't that far.


 
Skull of Barbourofelis fricki



Apparently every Felidae belongs to the Suborder of the Felioformia, but not every Felioformia is a Felidae.
For example - humans. Humans belong into the Subfamily Homininae, just as Gorillas do. But that doesn't make the Gorilla a human. We still have the same ancestor.

It works the same for Felioformia; Lions and Barbourofelis have the same ancestor, but lions did not descend from Barbourofelis. (Btw, same goes for Smilodon and Lions)


 


Alright, enough with the scientific stuff. Time to draw what I want to explain to you guys. For this I 'catified' the skull of Thylacosmilus and this is what i've came up with:


 



The Body

Obviously I wouldn't suggest to take the body of Thylacosmilus for a Primal in this game (since it's not even a cat)...

Instead, I made my own thing. I took some pictures of floofy tigers as reference and slapped together this (in case your wondering why this pose is so familiar, I took the snarky pose as reference)


 

Hidden in the spoiler are the previous mockups I did, in case someone wants to see them


After all, the body type is a optional suggestion, this thread is more about the headshape.


______
Also, maybe check out my other suggestion for a new Primal version inspired by Megantereon?