Community Update:
As we mentioned before, aside from event news and the 2nd Friday of the month being focused on coding/art updates all at once, all other Fridays are centered around the community!



Official Lioden Raffle
LINK
- This is our Official Lioden Raffle. Everyone gets a chance to win a rare prize, plus something extra for any runner ups. These raffles have a very minimal ticket price, and there is a limit of 1 ticket per account to make it fair!

Good luck!
This raffle will automatically end on 2019-12-13 00:00:00.

Minor Wolvden Announcement
Don't forget to check out
Wolvden's landing page
which has links to all of Wolvden's social media sites. Be sure to add
mailing@lioden.com
to your safe senders list if you sign up for the mailing list. This will help make sure our emails don't hit your spam folder! If you've already signed up for the mailing list, try checking out your junk or spam folders, as we've recently launched beta testing applications.

Art Bugs Fixed
* Rabbit Fluff Collar had a transparent pixel on Adult Female Default stage
* Rabbit Fur Cloak slightly hovered above bodies for Adult Male Crested and Savage Manes
* Resurrection was clipping over manes for Adult Male Heavy, Normal, Pariah, Savage, and Sideward Manes
* Rugged Armour had an accompanying pixel border around Adult Female Evil, Good, Jolly, Kind, and Snarky Poses
* Saker Falcon had the wrong file uploaded for Teen Male stage
* Striped Hyena Pelt now covers mane tufts for Adult Male Blade and Hellraiser Manes
* War Mask: Wolf now shows up for Adult Male Thick Mane
* War Paint: Red Ribbed escaped the lineart slightly on Adult Female Default and Adult Male Blade Mane stages
Coding Bugs Fixed
* Mane Noble, Mane Succubus, Overgrown Tongue, and Primal Fangs now all properly display under their parents' "Cubs Bred" lists
* Adult lionesses with the Overgrown Tongue and Primal Fangs mutations can now have poses applied to them

Raffle Lioness
Congrats ~Wisty~ (#188132)! You have won last week's Sepia lady, woo!
A new Arabica lady with
Ruffian Soft Unders
,
Shell Lace
, and the fourth Coffee Bay background is up for impressing in the
Special Lioness area linked here
!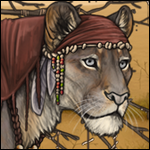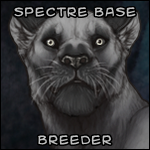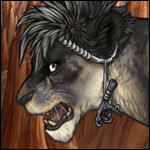 Tags!
Shad has added new tags this week in the
Beetles
,
Breeding
, and
November
categories!
Poll Results
- It looks like the most popular option for the first craftable marking set for 2020 is AWD markings, which can be crafted out of African Wild Dog Skulls.

Thanks for voting!
NEW POLL
- We'd like to introduce Feline 9 in the near future! Vote on which pattern you prefer more. Note that this is a concept phase of the design - it may get more detailed later on.

Next Big Update: December 13th!
Friday goofy doodle comic: