Official Lioden Raffle
LINK
- This is our Official Lioden Raffle. Everyone gets a chance to win a rare prize, plus something extra for any runner ups. These raffles have a very minimal ticket price, and there is a limit of 1 ticket per account to make it fair!

Good luck!
This raffle will automatically end on 2020-05-22 00:00:00.

May Event Challenge
Bored? Tired? Are the Championships not enough for you? It might be time for you to rise against the war machine and express your rebellious side! The Punk Challenge begins!
To give you all a head start on preparations, the challenge begins automatically at 00:00am LDT May 16th and lasts until 11:59pm LDT May 31st.
The challenge can be accessed via the
EVENT tab
. To activate the challenge, press the
Take Challenge
button!
This challenge only targets a personal goal this month. Each player that takes the challenge must defeat 200 Lion NPCs in Explore and breed 20 cubs with the Crested mane shape for that extra punk RUFF! Why Crested specifically? Because... the challenge's reward is the ability to breed the
Dorsal Fur
mutation!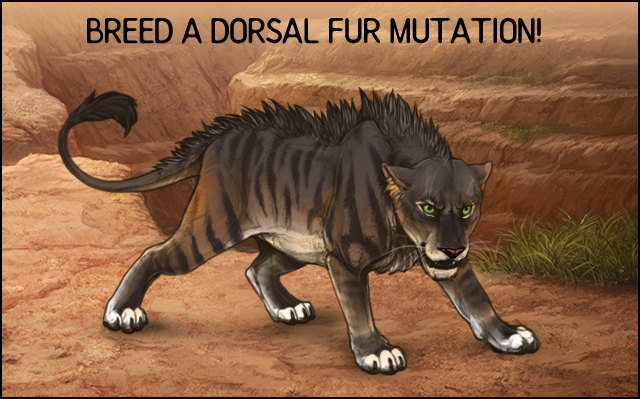 All cubs with the Crested mane shape BORN AFTER 00:00am LDT May 16th will count towards the challenge. You can breed and conceive the cubs now, the progress bar counts actual births!
Please keep in mind that the reverse breeding feature is
not
compatible with this challenge. Any Crested-maned cubs bred using the reverse breeding feature
will not
count towards this goal.
How do I get a Crested-maned cub?

If you have a Blade, Razor, Regent, or Tsavo-maned lion, those shapes have a chance to "fail" and produce Crested-maned cubs!

If you do not have those mane shapes, you can change your king's mane shape to Crested via the Mane Changer in the Oasis, then breed to lionesses in your pride.

You can send stud requests for your lionesses to Blade, Crested, Razor, Regent, or Tsavo-maned studs.

Lionesses with the Crested mane shape found in the Trading Center or claimed as Newly Claimed Groupies can be useful, too!
What are the rewards?

A permanently-unlocked "Punk" title, a permanently-unlocked unique achievement, and a temporary small battle boost effect when fighting against Lion NPCs in Explore that lasts until 11:59pm LDT May 31st!

A one-time only button that activates a mohawk breeding boost on your main male!
Upon pressing the button, the next immediate breeding from your king will result in one cub within the litter having a guaranteed Dorsal Fur mutation! The cub will have the Crested mane shape by default, regardless of what mane shape its parents have.
The button to breed the mutation will be there until the challenge ends on 11:59pm LDT May 31st. However, the button's effect will last until you successfully breed your king, even after the challenge ends!
This means that you
can
stud out the effect for profit. To safeguard all transactions, we've added the button's effect as a notification banner to your main male's page, as well as given it an entry in user logs.
Again: the button is a one-time reward for completing the challenge!
Note:
The effect is tied to your
account
, not your king. If you claim the effect and you retire your king before breeding him, your new king will carry over the effect.
Dorsal Fur??

It is a visual mutation that affects all stages
but
Cub Newborn.

It is detected upon birth.

It displays and passes
only
with the Crested mane shape.

Lions with the Dorsal Fur mutation
cannot
change their mane shape whatsoever, even with mane shape applicators or the Oasis Custom Lion tool.

Either parent can naturally pass the mutation onto their cubs at a very low chance.

Two Dorsal Fur lions that are bred together will have a doubled natural chance at producing Dorsal Fur cubs!

All lions born with Dorsal Fur will always have the Crested mane shape as well.
Get those Catnip and Lucky Feet GOING, dudes!


By the way - if we get at least 100 Dorsal Fur cubs bred by June, we could put some fancy mohawk decors into the game for June 12th's development update!

Note About May Decors
The May event decors that were delayed due to a hardware malfunction will appear in Tier 3 of the Champion Shop tomorrow!

Raffle Lioness
Congrats woofwooftails (#142574)! You have won last week's Sahara lady, woo!
A new Haze lady with
Feline 5 Noctis
,
Sidereal Shine
, and the ninth Mayombe Forest background is up for impressing in the
Special Lioness area linked here
!
Poll Results
- Wow! It looks like you guys favour the idea of V'Kai being so absolutely hyped about you during the Championships that he infects others around him with a similar excitement!
NEW POLL
- We have a game mechanic question today. Should we reinstate the ability for duplicate markings to be bred? If this is reinstated, this means that two parents with the same marking in different slots could naturally pass down multiple copies of that marking to their cubs.

Next Development Update: June 12th!