Hello! We're sorry this is a late update. It's intentionally delayed due to mostly one person handling it all while worrying about co-workers. Huge hugs to all of the staff and players, we're all in this together! Let's make Lioden colourful this weekend!

Today, we bring in content that is heavy with art, and a huge, huge project our community manager and coder were preparing for the community for months. It's a growing baby we can't wait to show off! Let's begin with the easy stuff.

Event Content Update!
We wanted to enrich the current event with extra decors! There are four new Wing Bands to buy in Tefnut's Temple.
| | | | |
| --- | --- | --- | --- |
| Interstellar Wing Bands | Skyward Wing Bands | Sunset Wing Bands | Celestial Wing Bands |
And some extra gem crafting recipes!

Jewelry: Meteorite Crown
15x Gem: Meteorite

Meteorite Choker
15x Gem: Meteorite

Jewelry: Meteorite Earrings
10x Gem: Meteorite

Jewelry: Moonstone Earrings
10x Gem: Moonstone

Jewelry: Peridot Earrings
10x Gem: Peridot
Thank you for your votes within a poll we hosted a short while ago. We tried to add the subtle body jewelry according to popular votes! There's more coming soon.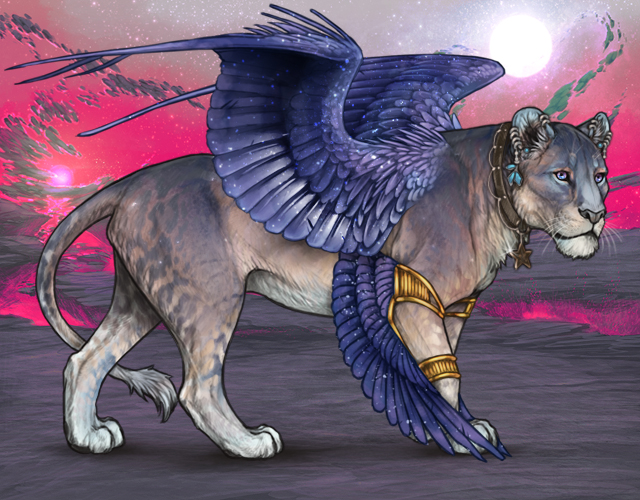 Reptile Roundup Update!
We had promised we'll try to update the older Reptile Roundup levels with new rewards, so here we go with a new batch!
These are the new rewards for
Savanna
, one of the default levels.

Chocolate-Band Snail
30 points

African Blue Flycatcher
35 points

Red-Billed Dwarf Hornbill
40 points

Gonzo Orchid
60 points

Topi Calf
80 points
And some new rewards for
Shrubland
, which is unlocked by scoring high in Liomemo!

Hedgehog Slug
30 points

Lesser Blue-Eared Starling
35 points

Guinea Eulophia
40 points

Eland's Wattle
60 points

Cape Bushbuck
80 points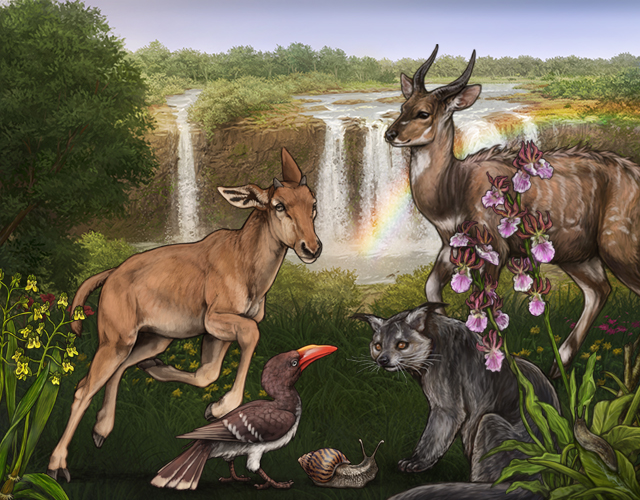 Gorilla Enclave!
This time, the gorillas have brought exotic items from Thailand! It's a beautiful land thriving with flora and fauna, and it's so hard to pick great representatives. Thankfully, we have many neighbouring countries to show off in the future in order to enrich the Southeast Asia theme in the Enclave!

Yellow-Bellied Weasel


Binturong


Burmese Ferret-Badger


Tropical Pitcher Plant


Malayan Banded Pitta


Marbled Cat


Cheow Lan Lake


Trivia Rewards!
We come with a new batch of Trivia rewards based on your poll votes from a few weeks ago. Thank you so much for letting us know what you're interested in! We hope we delivered on the requested Sphinx morphs. Personally, when I imagined a Sphinx living morph for our lions, I envisioned an Egyptian human, empowering the strength of a lion, the wisdom of humans, and the mystery of a woman, while at the same time using our lions as a base for the Sphinx. I represented all three the best I could with a balance I thought was the most nonbinary, inclusive, mysterious, and beautiful, fitting for the keeper of secrets and knowledge of the world!

Interstellar Sphinx Wings [Top]
(paired with Bottom)

Interstellar Sphinx Wings [Bottom]
(paired with Top)

Sphinx Morph: Knowledge [Ancient Onyx]


Sphinx Morph: Knowledge [Endless Wisdom]


Sphinx Morph: Knowledge [Sands of Time]


Sphinx Morph: Monolithic Paws [Red]


Sphinx Morph: Monolithic Paws [Gold]


Sphinx Morph: Monolithic Paws [Cream]


Sphinx Morph: Monolithic Paws [Black]


Necklace of Infinity


Mask of Ọrunmila


New Base!
The Golden Era has not yet ended—it just had to step back for July's usual themes. We're going back to the African-coloured bases for a little bit!
Goridhe
is a
Golden Medium Countershaded Rare
base. It's a breed-only base like Nacarat or Ebony! We hope it will enrich your breedings with a fresh look. Its name is taken from the Shona language, meaning "Gold".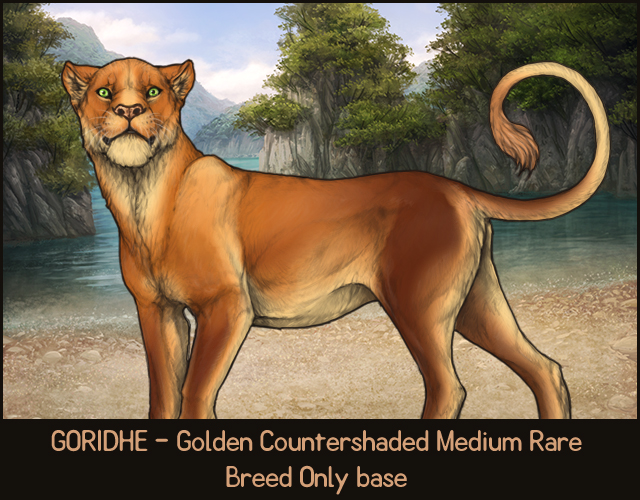 New Wiki!
On top of your regularly-scheduled content, the Wiki Team would like to announce that they are closing down the Lioden Wikidot.
... And moving to their very own
lioden.wiki
!
For the past several months, the Wiki Team has been working diligently to transition to this new platform—updating page formats, tidying up old information, etc. With this platform, they hope to provide a robust source of information that's tailored to the Lioden experience, in addition to being much more mobile-friendly!
It's easier to see which pages are popular, what's been updated most recently, and keep tabs on current events! On top of this, you can view the Wiki in the same theme that you use to play Lioden (or choose one of the others if you'd like). There are some other subtle touches for you to discover as you peruse the pages! Hint: Some elements change over
time
.
Want to look back through all the
previous doodles
? Maybe you're new here and you're looking to
get started
! A refresher on the
tutorial
isn't such a bad idea.

Or are you interested in reading through the
Civil War storyline
?
Over the weekend, the Wiki Team plans on getting a majority of any unpublished pages polished up and available for your viewing pleasure!
Any future Wiki updates will be posted on the Wiki site itself.
Thank you, Wiki Team!


What Does the Future Hold?
In a few weeks, the backgrounds for the raffle lionesses will reach their goal of "amount in-game". They will then be retired into the Gorilla Enclave. A new set will most likely be added outside of the usual Friday development update, so we're presenting them now!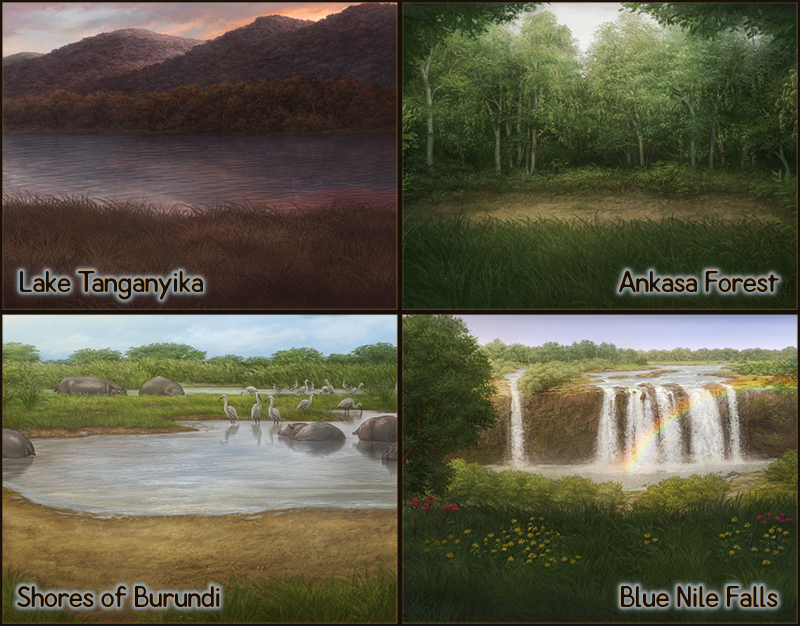 Lake Tanganyika, Ankasa Forest, Shores of Burundi, and Blue Nile Falls.

Our wonderful community manager will be picking the order for you in near future!

Art Fixes and Updates
The Cub Young stage for Dwarfism is FULLY UPDATED!
This means we are done. We're completely done updating all missing files! Anything that you find from now on is a genuine error and can be reported as a missing asset. It's a liberating feeling, although there are still a few things to update, and always something to fix or tweak—but we're very happy to announce the "Mutation File Status Page" is no longer available!
All of the Feline Applicators have been updated to include Feline 9 in their respective colours: Auburn, Ebony, Elysian, and Maroon!

Art Fixes for Lions
* Quartz skin missing for Kind pose
* Orange skin's colour adjusted for Jolly pose
* Dorsal Fur mutation missing May's event bases for Adult Lion
* Patches (Corrupted) missing a tail tuft for Teen Male
* Sunspot base colouring issue on Jolly pose and Adult Female Primal (Felis)
* Crest mane marking had ear clipping issues on Teen Male and mutations
* Rumble marking - players desired a fading retouch on some poses
* Base clipping issues with Guardian and Velvet for Cyclopia mutation
* Wrong file uploaded for Okapi markings on Cub Primal stage
* Zer-type bases missing tails for Teen Female Polycaudal
* Auburn Panther coloured wrong for Adult Female Primal (Felis)
* Incorrect file for White Dilution for Adult Female Default, Mane Noble, and Mane Succubus
* White Blaze shaping issue for Cub Young Leopon
* Merlot mane missing files for Teen Male mutations
* Fixed White Cover for Adult Female Mane Feathery
Art Fixes for Decors
* Wrong file for Forest Underbrush on Jolly pose
* Falling Ash missing on Neutral pose
* Faux Mohawk had stray pixels on Adult Male Hellraiser and Tufted
* Small Chaos Scales Ornaments had stray pixels
* Small Pangolin Tail Ornaments had stray pixels
* Embalmbed had stray pixels on various stages
* Slithering decors missing files for Kind pose
* Scar: Fallen Champion missing for Teen Male
* Baby Sun Rose had stray pixels
* Faux Fluffball Tail had stray pixels for Cub Newborn
* Thicket had stray pixels
* Wandering Tiger Snake had stray pixels
* Hare Bone Piercings not displaying on Adult Default Male and Female
* Duat Shifter - Khepri missing for Teen Female
* Doubled files for Tree Bark Leg Armour [Overgrowth] Adult Male
* Check various expression and eye decors for eye clipping - these have been set to mane-specific
* Royal Linen Wrap had stray pixels and incorrect male files
* Tutu Apparel missing for Adult Male Wavy
* Gold Banded Forester missing files for Female Cub Newborn, Cub Young, and Cub stages
* Gorgeous Bushshrike missing files for Female Cub Newborn, Cub Young, and Cub stages
* Celestite Body Ornaments missing for Teen Female, Adult Male Crested and Tsavo
* Stretching Ferus missing for Teen Female
* Wrong file for War Paint: Brute on Adult Male Sideward and smudge on Teen Female
* Event Scar: Ears clipped over Adult Male Katanga
* Falling Embers missing on Female Cub Newborn, Cub Young, and Cub stages
* All recent Pride decors were missing on Female Cub Newborn, Cub Young, and Cub stages
* All Tail Wraps had smudges on Cub Stage
* Fruits of Passion had stray dots on Cub Newborn, Cub Young, and Cub stages
* Stray shadow on Gabela Bushshrike decor for Cub and Teen Male stages
Art Fixes for Encounters
* Champion Groupie - stray pixels
* Slithering Destruction - stray pixels
Custom Decor Approval and Rejection System
We've received feedback the way we communicate the art input, critique and tips is a bit blunt, worded inappriopriately and could use refreshing in what we accept and not. I, (Xylax) solely handle them - and it is on me.
I want to apologize sincerely from the depth of my meaty heart that it is my mistake of how I approached this - a robotic, daily task, instead of sincere care of a fellow artist. A word choice with poor translations. Templates that were meant to reiterate rules but instead came off as condescending. I am very sorry, I really never meant for them to sound like that. I am only human and I want to learn and improve. I apologize very, very much if you ever felt hurt from my broken english or robotic ticket handling - it's never, ever personal. It's a problem I need to fix.
It's been a task I've taken on years ago to give artists input from heart, as they're the ones trying to match my art style and requirements our game sets - and social communication is not something I am very good at! But I want to grow and adapt to what you need.
I need time to adjust the wording of the templates, personalized input and tips, Custom Decor rules and so on. I will announce in future news when this is rehauled and I will include a bigger Art Tutorial thread rehaul as well - it gets pretty cluttered right now!
Thank you everyone for patience and your feedback on this - I am here for you, and I adore all art that comes in and out of our forums and Custom shops. You're all gorgeous. I wish I had time to browse art forums more often.

Raffle Lioness
Congrats
Sol (#209324)
! You have won last week's Sulphur lady, woo!
A new Slate lady with
Feline 9 Silver
,
White Crackle
, and the eleventh Mayombe Forest background is up for impressing in the
Special Lioness area linked here
!
Tags!
Shad has added 12 new tags this month in the
Breeding
and
July
categories!
Poll Results
- Thank you for letting us know you'd like a dedicated page to goofy Friday comics! We'll figure out something neat. :D
NEW POLL
- We're not sure how to tackle those African Wild Dog markings. Can you help us decide how they should work with colour versions?

Next Update: Community Update - July 17th!
Next Development Update: August 14th!!
P.S.! Thank you, our dear Art Team, for being amazing, producing so much incredible content every month and giving it always your best. I know it's not easy to always be on point with your inspiration, creativity and theme restrictions or fight art blocks - all of you amaze us every time.