If you buy karma fodder cubs/adols, feel free to reach out! I sell them for super cheap.
I accept all friend requests <3
PMs are always open!

I love herpetology, ornithology, and entomology.
I have lots of pets!
Good karma here, evil on my
side (a heritageless Albino with Cloudy eyes and 2 Hoarfrost marks)
.
Dream muties in order:
[] two heads (lethal)
[x] mane villous -- achieved 1/13/2022
[] mane succubus
[x] achromia -- achieved 12/15/2021, 2nd 12/25/2021, 3rd 1/21/2022
[x] female primal ferus -- achieved 12/15/2021
[x] polycaudal -- achieved 2/21/2022
[x] melanism -- achieved 1/14/2022
Ultimate goals:
own one of every lethal [0/9]
own one of every primal, both sexes [missing: male ferus]
own one of every mut [28/84]
breed every combo base [4/27]
complete beetle collection
Muties I've bred:
bobbed tail 11/16/2021
primal fangs 12/?/2021
folded ears 1/1/2022
primal 1/?/2022
piebald (clouded) 1/27/2022
primal (smilus) 2/2/2022
patches (wicked) 2/20/2022
piebald (dappled) 2/28/2022
primal (felis) 2/28/2022
patches (spotted) 3/19/2022
primal (ferus) 3/31/2022
piebald (shreds) 4/9/2022
piebald (dorsal) 5/3/2022
WISHLIST: Large Leaves, Large Rocks, Underbrush <3
CLEAN OR DIRTY? If I'm trying to breed a lion just to sell it, such as a rare or special base, I only stud clean lionesses to clean kings because it seems like no one buys dirty lions anymore lol. If I'm breeding a lion for myself I don't care if it's clean or dirty, and if I have a dirty lioness I'll breed her to a dirty stud.
Veteran member of the
TLS & DLC
and
LioFriends
! Check out these lovely clans.
Pfp done by the amazing
Kyle
in support of the
Amorphous Globosus
lethal mutation idea and the
clan
it spawned.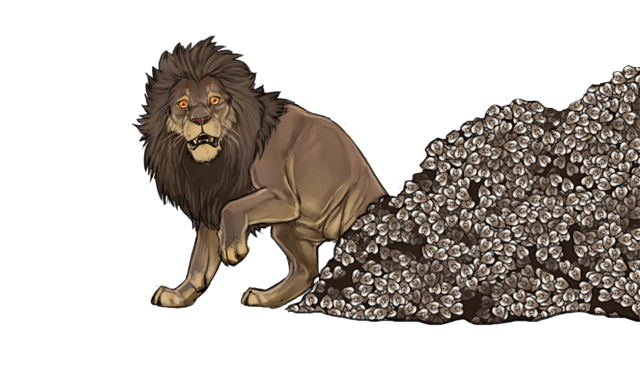 This territory has lion(s) that are aging up tomorrow and you may not have enough territory to cope with them all!