|
My Trades
|
Raffle Here! (If Any)
|
|
SB Raffle
|
Shuffle
|
Baoball
|
Trivia
|
Slots
|
|
Explore
|
Hunting
|
Cub Training
|
Business
|
Enclave
|
Clan
My Hybrid Breeding Project! (Thanks to those who are helping)
~Clicky~
Stud Ad
Meet Manger II! | G2 Duat Felis | 3x Rosette | 9 BO Traits | 7M | VLF Friendly | 300 :sb: or 1 :gb:
[Link]
To the lioden gods of hybrids I ask of you... WHY DO YOU NEVER GIVE ME ANY HYBRIDS FROM ANY HEATS I BUY? JUST LET ME GET A PON OR A GON! JEEZ, IT'S NOT THAT HARD TO JUST LET ME GET ONE! I have bought so many heats... SO MANY... AND YOU, DARN LIODEN RAFFLE GODS! JUST LET ME WIN A RAFFLE FOR ONCE! WHY DO YOU HATE ME?????????


💎 Lunar 💎 [G2
Daedal 4x ros] (#249436) Get's a heat from my DU If i ever get one :D

Goals:
Get/Breed another Pon X
Get/Breed a Tigon X
Get/Breed a dwarf ✔️
Get 20+ GB ✔️
Sell/Trade my old Pon X
Get a DU X
Get 10k SB X
Buy A Pon Heat ✔️(It didnt pass :cry: )
Win 2+ raffles X
My Hybrid Breeding Project Clan ⬇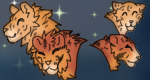 This territory has 12 lion(s) that may leave soon due to their low moods or starvation!