~~~~~~~~~~~~~~~~~~~~~~~
Hey all, Scottie here! I'm a girl who lives in NW North America, so I am constantly waterlogged. I am currently in high school, where I torture myself with AP classes and participate in theatre (I'm a two-year thespian!). I am deaf, and no I don't look or act the part. I have two wonderful Scottish terriers, and I have an obsession for coyotes, Scotties, orcas, and horses. In my free time, I play LD, ride Western style, write, and draw. I am a Christian, and I want to be a geneticist for a living, but also an author.
Obsessed with (feel free to pm me about):
~All animals listed above
~Kings Kaleidoscope
~Western riding
~writing
~the newer Star Trek movies
~M*A*S*H
~This song: https://www.youtube.com/watch?v=xl9240HWXBU
List of wonderful people:
~elle, my cousin and a smol bean. Hurt her and get rekt~ (she gets free studding to my king if she ever wants it)
This pride is a Hard Mode and Mhenga Usafi pride! That means that A) all cubs will be bred from heritageless lions and B) No inbreeding will intentionally occur.
~~~~~~~~~~~~~~~~~~~~~~~~~~~~~~
The deer smelled the feather as it fell
The bear saw the feather as it fell
the cougar heard the feather as it fell
and coyote did all three
Get a FREE visitor map for your site!
~~~~~~~~~~~~~~~~
Click my lovely OC below for cheap and good traditional art and pixel animations!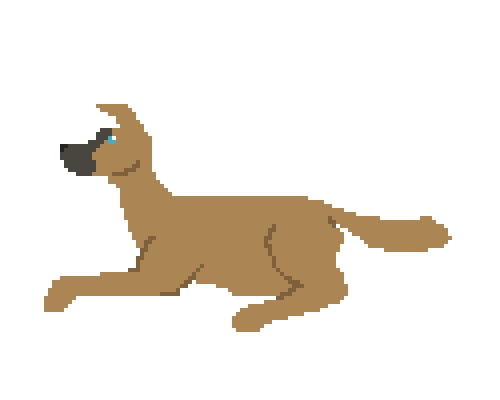 Click that adorable pup for more cute pixel pups for adoption!
This territory has 1 lion(s) that may leave soon due to their low moods or starvation!