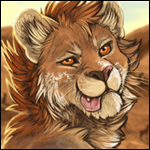 FoolsgoldFenrir

(#27778)



Unholy


View Forum Posts




Posted on
2015-05-02 02:25:12
Now, I looked through the board and didn't see this topic, so here we go!

So, my suggestion is that we could gain impression from winning den challenges and Arena tournaments.

The Arena tournaments would give you more impression than den fights, but both numbers could still be low since you can do both in a certain amount of time.

Suggestions? Critique? Supports? Anything else? If you don't support, could you maybe say a reason why, so I can make it better? Thanks either way!