New genetics on Lioden!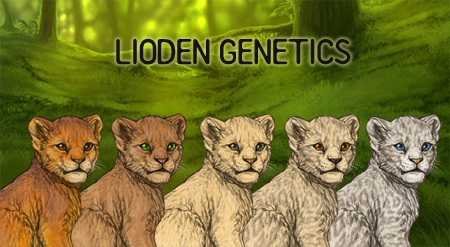 The New Genetics Model
Hey lovely little tiny footed fuzzy buzzy cublings! We present you a new awesome genetics model that won't blow up your heads if you're not into the very tedious Aa Bb BleBle things!
How bases are passed on has been adjusted now to fall in line with a system very similar to what Alma proposed on the boards, and which got the majority vote on the suggestion boards from you all!
In essence: every base color has been assigned into some categories: their color spectrum (there are four options here: Black, Red, Cream or Golden), their shade (Dark or Light), their gradient (Countershaded or Solid) and finally rarity (Common or Special).
When you breed, your cubs can be a mixture of either of the two parents' categories. So you could breed, say.. a Black Dark Solid x Cream Light Countershaded and the cubs could be either black or cream, dark or light, and countershaded or solid.
Rarity however is passed differently, and instead of simply being 50/50 between the mom or dad's there's only a 15% chance of a special cub per parent breeding. This means: If two specials breed, there is a 30% chance of a special cub. If one special breeds with a common, there is a 15% chance. If two commons breed, there is 0% chance.
Furthermore, there are a few bases that require at least one parent to have the same base when breeding in order to be passed on. Those are: Celestial, Lilac, Sepia, Pearl, Blush Rose, Inferno and Hallowed. Those bases also have a lower drop rate than regular special bases.
Albinos can now no longer be selectively bred, and instead are a small random chance, much like a mutation. Breeding two albinos will not give you an albino unless the random chance happens. Albinos can occur in any pairing!
This change affects cubs bred after news post
We will update wiki this weekend with a full list of what bases fall under what categories so you can plan breedings!
Please note, in a few cases previously, some special bases were even harder to pass than this.
We want to thank Alma for the base of this great model and how awesome she worked together with Kitty to bring this update live!
<3
Also thanks Shad for new tags this week as always :D
NEW BASES!
To match our new genetic model requirements, we had to add few new bases to match every category so you get 4 NEW BASES TODAY!!
Sunshine: Red Light Solid special, custom base!
Fulvous: Red Light Countershade Special, raffle/breed base!
Brass: Red Dark Countershade Common, custom base!
Udara: Golden Dark Solid Special, raffle/breed base!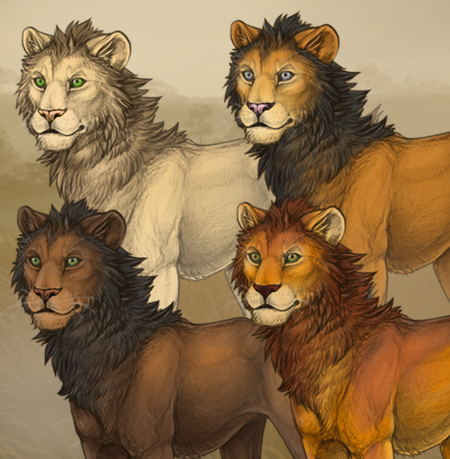 Layout Megathread
is still being worked on!
If you have any questions about the Event that is currently going on, you can check the Sticky News post for May! :D
Raffle Lioness
Congrats Jarsin (#57070)! you have won Silky Soft Unders lady!
Newest lady is up for impressing in Special Lioness area in Explore or in NEWS section under News Post List!