Rowanheart
An average sized cat, but with a long, lithe build, although still muscular. You wouldn't be wrong to say that this tom is very handsome.
Current Appearance
As a kitten
With his dead sister, Birchleap
Source to all, as these are all pictures of the exact same cat
27 Moons
Tom
Clan
Tigerclan
Mate
None.
Kits
None.
Personality
He is about as sweet and soft as any could get. A soft-spoken and patient cat, it is rare you would ever find him raising his voice, or getting angry. He can be a bit quiet at times, often just preferring to listen to others, always putting them above his own worries or issues.
A very humble cat, he does not really understand flirting all that well, even if another cat made it quite obvious. They would have to be very direct. Being rude to this cat is probably comparable to being rude to a kitten, as he gets hurt easily, but is very forgiving, likely blaming everything on himself instead of the rude cat.
(This is just a basic of idea of his personality. It is
heavily
subject to change in RP, and it could change vastly.))
Rank
Deputy
Other
Sometimes he may go quiet in a conversation, or drift off to who-knows-where in his head.
He prefers to think for the future, and will attempt to avoid any conversations about bad things that have/had happened, unless he can help.
He blames his sister's recent death entirely on himself, and will likely curl up into a ball and cry if you mention it.
__________________________________________________________________________________________________________
Sootkit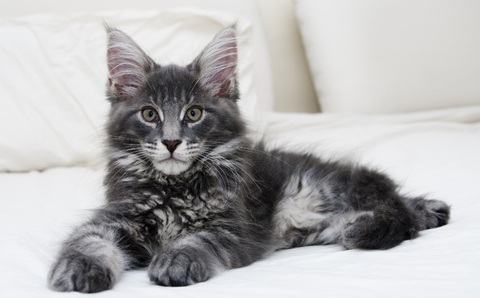 7 Moons
Tom
Clan
Tigerclan
Parents
Swangaze(Mother, deceased), ???(Father, unknown)
Siblings
Frostkit (Sister)
Mate
N/A
Kits
N/A
Personality
A feisty little kitten, he plays rough with others, and can be a bit pushy. He often tries to explore outside of the campsite, away from the older cats, often getting himself and other kits in trouble. He is generally quite a friendly, innocent fluff-ball, but he can get carried away in play-fighting, even drawing blood.
After his Mother's death, he has taken on a far more aggressive side, and is known to say darker things, and show little in terms of emotion. The only exception to this is Mistpaw, who he is very friendly with, and he shows none of his grumpiness. When around her, he almost turns into a completely different cat, almost like how he used to be. When he is around her, it is one of the few times you might catch him smiling, or purring.
Even at his young age, he can be quite intimidating, a large mass of grumpy, feisty fur, with a short temper. He gets angry very easily, but, for the most part, just keeps the rage boiling and bottle up inside. One would hate to see what would happen, if he were to be pushed over his limit.
Rank
Apprentice
Other
He has a heavy hatred for Starclan, going as far as to say vile things about them, and to scowl when other cats talk of them.
When someone mentions the Dark-Forest, the tom stiffens, and his tone can go dull. If you are saying bad things about the Dark-Forest, he might just question you about it. 'Why are they so bad? Surely they can't all be terrible?'
Edited on 06/07/17 @ 19:15:29 by Dismal (#103536)