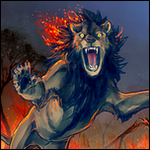 Coralyxx

(#184235)



Lone Wanderer


View Forum Posts




Posted on
2020-04-28 19:52:38
Repost
READ RULES BEFORE COMMENTING DUDE
Hello! I'm Cora, and I love to role-play. I'm not too strict if you'd like to, feel free to read on!

-Please DO NOT have a conversation or talk to anyone else other than me in the comments. If you want to role-play with someone else, message them lol.

-No 18+

-I'm a fan of gore

-1x1 only!

-I do not do furry role-plays.

-I don't care how we role-play or what we role-play! It can be original, a fandom role-play, just as long as you don't rely on me to choose- I'm a bit indecisive! I can, however, help with ideas!

-If you don't have good grammar, that's fine. If you don't have much time, I understand. I'm just here to make friends and role-play. If you role-play like this:
Character name: dialogue *actions* /thoughts/
then that's fine. I will try to match your style, still being descriptive and such.

-Don't feel bad about your character. I'll always find a way to work with it, whether it is overpowered, a mary/garysue (I don't agree with what people force on others, anyway. Be you and make your own characters, don't worry what people think about ya! <3) or angsty.

PROGRAMS
-Lioden
-Google Hangouts [preferred]
-Discord [preferred]
-Instagram

AD
https://www.lioden.com/topic.php?id=304429396352&page=1 Friendship and role-play! Who would say no to that? Any type of 1x1 that you want!

Character Sheets
No thread generated. The original poster of this RP thread will be able to generate one for this feature.

Edited on 05/07/21 @ 16:03:46 by Coralyxx (#184235)