Blocking System Adjustments
We've patched a few minor holes with the blocking system in regards to site event features.
* You can no longer PVP with players who have blocked you.
*
September:
you can no longer chase or stomp locusts within dens of players who have blocked you.
*
September:
you can no longer find the Horses of the Apocalypse on dens of players who have blocked you.
*
October:
as you can no longer PVP with blocked players, you can no longer infect players who have blocked you with rabies.
*
December:
you can no longer build snuhlions on dens of players who have blocked you.
*
December:
you can no longer give gifts or poops on dens of players who have blocked you.
We hope that this fully covers all event features that involve player-to-player interactions.

New Gems!
Every two years, we add a new set of gems to refresh the event crafting pool. A pair of gems matches one of the presented events—they have unique recipes and appear more often in Explore during that event! The matching applicators for these new gems will appear in 2021. For now, start collecting!

November - Cat's Eye


November - Bloodstone


February - Kunzite


February - Tanzanite


July - Star Ruby


July - Howlite


New Event Markings!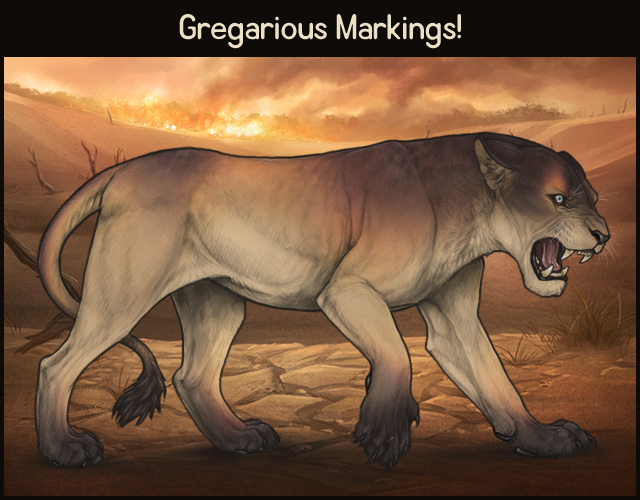 We've added a new
crafting recipe
for an applicator called
Gregarious Swarm
. This applicator will let you add one of four random Gregarious markings to your lions! It requires 25 x Locust Wings to be crafted, and can apply these four markings:
* Gregarious Brindle
* Gregarious Glaze
* Gregarious Reverse Vitiligo Mash
* Gregarious Undersides

New Combo Mane Colour!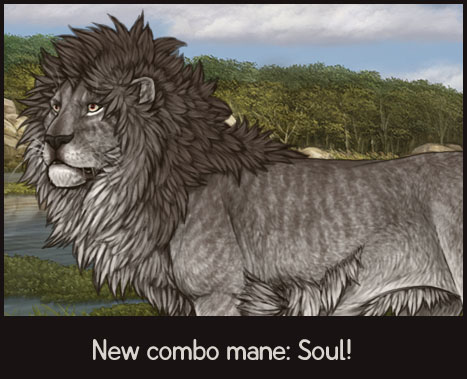 The Soul mane colour is now possible to obtain while breeding for a Soul base!
To refresh your memory on how combo mane colours work...
When breeding Ebony x Ivory, you have a chance of spawning a Soul-based cub. When a Soul-based cub is produced, there is a 50% chance that the cub will
also
pop up with a matching Soul mane colour! This is the only way to
produce
this mane colour without at least one parent having it.
If a lion already has the mane colour and wants to breed, there's a normal mane colour passing chance, so you can pass the beautiful Soul mane colour onto any future cubs. The cubs
do not
need to have the matching Soul base in order to pass the Soul mane colour. Already having the mane colour itself is enough to potentially pass it onto future offspring!

Gorilla Enclave
The gorillas are introducing a new theme from around the world:
Cambodia
! Here are the new background and decorations!

[GE - Cambodia] Angkor Wat


[GE - Cambodia] Rumdul Flower


[GE - Cambodia] Painted Stork


[GE - Cambodia] Indochinese Tiger


[GE - Cambodia] Greater Mouse Deer


[GE - Cambodia] Banteng


[GE - Cambodia] Hog Badger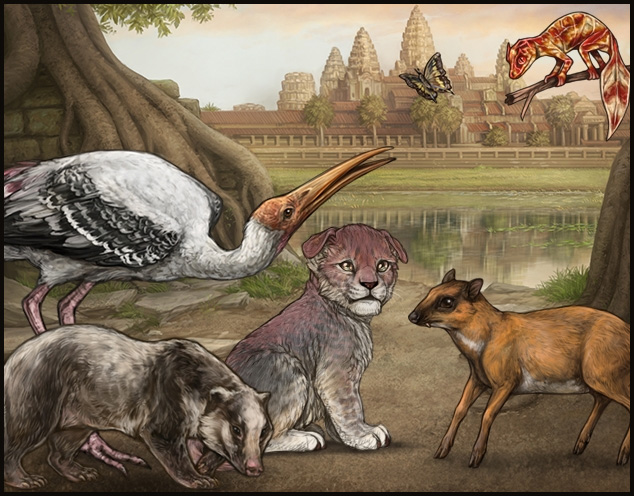 Reptile Roundup
As promised, we continue to update Reptile Roundup's old levels with fresh content. This time, the lucky levels are
Underground Tunnels
and
Woodland
! One more update left.


Gang of Meerkats
[Underground Tunnels] 80 points

Yam
[Underground Tunnels] 60 points

Naked Mole Rat
[Underground Tunnels] 40 points

Golden Mole
[Underground Tunnels] 35 points

Decollate Snail
[Underground Tunnels] 30 points

Congo Peafowl
[Woodland] 80 points

Red-Chested Owlet
[Woodland] 60 points

Ackee
[Woodland] 40 points

Emerald Starling
[Woodland] 35 points

Obô Land Snail
[Woodland] 30 points

Serengeti Shuffle
It's time to shuffle some Madagascar wildlife into the mainland of Africa! We have some new rewards in Serengeti Shuffle.

Satanic Leaf-Tailed Gecko


Flowering Crown of Thorns


Madagascan Flufftail


Helmet Vanga


Blue Vanga


Madagascan Fish Eagle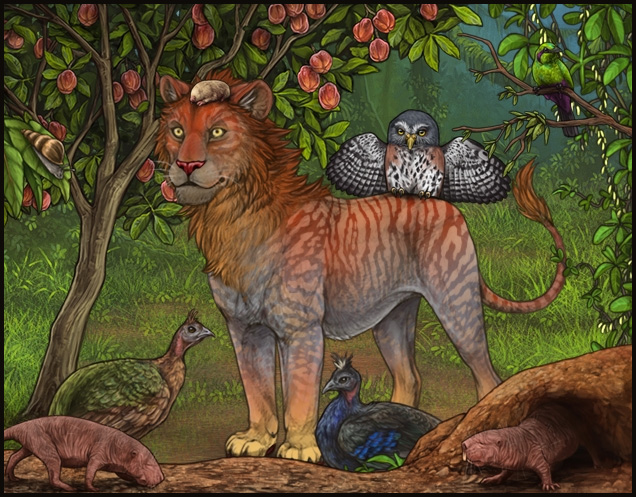 The Flood Pit
New decors have been added to the Flood Pit!
| | | | |
| --- | --- | --- | --- |
| African Bullfrog | Eastern Olive Toad | Strong Skimmer | Abbott's Skimmer |
We are also re-introducing retired Explore Zimbabwe decors from the July event into the Flood Pit!
| | | | |
| --- | --- | --- | --- |
| South African Shelduck | White-Backed Duck | Spur-Winged Goose | Sitatunga Female |
| Sitatunga Calf | African Spoonbill | Slaty Egret | Dwarf Bittern Pair |
| Hamerkop | Vundu | African Sharptooth Catfish | Tigerfish |

Art Updates
The following encounters have been refreshed or completely redrawn!

Karma encounter - Baby Giraffe

Karma encounter - Barbary Lion

Karma encounter - Cheetah Cub

Karma encounter - Dama Gazelle

Karma encounter - Running Gazelle

Karma encounter - Hyena Cub

Random encounter - Dead Zebra

Random encounter - Escaping Hyena

Random encounter - Cub

November encounter - Tsavo Lion

Battle encounter - Saharan Cheetah

Battle encounter - Gelada

Art Issues
The following art issues have been fixed:

African Wild Ass missing for Evil Pose

Event Scar: Protector stray pixels for Cub Newborn

Event Scar: Machete missing pixels for Wavy Mane

Event Scar: Bruised stray pixels for Neutral Pose

Newest mane colours missing for: Ferus, Primal

Qahir base missing for Polycaudal Female

Leonid base missing for Dwarf Adults

Cloudburst mane missing for Folded Ears Teen Male

Slithering Demise and Slithering Terror missing for Kind Pose

Monolithic Paws [Red] broken file for Cub Newborn (male)

Tropical Pitcher Plant missing for female cub stages

Malayan Pitta Flock stray shadow for Adult Male

Expressions: Anger, Fury, Delight, Sadistic, Fear, Determination, Smirk - adjusted all to match all mane shapes.

Lion pelts missing pixels for Barbary Mane

Raffle Lioness
Congrats
Aleksandra Ivanov (#205946)
! You have won last week's Snowflake lady, woo!
A new Sphinx lady with
Dim Lilac
,
Leonid Smoke
, and the second Lake Tanganyika background is up for impressing in the
Special Lioness area linked here
!
Tags!
Shad has added 17 new tags this month in the
Beetles
,
Breeding
,
Miscellaneous ➜ NPCs
, and
September
categories!
Poll Results
- Looks like Wolf theme won! ... But, we see that Black Panther was close second - how about we make Wolf theme the main Black Friday decors, and Black Panther accents in Oasis, like we did with some other special Decors for Black Friday in the past? :D
NEW POLL
- Will you check out Wolvden once it comes out next month? :O

Next Update: Community Update - September 18th!
Next Development Update: October 9th!!