Sparkly!
Hello! To celebrate New Years and the end of this miserable year (finally!), we are releasing something we've never done before: News Years-themed items! A few weeks ago, you voted for what you'd like to see, and it came out to basically anything that's sparkly, so... why not a few different things?
The way to obtain these items will be limited to December 30th, starting at the launch of this news post up until January 4th 11:59pm Lioden time. They will be annual!

Gilded Markings and Confetti Eyes!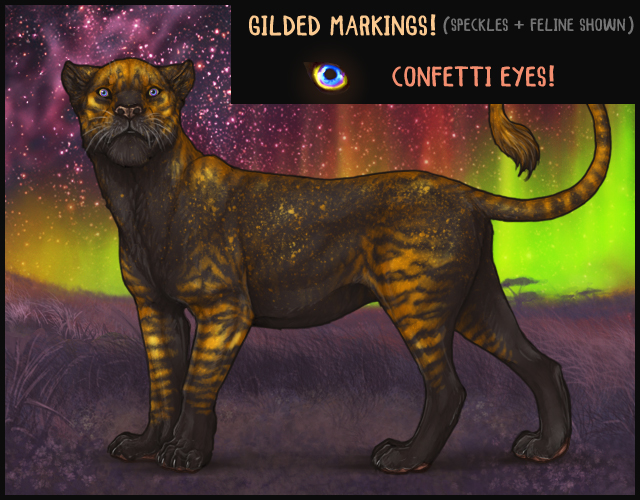 We thought this suggested marking recolour would fit here! The Sparkly Gilded Applicator will let you apply one of the following chosen markings onto your chosen lion within any available slot:
* Gilded Crackle
* Gilded Crumbing
* Gilded Feline
* Gilded Hyena Unders
* Gilded Inverted Brawl
* Gilded Speckles
* Gilded Vitiligo
* Gilded Web
During the celebration time, it is available to purchase in Monkey Business for 5000 SB!
Now, did you see those Confetti eyes too?

Their genetics are: Confetti 50%, Sunburst 28%, Bismuth 1%, Peacock 1%, Crystal 5%, Emerald 5%, Red 5%, Sapphire 5%. Yay!
The Confetti Eye Applicator is craftable ONLY during the celebration time, after which the recipe will vanish until next year. The recipe requires 50 x Rainbow Stones. Hurry!

Sparkly Decors!
But, that's not all... how about a set of sparkly decors, too?!
Jewelry: Kanga [Sparkly] and Faux Mohawk [Sparkly] recolours are available within the Oasis!

Faux Mohawk [Sparkly]
2 GB

Jewelry: Kanga [Sparkly]
2 GB
Confetti! and Sparkles! decors are available within Monkey Business!

Sparkles!
200 SB

Confetti!
200 SB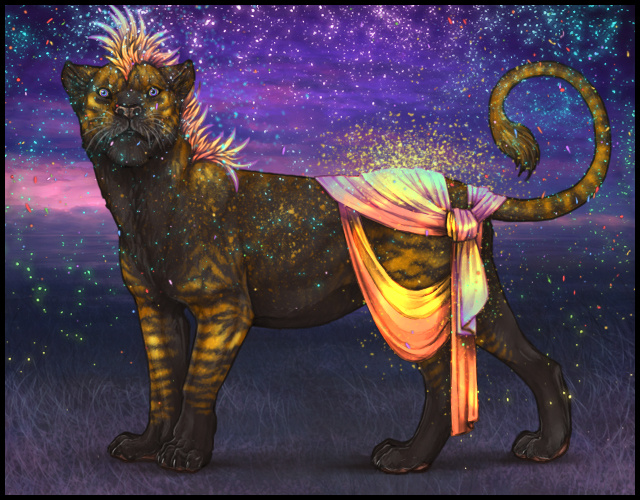 Happy New Years! (let's hope!!!)