A true Decor-A-Ganza! Since you voted to have our coders fully focus on the rehaul, we're starting 2021 off with an (almost) pure art update! Due to the Lycaon markings taking all of the marking energy this month, we have not added in any other markings or a base. We'll spoil you more with those in February, though!

For now, let's focus on some adorable, fresh content for a few areas of the site. We hope you'll enjoy!

New Reptile Roundup Level!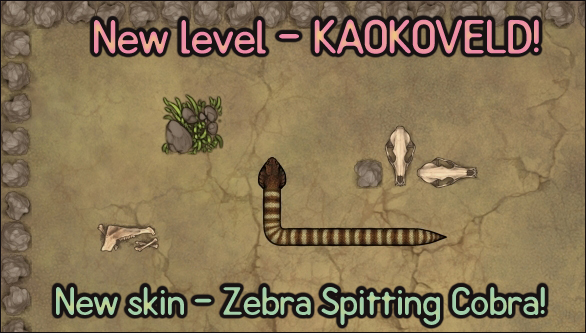 Some time ago, you all voted for the order of new Reptile Roundup levels to be released. Kaokoveld had the second-highest amount of votes! There are still four more options remaining, so we're roughly halfway through the list of new levels. We might prepare a new list to vote for in summer.

For now, let's check out what this new level is all about!
The Kaokoveld level (and its matching Zebra Spitting Cobra skin) can be unlocked by collecting 700 Carrion Eaters Points in Explore this month. These points are what unlock the Carrion Shop! We enabled Carrion Eaters Points tracking earlier today at 1am Lioden time, so some of you are already quite far in! :D If you need a refresher on what encounters award Carrion Eaters Points, please
check out the January Wiki page
.
Kaokoveld is the coastal desert between the ocean, the Namib desert, and the surrounding savannas. You may have heard of the Skeleton Coast, where dead ships litter the shores! We've listed out the level's rewards below.
Skeleton Coast
- 100 Points
Desert Elephant
- 80 Points

Snake Scent
- 80 Points
Poison Tree
- 70 Points

Snake Skin - Dark
- 70 Points
Cape Fur Seal
- 60 Points
Welwitschia Plant
- 55 Points
Zebra Spitting Cobra
- 50 Points

Falling Petals [Rainbow]
- 46 Points
Bushman Poison
- 42 Points
Cape Cormorant
- 40 Points
Falling Petals [Yellow]
- 38 Points
African Black Oystercatcher
- 35 Points
Quaga Cone
- 30 Points

Drowned Zebra
- 25 Points

Nommable Fish
- 25 Points

Rock
- 20 Points

Event Shop Update
We've added some extra content for the January event! These items can be found in their respective shops listed below.

Sun-Dried Wildebeest Head
The Boneyard
(Tier 2)

Sun-Dried Hyena Head
The Boneyard
(Tier 2)

Playful African Painted Dog Pups
Carrion Shop
(Tier 3)

Excited African Painted Dog
Carrion Shop
(Tier 3)

Curious African Painted Dog
Carrion Shop
(Tier 3)

Juicy Meat Chunk
Carrion Shop
(Tier 2)

Expression: Desperation
Carrion Shop
(Tier 2)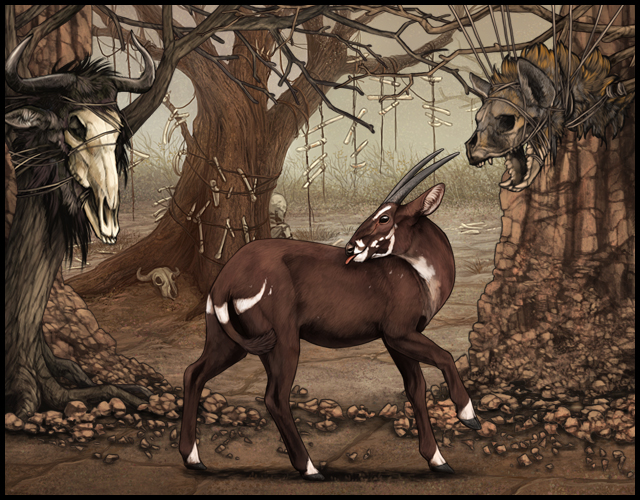 New Serengeti Shuffle Items!
You can now win some new Madagascar-themed decors in Serengeti Shuffle, from the 4444+ score tier of course!

Coquerel's Sifaka


Aye-Aye


Brown Mouse Lemur


Madagascar Boa


Malagasy Giant Chameleon


Canopy Chameleon


Walking Maidenhair Fern


Madagascar Giant Bamboo


Madagascar Periwinkle


New Monkey Business Decors!
You can find some new environment decors within Monkey Business! They cost 400 SB each.


Dolomite Chipped Rocks


Dolomite Cliffs


Dolomite Rocky Arch


Sandstone Chipped Rocks


Sandstone Cliffs


Sandstone Rocky Arch


Limestone Chipped Rocks


Limestone Cliffs


Limestone Rocky Arch


New Gorilla Enclave Set!
You all voted for a Vietnam theme to come next! The gorillas now have a fresh assortment of critters and a landscape from this part of the world!


[GE - Vietnam] Rice Terraces


[GE - Vietnam] Buddha's Belly Bamboo


[GE - Vietnam] Giant Muntjac


[GE - Vietnam] Siamese Jackal


[GE - Vietnam] Silver-Backed Chevrotain


[GE - Vietnam] Nicobar Pigeons


[GE - Vietnam] Saola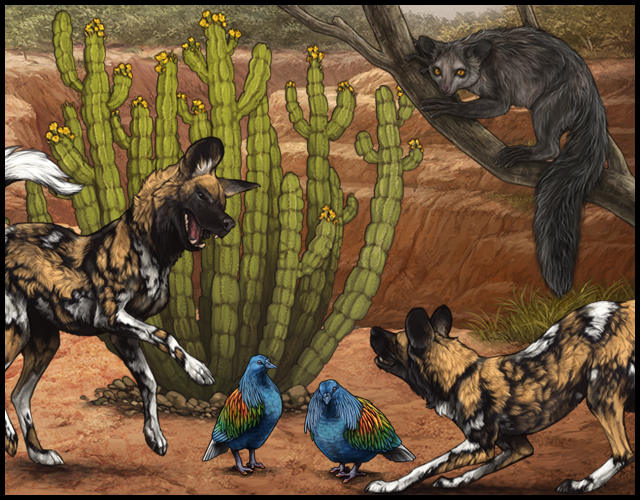 Raffle Lioness
Congrats
Shade (#91726)
! You have won last week's Fulvous lady, woo!
A new Olive lady with Almond Lace, Almond Pelage (
NEW!
), and the seventh Ankasa Forest Reserve background is up for impressing in the
Special Lioness area linked here
!
Marking Note: Since last week's raffle lioness was drawn, Saffron Pelage and Saffron Soft Unders are now possible to apply via RMAs/Total Shuffle!
Tags!
Shad has added 15 new tags this month in the
Breeding
,
January
,
Miscellaneous ➜ Lions
, and
Miscellaneous ➜ NPCs
categories!
Poll Results
- Wolf wins the dance-off! We all know the lion is trying their best, though.

NEW POLL
- We're planning out April's decors, and we're wondering what kind of domestic animal breeds you'd like to see more of?


Next Update: Community Update - January 15th!
Next Development Update: February 12th!!