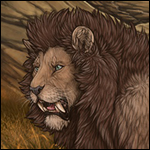 Toxic

(#88515)



Majestic


View Forum Posts




Posted on
2021-01-13 21:22:10
Hello! I'm still kind of new to the game but I am studying art as well as have a real art business outside of the game. and would love to make some for the users here also. I can do basically everything from any OC's to your lions. I will only be accepting in game currency as of right now. I will be posting the prices and ways to submit a request below and rules for using my art.

I currently don't have any examples rn my drawing computer (My old computer) was fried during a storm before I could transfer my stuff over I have my paper drawings but they aren't any help since none are lions. But I have a lot of experience with requests from other stuff and lots of people.

Rules:
*If you purchase a piece of art that will be on display in your den please put in your territory description My Name and account # -Toxic 88515 and say that I was the one to create the avatar to prevent art stealing and help me get the word out that I make art.
*I am only taking art that is appropriate for all players so do not ask for anything inappropriate.
*I will be asking for half the payment upfront and the other half afterwards. I can set up payment plans if you really need it and having trouble getting sb and Gb.
*I will except decor and lions as a form of payment but they will have to be approved of first.
*Please remember I still have a life outside of this game so if it takes a day or two longer then expected to receive your art know I am trying my best.
*if you use my art outside of this site please let me know so I can give the correct credentials.
*If I find that you art not abiding by these rules or stealing my art you will be immediately reported.

Request form:

Your account name and number:
Type of art: (avatar, oc drawing, portrait, Ect.)
Level of detail: (just line art, colored but no back ground, extreme realism, cartoon Ect.)
What: (what I will be creating, Lion, person, chicken ect.)
Description: (any ref sheet you have, every detail of your character or the drawing you want. If you will like to give a brief summary of their personality I can see if I can work it into the drawing)
Plan of payment: (regular payment, payment plan, or items you wish to exchange for art)

Clean form:
Account:
Type:
level of Detail:
What:
Description:
P.O.P:

You can post on the thread your request or message me. If you have any questions I am more then willing to answer them. If you art interested in my Out of game art I can give you more details. I am looking forward to creating art for you guys and working with you.