Community Update
As we mentioned before, aside from event news and the 2nd Friday of the month being focused on coding/art updates all at once, all other Fridays are centered around the community!




Official Lioden Raffle
LINK
- This is our Official Lioden Raffle. Everyone gets a chance to win a rare prize, plus something extra for any runner ups. These raffles have a very minimal ticket price, and there is a limit of 1 ticket per account to make it fair!

Good luck!
This raffle will automatically end on 2021-04-30 00:00:00.

Permanent Moderator Applications Reminder
We'd like to take a moment to remind everyone that our voluntary moderator applications are permanently open and can be found at the bottom of the Modbox, or through this direct link:
Moderator Application Form
If you're the type that strives to better your community and you want to help Lioden be the best site it can be, we'd love for you to apply!

Keep in mind that you must be at least 18 years of age and have played Lioden for at least 6 months in order for us to consider your application.
This time around, we are ideally looking for anyone in EU/UK timezones, or US players that might be night owls.

Everyone is welcome to apply, however!

Raffle Lioness
Congrats
Vexia (#210233)
! You have won last week's Hellebore lady, woo!
A new Bushveld lady with
Feline 9 Silky
,
White Dorsal Line (NEW!)
, and the eleventh Ankasa Forest Reserve background is up for impressing in the
Special Lioness area linked here
!
Marking Note: Cream Dorsal Line and Lilac Dorsal Line are now possible to apply via RMAs/Total Shuffle!

Poll Results
- So many votes for a craftable green marking applicator! We'll look into releasing green markings based on poll result priority, with craftable markings coming first and raffle markings being introduced later on.
NEW POLL
- We're thinking about a new May groupie-exclusive Hetero eye colour set! A mockup has been provided below and within the poll. Let us know your preference!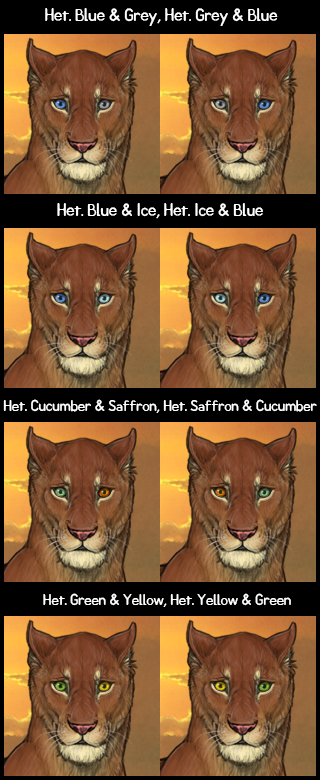 Next Development Update: May 14th!
Friday goofy doodle comic: