New Event Decor!
Basuto Pony
has been added to Tier 3 of the Prophet Shop.
New Craftable Decors and Backgrounds!
Several new year-round crafting recipes have been added to Monkey Business's Crafting area.

Rosemary
40x Underbrush

Wandflower
40x Underbrush

Oakleaf Geranium
40x Underbrush

Dwarf Nerine
40x Underbrush

Twyfelfontein
50x Large Rock

Hoggar Mountains
50x Large Rock

Aïr Mountains
50x Large Rock

Cape Serrat
30x Large Rock, 20x Large Leaf

Snake Skin Cave
20x Large Rock, 20x Snake Scent

Olduvai Gorge
40x Large Rock, 10x Large Leaf

Catumbela River
50x Large Leaf

Antelope Den
20x Antelope Hoof, 20x Large Rock

Eye of Africa
50x Large Rock

New Raffle Content
We've replaced the 4 rotating raffle backgrounds with a new set! The previous set of raffle backgrounds have been added to the Gorilla Enclave shop.
[Raffle] Harenna Forest
[Raffle] Himba Village
[Raffle] Lake Victoria
[Raffle] Dzanga-Sangha Reserve
Fiery and Lilac Felines!
Thanks to your votes, Feline Fiery 1-9 and Feline Lilac 1-9 are the final set of Feline recolours to be released on Lioden. We've decided to release these markings via raffle lionesses! They will be released slowly week by week, just as with other raffle markings.

New Breed Only Bases!
We've had some older bases that never had a chance to launch before due to balancing issues. We think they're old school and subtle enough to add them now for some more variety!

Taupe
is Red Light Countershaded Rare and has Tawny skin

Argent
Cream Medium Solid Rare and has White skin

Honey
Golden Dark Solid Rare and has Dark Brown skin

Platinum
Black Medium Solid Rare and has Gray skin

Other Content
Encounter Artwork Update
This year, the famous "Scarface" lion of Masai Mara has passed away. We've decided to dedicate the last rehaul of the older enemy lions to this special male, who sired over 300 cubs throughout his amazing, long life of 14 years. He ruled the plains with his brothers and fought his almost-always-fresh wound with the help of local rangers and vets. He was just like the kings of Lioden, so we wanted to make a nod towards him.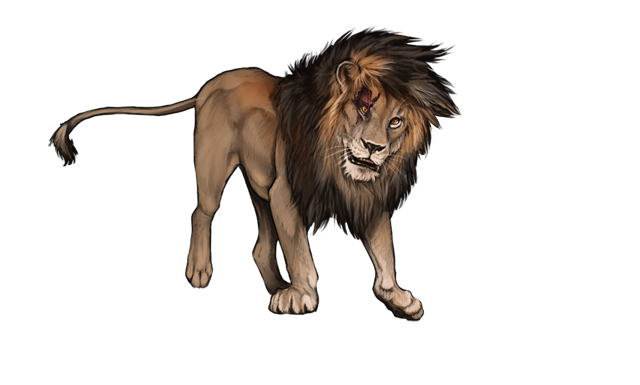 Updated Posed Mutation
Eyeless
is now a posable mutation!
Beetle Skin Maker Adjustment
The price for the Beetle Skin Maker has been changed to 1 GB in the Oasis, and has been added to Monkey Business as well for 1000 SB.
Small Trivia Update
Seven new questions of varying difficulty have been added to the Trivia game and four existing questions relating to the old July storyline have had their wording slightly adjusted. With the existing questions that have been changed, please be assured that the correct answers to these questions haven't changed—we've just updated the text to indicate that the storyline is retired and no longer occurring.

July Items Relocation
[The Flood Pit]
Steelblue Widowfinch
Flying Pennant-Winged Nightjar
Lake Chivero
Mana Pools
Hadada Ibis
Blue Crane
Victoria Falls
Cape Giraffe Calf
Red Forest Duiker
Suni
Nyala Calf
Impala Calf
Hairy Slit-Faced Bat
Fruit Bats
[Monkey Business]
Great Zimbabwe Ruins
Gonarezhou
Chimanimani Mountains
Cloud Forest
Nyanga Mountains
Acacia Forest at Night
Acacia Forest
Montane Charaxes
Sun Glare
Clear-Spotted Acraea
Blood Acraea
Gold Banded Forester
Greater Cane Rat
Acacia Rat
Forest Green Butterfly
Brilliant Gem
Fireflies
[Bunny Shop]
Ferns
Flame Lily
Zimbabwe Aloe
Southern Carmine Bee-Eater
Little Bee-Eater
Gorgeous Bushshrike
Yellow Canary
Pompom Tree
[Prophet Shop]
Pied Crow
Selous' Mongoose
Meller's Mongoose
[Carrion Shop]
Long-Crested Eagle
Martial Eagle
[The Preservers]
Cape Fox
Bat-Eared Fox
Greater Kestrel
Springhare
African Wildcat
Candelabra Tree

Raffle Lioness
Congrats
Toast (#95036)
! You have won last week's Anjeer lady, woo!
A new Fiery lady with
Feline 1 Fiery (NEW!)
,
Saffron Indri (NEW!)
, and the FIRST EVER Dzanga-Sanga Reserve background is up for impressing in the
Special Lioness area linked here
!
Marking Note: Ginger Indri is now possible to apply via RMAs/Total Shuffle!

Tags!
Shad has added 14 new tags this month in the
Beetles
,
Breeding
,
Event ➜ September
,
Miscellaneous ➜ Landscapes
, and
Miscellaneous ➜ NPCs
categories!
Poll Results
- Looks like you'd like to see some more snuh effects in December explore! We'll look into that!
NEW POLL
- Do you even dance

Next Update: Community Update - September 17th!
Next Development Update: October 8th!!
Where's the official raffle and Friday comic?

Community raffles and Friday doodles are only released on community updates. This is a development update, so no raffle or doodle will be released this week, sorry!