The January event launches on January 1st at 00:00am LDT, and will end on January 31st at 11:59pm LDT. All unused event currency will be stored on your account until next year.

Combined News Post
This news post is unique in that it is a combination of monthly event information and a community update! Read below to see all information regarding the January event, and below that, you will find the typical Friday update content!

January Event - Great Hunger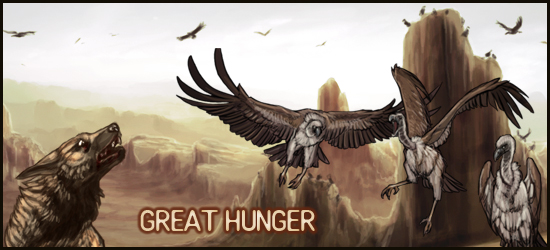 Horrible rumours have been circulating for a few days, and sadly, they appear to be true - prey is scarce due to the snow-induced migrations, and the carnivores within the surrounding African lands are suffering from Great Hunger. With this month's event, you must all work together to create a great food resource for the hungriest lions to ensure your species will survive! Other animals are suffering too...! Maybe you can "help" them die out to have more food for yourself? Or you may prefer to save them...?
Event Areas
Food Pile:
add all food that you can to the pile and unlock free hunger boosts for the rest of the month! You can consume food from the pile once per day per lion.
Added in 2019,
a "Feed All" option will appear within the Food Pile if you have the "Feed All, Play All" tool active on your account.
How can you help? You can deposit a carcass to the pile straight from your hoard or the food stack!
Note: This only affects your choices on what to do with your food and how you work as a community. It does not affect hunting, etc.
Carrion Shop:
the second bar is boosted by killing event-exclusive scavengers, which unlocks a special shop that uses Silver Beetles as currency! Both bars have three tiers, however the Carrion Shop has four tiers in total.
Carrion Eaters and Carrion Shop
The "Carrion Eaters defeated" bar will raise based on your actions in Explore with all event-related explore encounters. As the tiers raise, more things will happen in Explore! Tiers 1, 2, and 3 will unlock more and more encounters.
Vultures, starving animals, and scavengers will be pesky annoyances, so you can decide if you're going to be evil and kill them, or be nice and rid them from these lands. Yes - some encounters
do
affect karma!
The Carrion Shop will open when you unlock this bar. Due to everyone having free food from the Food Pit, we realise you guys will be mostly donating and selling your food to earn SB.
This shop is different from other events - the prices are in Silver Beetles (SB). This is a great SB sink that will help deflate food prices, while not being mandatory to buy from. It contains more than just decors, including Lion Meat in Tier 3! Yay!
Remember - you can tear some carcasses into meat chunks!
Leather Beetles
?

You will gain a Leather Beetle for
almost
every battle won from creatures during the Great Hunger event. As tiers open, there will be many new encounters in Explore that will let you collect Leather Beetles!
* Leather Beetles can be spent in a special shop called
the Boneyard
.
* The Boneyard will unlock when
both bars
reach Tier 1, and it will unlock further as both bars progress.
* The Boneyard is a little different from normal shops. It will let you
Dig
for
2% energy
to find wares, or you can
Donate
bones and skulls (amusement items) to do the same! Every Dig/Donate will show you a few items that you can purchase for Leather Beetles.
* Items that you find will stay in the Boneyard so long as you do not Dig/Donate again. When you do, new items will replace the previous ones.
* Boneyard donating will take any bones and skulls from your hoard. If you want to save some for crafting, playing, trading, etc., we recommend to bury them, put them in trades, or use them up.
*
Some items are exclusive to Digging or Donating - you can get different results from each!

2022 Changes
* The Carrion Shop will feature new backgrounds and decors.
* The Boneyard will feature new backgrounds and decors.
* The Storyline will reward you with a new set of applicators.
* Note: We will add them to the game after the weekend, as the team took the holiday time to rest! Happy New Years!
* More event decors (shops and storyline alike) might be introduced in the update on January 14th.

Marabou Stork Headwear
Carrion Shop Tier 1

Marabou Stork Bodywear
Carrion Shop Tier 1

Variegated Wolf
Carrion Shop Tier 1

Absurdly Big Bone
Boneyard [Dig]
Remember: the Boneyard has small chances of producing rare items, such as Giant Tortoise, Lion Meat, and Mutie On Demand: Primal!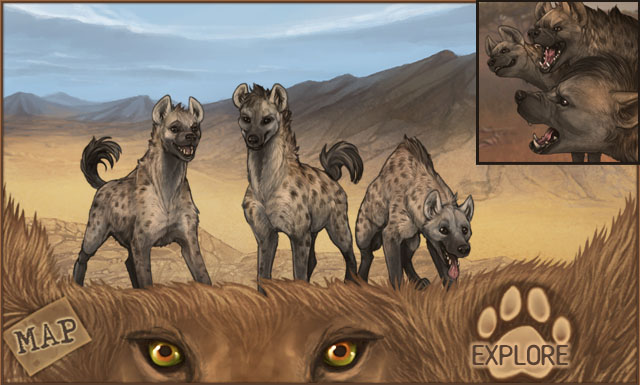 January's Daily Quest and Story
This is a small addition to the event that focuses on daily quests in order to help you farm currency and fun rewards.
Launching on January 5th, a special NPC will appear in the
EVENT tab
to give you daily quests. We've decided to give January a tiny novel, similar to what Wenet had, with a few steps requiring a rollover in order to progress.
If you join in the last days of January, you might not be able to finish the novel.
The story is separated into 3 stages, with each novel unlocking on specific dates: January 5th is the beginning, January 10th has a tiny expansion to dailies, and January 20th is the finale with a player's choice! We will try to make it so they unlock at rollover and not midnight, so there isn't any timezone discrimination. :D
The final choice will only affect the achievement, karma, and one reward you receive. If you're not sure what to do, please visit the official Wiki to find out what the best choice for you is!

The final choice will not stop daily quests!
Be sure to utilise our official Wiki to the fullest during this month!
You may also find the
January storyline Wiki page
helpful.

2022 Changes
Applicator: Hyena Blots Heavy, Applicator: Hyena Blots Scarce will be retired to Tier 4 of the Carrion Shop at a high price.
There will be a new reward at the end of the novel to replace them.
Along with Applicator: Lycaon Heavy and Applicator: Lycaon Heavy Inverted, we're introducing Applicator: Proteles Heavy and Applicator: Proteles Scarce!
We're also adding a new base as a reward, similar to how Hyena base was obtained. It's the Aardwolf base! Its genetics are:
Cream Medium Countershaded Special
and the matching skin is
Black
.
Thank you for your votes regarding these markings!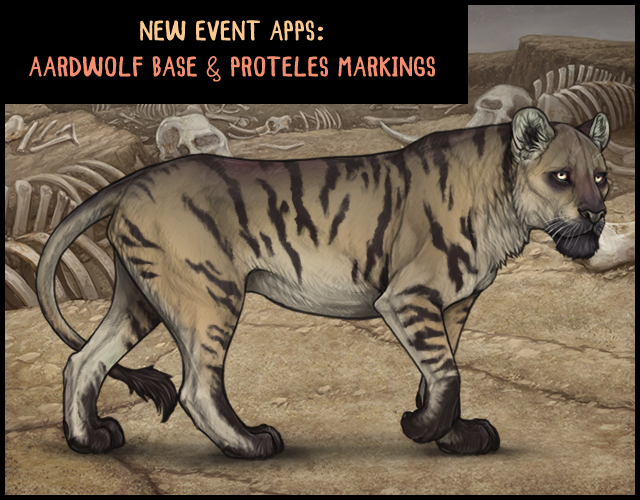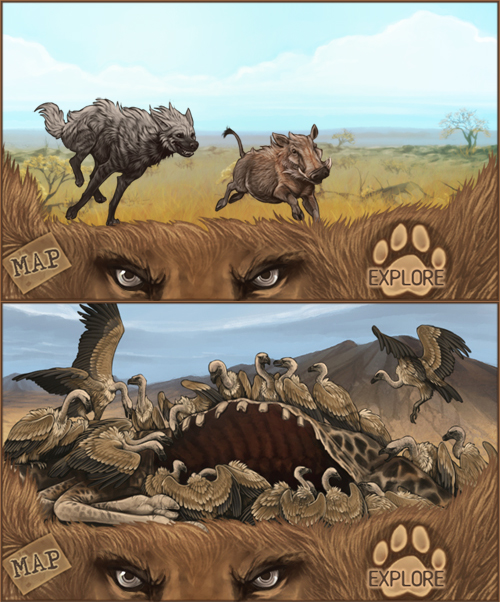 Community Update
Aside from monthly event news posts and the 2nd Friday of each month being focused on art/coding updates, all other Fridays are centered around the community!

Official Lioden Raffle
LINK
- This is our official community update raffle. Everyone gets a chance to win a rare prize, plus something extra for any runner ups. These raffles have a very minimal ticket price, and there is a limit of 1 ticket per account to make it fair!

Good luck!
This raffle will automatically end on 2022-01-07 00:00:00.

Giveaways Rule Reminder
As we mentioned in
Community Update #131
, all players were given a one-week grace period to adjust to the new Giveaways Chat before our staff team would take action against their accounts. Please keep in mind that this grace period is now over, and posting giveaways in the wrong channels can now result in actions being issued.
We also would like to clarify on a few questions we have seen asked in the chat room over this past week.
Services that are offered for free (e.g. doing free Lion Wardrobe designs) should be posted in Giveaways Chat. Any forum topics that you are conducting these services on should be moved to Watering Hole.


Transferring assets in exchange for nothing (e.g. travelling lions, asking players to hold onto lions, etc.) should be posted in Giveaways Chat.


Refunded services (fully refunded studdings, reverse breedings, and so on) should be posted in Giveaways Chat, so long as you are not profiting off of these services in any way. You cannot offer 50% off studdings in Giveaways Chat—this should still be posted in Sales Chat as you are earning a profit.



New Years Reminder
This is another reminder regarding the New Years-themed items that are currently available to be purchased! For a refresher on what all items will be available, check out last year's
New Years news post
!
From December 30th 00:00am to January 4th 11:59pm Lioden time, the New Years-themed items are returning to Lioden and can be purchased/crafted!
Crafting
* Eye Applicator: Confetti (50x Rainbow Stones)
Monkey Business
* Confetti! (200 SB)
* Sparkles! (200 SB)
* Sparkly Gilded Applicator (5000 SB)
Oasis
* Faux Mohawk [Sparkly] (2 GB)
* Jewelry: Kanga [Sparkly] (2 GB)

Raffle Lioness
Congrats
Ashmiga (#198458)
and
🌸𝐍𝐚𝐬𝐬𝐢𝐫 (#227402)
! You have won last week's Rime and Gilded ladies, respectively, woo!
A new
Ebony
lady with
Feline 8 Lilac (NEW!)
,
Noctis Dorsal Line
, and the fifth Dzanga-Sangha Reserve background is up for impressing in the
Special Lioness area linked here
!
Marking Note: Feline 6 Fiery and Feline 7 Lilac are now possible to apply via RMAs/Total Shuffle!

Poll Results
- The adorable fluffy pink moth will be joining Lioden in February 2022!

Thank you all for voting!
NEW POLL
- What would you like to see more of in explore? Despite the recode being worked on, and content being rehauled, we can still implement some new additions! Review the options in the poll and let us know your preference!


Next Development Update: January 14th!
There is no comic this week due to this update being a combination of the January event news and a community news post, as well as holiday celebrations! Happy New Years, Liodeners!