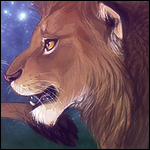 crypticcalix

(#140216)





Lord


View Forum Posts




Posted on
2022-03-18 22:11:28
(If I'm not allowed to post about this topic here, kindly lmk!)

So I have realized how a lot of people use Picrews as of late, and there being absolutely NO lion picrews.

Over the next two weeks I'm gonna work on making a Lion Picrew, and uploading it. Even by the end of the two weeks, I expect it to be still a W.I.P. but that's my deadline for the basics of it.

Anyways, what I'm asking here is some ideas that I could put. I'm thinking of adding an option for Ligers, and Leopons. But it mainly being focused on lions.

Any ideas that I think are in my limit I will put here! (With Credit to who gave the idea.)

Submitted Ideas (That are in my limit!) -
N/A



Definite Options List -
Barbary Lion
Transvaal Lion
Ligers, Leopons (Other hybrids maybe?)

Please do let me know if you're interested in seeing the progress! I will be updating this.