Lioden's 10th Anniversary
Welcome to the 10th Anniversary of Lioden launching to the public! We're so excited you could join us for this momentous occasion - we have lots to share!
The duration of the Anniversary event overall will run from the 13th March until the end of the 27th March 2023, but certain parts of this post have different dates - keep your eyes peeled!
Gold Beetle Sale
First up, we are launching a Gold Beetle sale - from the
13th to the end of the 17th March 2023
, you will receive a bonus 10% Gold Beetles for each purchase made!
Mini Games
We have two minigames that are being added to the other games - one is returning from a long hiatus, and one is brand new! These will be
permanent
additions to the game, so will endure past the 27th March.
Return of a Favourite: Whack-a-Snake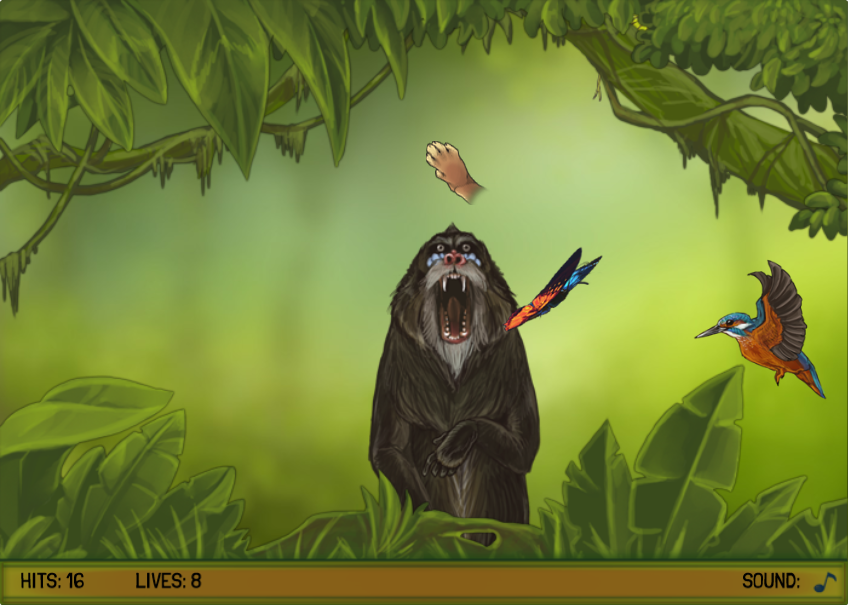 Whack-a-Snake was a favourite for a long time until Flash support was removed from all modern browsers. While it has been available for those who are prepared to use older browsers, it's been missing from the game at large. We're excited to welcome it back into the fold!
How it works:
Similar to the age-old game Whack-a-Mole, you can use your lion paw (cursor) to whack the Snake that drops down from the top of the screen - but you also need to whack the Mandrill that jumps up.
The snake and mandrill can be blocked by branches and leaves, and don't forget to watch out for pesky butterflies and birds that may get in the way of hitting them, though!
Each hit gains you a point, and you have nine lives - plenty to rack up a pretty decent score! There are special Whack-a-Snake only items that can be earned, as well as a couple of achievements that were previously unattainable by most - they will be back!
Note:
The paw to hit the snake and mandrill used to be animated - unfortunately it wasn't possible for us to animate it again. We may look into adding this back in the future, but for now there's no more animation! As this used to add a small delay between hitting the snake and mandrill to increase the difficulty, we have instead added an incremental speed increase to the game.
New: Pin the Prey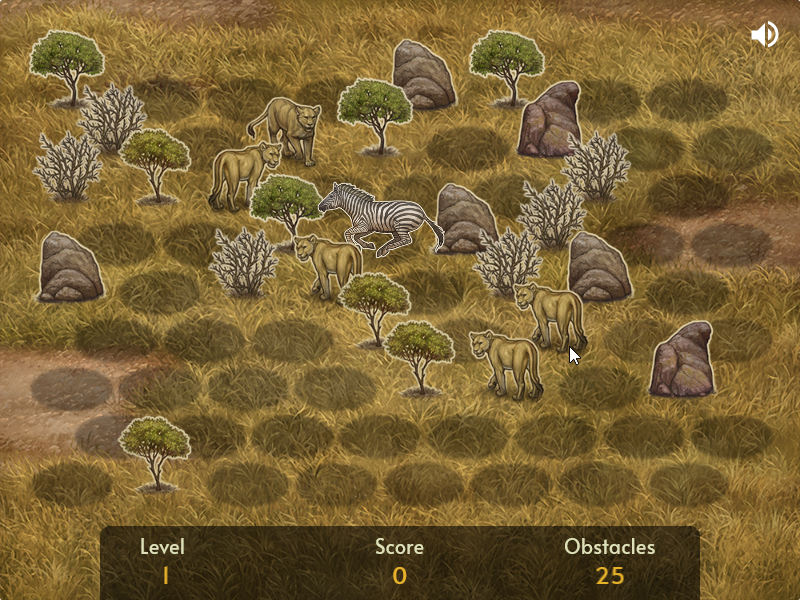 This one has got our staff addicted! The brand new game Pin the Prey has been added to the games, and it's a wonderful (and infuriating.. stupid zebra) Lioden-themed reincarnation of an old internet flash game called Trap the Tiger.
How it works:
Each level spawns a number of obstacles, and your prey. Your goal is to place your hunters on empty spaces to try and surround the prey and trap them. As the levels increase, so does the difficulty - fewer and fewer starting obstacles will appear, making it more and more challenging to keep that prey pinned!
With each lioness you place, the prey has a chance to move and it can escape when it reaches the edge of the board, so you will need to be tactical in your placements! Good luck!
Note:
As it's a brand new game we're going to be holding off on adding prizes until we can get a sense of how people are doing with the scores - they will be coming soon!
Reptile Roundup Revisions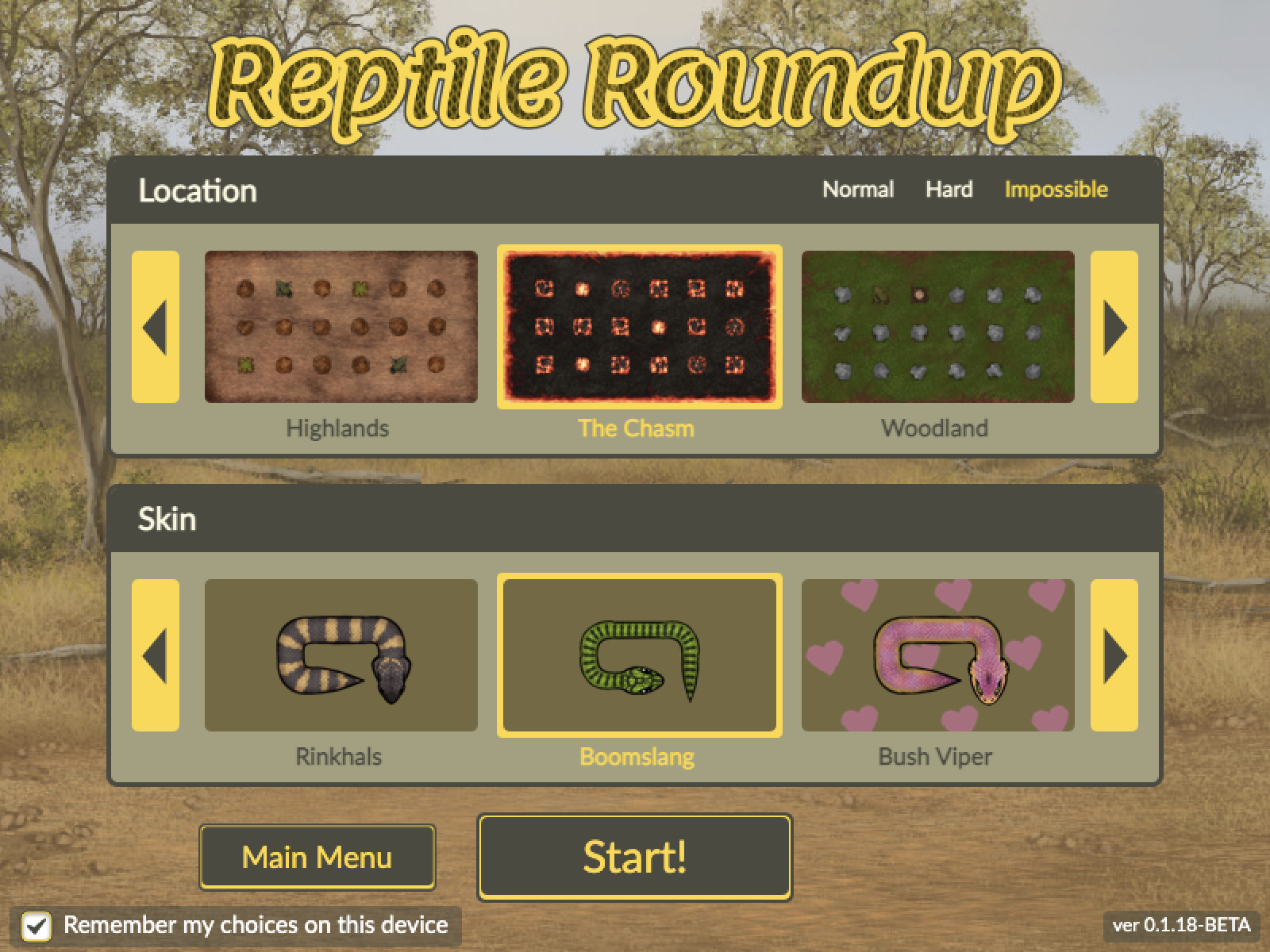 Along with the revival of Whack-a-Snack and the release of the new Pin the Prey game, Reptile Roundup has also received some love!
The biggest update comes in the form of a new gameplay mode:
Impossible mode
! The playing field is now littered with obstacles, meaning each turn requires precision and planning. Each food object is worth more, giving you the chance at higher scores... as long as you can avoid the walls.
In addition to this new game mode, several other quality of life adjustments have been as well:
* Obstacle placement has been improved so you should no longer spawn directly in front of any obstacle.
* Food should no longer spawn in areas where it is not possible to get out of.
* You can now have the game remember your favourite Location and Skin settings on a per-device basis.
* Food will begin blinking after a short period of time to let you know where it is. This is especially helpful on busy maps (such as in Impossible mode!).
* The leaderboards have now been split into individual game modes, so you can see where you compare to others playing the same difficulty!
If you submit a score for Impossible mode, it will NOT count against your daily prize win!
Note:
Similarly to Pin the Prey, as it's a new game mode for RR, we're going to be holding off on adding prizes until we can get a sense of how people are doing with the scores - they will be coming soon!
Special Events
We've added some extra special events for the duration of the two weeks! These can be accessed from the main
Event
page and each have individual requirements and rewards for completing.
Breeding Challenge
The Breeding Challenge is comprised of two parts: breeding 10 litters of cubs, and breeding one cub with 10 markings.

The 10 litters must be birthed to count, and it doesn't matter the size of the litter - just that they are safely born!

The cub with 10 markings must have exactly 10 - not more.
The reward for 10 litters is
Base Applicator: Decennial Base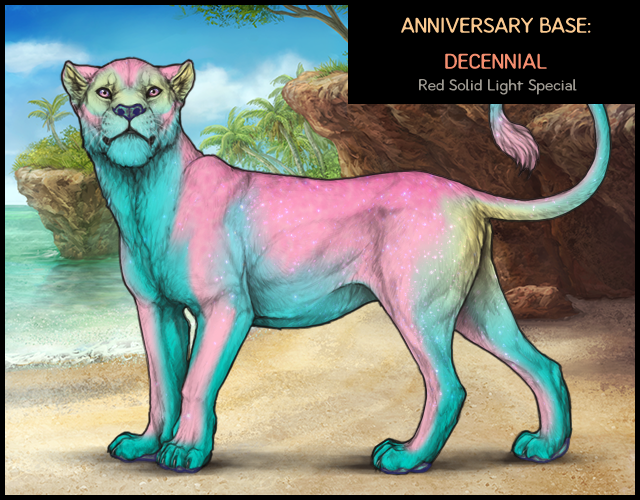 The reward for a cub with 10 markings is
Marking Applicator: Decennial Marks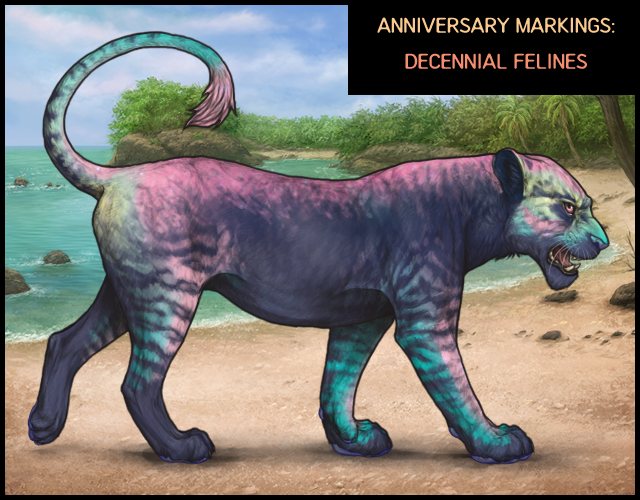 Battling Challenge
The Battling Challenge is fairly straightforward - battle 10 opponents, each of a different type. Lucky Feet can be used to complete this challenge.
The reward for completing this challenge is a Battle Buff (damage increase) for the remainder of the event, and 10 Lucky Foot items!
Treasure Hunt
The Treasure Hunt will lead you on a journey around the site, you will need to solve riddles to get a clue for the next location! At the end, a grand prize awaits you...
The reward for completing the Treasure Hunt is a
Mutie on Demand: Piebald (Ticked)
applicator!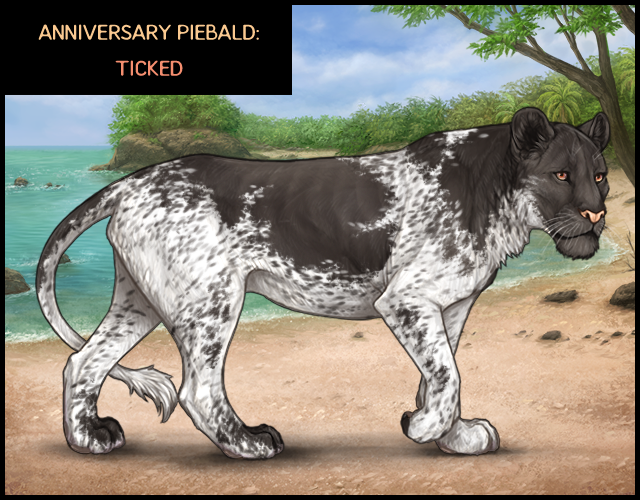 Mutation Boost
For the duration of the event, 13th-27th March 2023, there is an additional boost for breeding
any
spontaneous mutation. (It does not include passing mutations from parents.)
Gifts and Contests and Raffles, oh my!
As always, when we celebrate something big, we have some freebies, contests and special raffles for your enjoyment!
Anniversary Bundle
If you rollover during the event at any time you can pick up a
FREE
Anniversary Bundle - just visit the main
News
page (linked in the site's main navigation) and it'll be there waiting for you!
Contests
We have some fun contests in store for everyone to participate in during the festivities!
All contests will last from the 13th-27th March 2023, ending at 11:59pm LDT on the 27th!
Writing Contest
If we were to encounter your pride leader, or one of your pride members in Explore, what would the explore encounter say?
- This contest has a 5 GB prize to the top 20 winners, and the winners will have their encounters added to Explore as filler encounters! Please limit your entries to 50-70 words at maximum!

Enter the contest here!
Fan Art Contest
Create some amazing fan art of anything Lioden-related! It can be a digital drawing, a sculpture, a traditional drawing, a 3D print, a story, etc. of your favourite Lioden NPC or one of your own lions!
- This contest offers prizes to the top 3 winners - 50 GB, 25 GB, and 10 GB!

Enter the contest here!
Wardrobe Contest
Come up with some creative designs for Abbey and Kitty's kings! There are no restrictions—all traits are free game to use for these designs!
- This contest has a 20 GB prize to the winner of each king design! The designs will be applied to their kings with a note in their biographies on who designed them.

Enter the contest here!
Raffles
Lots and lots of raffles in store for this celebration! The raffles will be drawn at 11:59pm LDT on 27th March.

Enter
Anniversary Raffle #1
for a chance to win some GB!

Enter
Anniversary Raffle #2
for a chance to win some SB!

Enter
Anniversary Raffle #3
for a chance to win a Piebald applicator!

Enter
Anniversary Raffle #4
for a chance to win a Patches applicator!

Enter
Anniversary Raffle #5
for a chance to win a base applicator!

Enter
Anniversary Raffle #6
for a chance to win a marking applicator!

Enter
Anniversary Raffle #7
for a chance to win a breeding item!

Enter
Anniversary Raffle #8
for a chance to win a rare background!

Enter
Anniversary Raffle #9
for a chance to win a rare decor!

Enter
Anniversary Raffle #10
for a chance to win an Oasis item!
Permanent Features
These features are either brand new or are returning after a very long time, and are here to stay - they will last past the duration of the anniversary event!
CATS
When you roll over on your birthday you can receive a decoration from a pool. The previous pool of decors has been retired from birthday rollovers and can now randomly drop during patrolling. We'll look into adding the older Aardwolf and Hyena birthday decors into January's Carrion Shop as well for 2024!
The new decoration pool is CATS!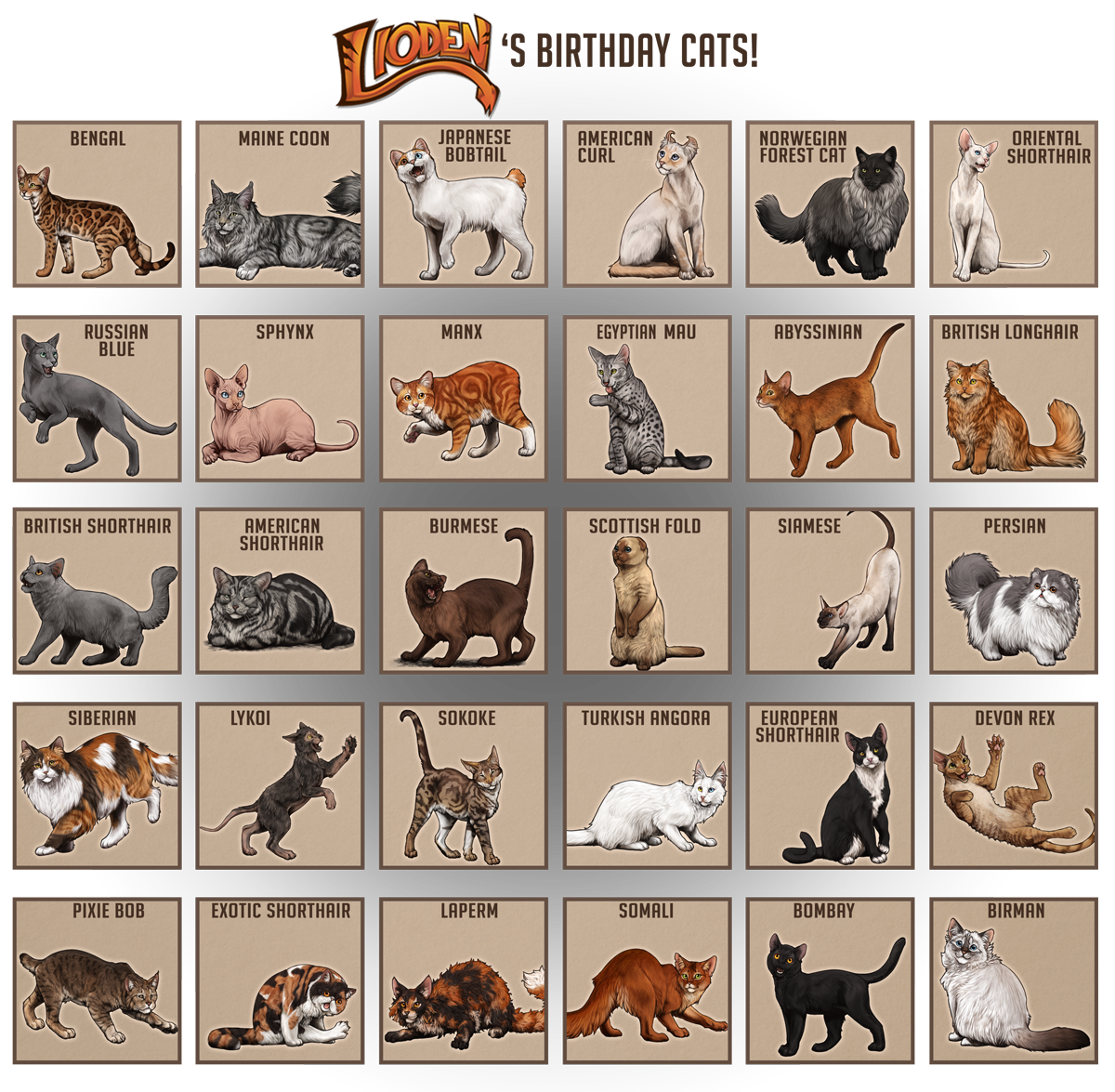 Den Comments
Dens have brand new Comment Boxes! Members can now leave (hopefully nice!) messages for members in their dens.

This is optional:
You can disable Comment Boxes in your Account Settings - this hides all Comment Boxes on the game from you, including your own. When your Comment Box is disabled, other members cannot post in it, and you cannot post in other members' Comment Boxes.
Liking Forum Posts
Forum posts (and replies) can now be "Liked" so that you can share your support and love for posts without even having to type!

Newbie icons
All members who have rolled over 10 or fewer times will now have a neat little

"new player" icon next to their name in chat, on their page, on forum posts, and on the Online Members list. We hope to continue to foster the amazing, friendly community that Lioden has, and that we are so proud of.

Lion marking tiers on their page
Markings now display which tier they belong to on a lion's marking list!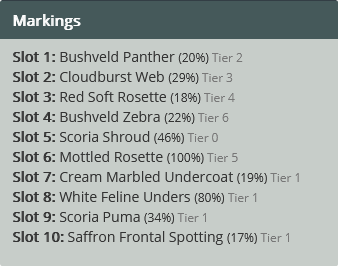 * As a reminder, Tier 5 is used to hold both hybrid markings (Mottled Rosette and Mottled Stripes), as well as markings that we want restricted from being applied in RMAs and Total Shuffles. This includes brand new markings that we do not want to be applied before they can be officially released, such as new raffle (Tier 2) markings, new event applicator (Tier 3) markings, etc. Please avoid submitting bug reports for markings that are in Tier 5 when you think they shouldn't be—we update the tiers ourselves after markings are officially released!
Custom Decors
We have added a small badge to denote Custom Decors in a lion's equipment list to easily see whether a decor is an official or custom item. This should hopefully help members identify the decors they like and give a tip on how to acquire them!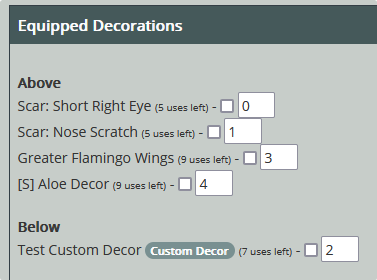 Duplicate Markings
We once removed the ability for multiple slots of one marking shared on parents to be passed onto cubs - this functionality has been reinstated. This means that if you have one parent with White Panther in Slot 1 and another parent with White Panther in Slot 4, both of those White Panthers can pass onto their cubs, and their cubs can have White Panther in Slot 1 and Slot 4! This also means that if you have one parent who has White Panther in all 20 slots (why?!), they can all pass down to their cubs, but that's a much more extreme example.

Marking Applicators
A big change to "one in four" marking applicators - they are no longer applied randomly (unless that is their specific intention e.g. Random Marking Applicator). Marking applicators (such as Chatoyant Enamel, Maroon Four, etc.) will now allow you to select which variant of the marking pool to be applied to your lions. No more praying for the right one, or wasting several applicators only to get repeating markings.
Changing this has included a refactor in how marking applicators have been coded, so please keep an eye out for any stray bugs. This may include changes in behaviour to other items that may not be marking applicators, but are feature-adjacent (e.g. marking removers, RMAs, etc).
Please report any bugs you find and we'll try to fix them ASAP!
New Emotes!
Six new emotes are available for use in the forums and chat!


















Chat Trivia
We have added a Chat Trivia game! This will be controlled by admins to begin with, but in the future we hope to set a twice-weekly schedule in different timezones so that (hopefully) all players can participate and earn prizes.
Answer trivia questions in chat to win a special prize ;)
Anniversary Twitch Stream
On Friday 17th March 2023 at 2pm Lioden time we will be streaming on our Twitch channel
https://www.twitch.tv/lioden
!
One of Lioden's co-owners, Abbey, will be hosting - we'll talk all about the beginning of Lioden, memories throughout the years, our favourite moments of the game, and our plans going forward. We might even share pet pictures. We hope to see you there!
What time is that in my timezone?
Planning for Lioden Merchandise
That's right, we've been discussing the potential of Lioden Merchandise and what that could look like. We launched a
POLL
on Friday to get your thoughts!
We're excited about the idea of a line of custom NPC plushies! But we wanted to get a rough idea of the level of interest to see if it's a viable venture for us, so if you haven't already please go and vote on the poll!
Thank Yous
We'd like to take the opportunity to thank some very important people.
To our volunteer moderators - thank you so very much for your valuable time in helping us moderate our community. You are incredibly appreciated and loved!
To our admin team, we would honestly be lost without you - we are eternally indebted to you for your dedication, patience, and expert handling of our wobbly admin tools. With a particular thanks to Katze, your knowledge of this game never ceases to amaze us, I think the three of us pitching in together would lose to you in a trivia battle.
To our admin and additional coder Deader, thank you for your assistance with the more complex aspects of the game's development, and for the minigames you've added over the years!
To our writers, your vibrant descriptions and encounters have helped bring Lioden to life, and for that we are so very thankful for your hard work and contributions over the years. (And I know you will tell me off for using "very" <3)
To our server admin and coder-extraordinaire Michael, thank you for the long days and nights of dealing with server blips, our endless questions, and for your dedication to making the game run smoothly and efficiently! It's been a long, hard 10 years, but we're very thankful to have you on board.
To our artists, we are constantly blown away by your incredible work. Your art breathes life into the game, giving it such a unique character. Our thanks for your tireless effort is endless, and we look forward to seeing what the future will bring!
And finally, to our members. Without you, there would be no game for us to tend to. We can never express how eternally grateful we are for your presence, your patronage, and your enthusiasm for Lioden, and all of the weird and wonderful adventures we've had over the years. From the very first alpha testers to the most recent joiner - thank you, thank you, thank you.
- Abbey, Kitty and Xylax
EDIT 2023-03-14 6:05am
A new reptile enemy encounter has been added to all biomes. Best of luck defeating it for the challenge!