Crossroads

Item Catalogue
Crossroads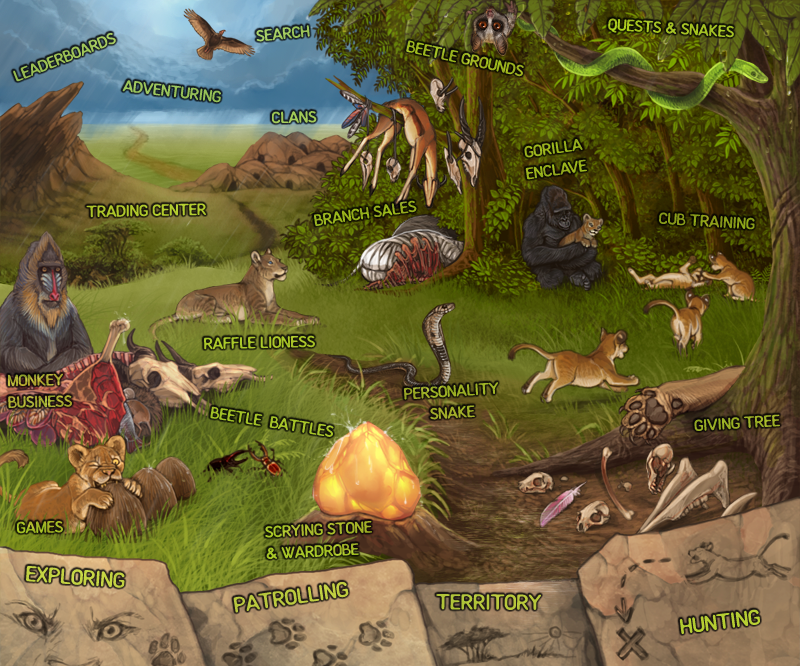 Exploring
Explore and adventure different territories to interact, battle and claim lionesses in the Lioden world.
Patrolling
Send your submales off to patrol and protect your territory.
Hunting
Send your best lionesses off to hunt and maybe they will bring back food for your pride to enjoy.
Cub Training
Train your cubs to prepare them for adulthood - whether they will become a hunter or patroller, they need to be trained.
Quest Snakes
Accept and complete quests, and discover karma and fertility levels and items with these slippery snakes.
Personality Snake
Learn about lion personalities and purchase special personality items from this slithery fellow.
Territory Map
Find out the territories which surround you and see if you can successfully attack any of your neighbours.
Monkey Business
Visit our favourite Mandrill to buy and sell various goods - you never know what you'll find here.
Oasis
Purchase Gold Beetles from the game or other users here and use them to purchase special items and services.
Trading Center
Browse member trades and raffles, or even list your own, in the Trading Center.
Sales Tree
Find out what other members have for sale on their branches.
Giving Tree
Find items that other members have left lying around, or cubs that others have brought here.
Gorilla Enclave
Take a quest from the Gorilla and submit your cubs to him in order to trade for some special items.
Raffle Lioness
Every week a new lioness will come to the lands of Lioden - will you be able to claim her?
Adventuring
Participate in epic questlines!
Clans
Become involved in member clans and find yourself a new group of friends.
Search
Search and filter the game for lions and members.
Beetle Grounds
Train your battle beetles and purchase food for your beetles.
Beetle Battles
Battle your mighty beetles for fame, glory and riches! Well, maybe not riches..
Scrying Stone
Interested in the future? See what your cubs will look like when grown, find out how many cubs your lioness is pregnant with, or even check yourself out in the Lion Wardrobe.
Leaderboards
Find out who the top members, kings and pride lions of the whole game are.
Games
Need a break from the daily stresses of looking after your pride? Play games here!