Custom Mane Chocolate Markings!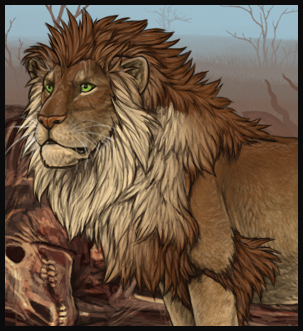 Simple as that! In customizers/oasis, Chocolate markings are now available for manes:
Chocolate Backhair
Chocolate Half
Chocolate Low Flow
Chocolate Tips
Chocolate Top
New Features/Adjustments
* Achievement progress bars have been cleaned up to look better.
* Searching for Pride Members in Explore now has the option to search for Only Alive Lions, the fertility of a lion based on fertility group (Infertile, Very Low, Low, etc), and whether the lion has a mutation or not.
* Taking an item from the Giving Tree will now create a user log entry.
* Topics with 50 or more replies will now show a new Hot Topic icon.
* Hunting Parties can now be renamed instead of having to disband and re-create them.
Achievements Bug Fix
We have re-enabled a bunch of achievements that were disabled due to the server lagging when trying to update them. The achievements enabled are the 99% EXP and 0% Energy, 50 Carcasses, 100 Skulls, 100 Feathers and First Wet Season achievements, along with all Forum Post achievements.
Now, what we've had to do is restrict the polling of certain achievements (those that check your inventory) to once an hour, on the hour. If you have met the achievement requirements and still don't receive the achievement for the carcasses, skulls or feathers, please keep the items in your hoard until the next hour starts (XX:00) and you should get the achievement. We hope.
Bug Fixes
* When you use the Search feature in Explore, it should now store in the fields what you previously searched for instead of clearing the form every time - this way you can easily adjust your previous search instead of having to fill everything out again!
* There's been an error with lioness counts not updating properly with trading - please allow your counts to update on rollover, but then let us know if it's fixed or not when you trade your lions.
* When you sort your pride in your Den, it should now update when immediately instead of having to reload the page.
* The Scrying Stone should no longer interfere with the chat box.
* The Scrying Stone now allows you to hit "Return/Enter" on your keyboard when inputting IDs to each section, instead of choosing to show you just the Cub preview.
* There was still a minor display glitch with some trades showing a GB OR SB price, when in fact it was listed as GB & SB. This is fixed once and for all!
* Hopefully updating Tufted Mane custom decors should now be working properly!
Explore Refreshing
Have you ever been into Explore and experienced pressing the "Explore" button, but the page just refreshing? Well, we've hopefully applied a fix for that - we'd like you to let us know if it's improved and the page is refreshing on a less regular basis, or if you're still experiencing the same amount of page refreshes.

Remember that event ends on January 31st at 11:59 pm, and all your currency will be stored in your account until next year.
Shad has added new tags, check them out as usual! :D
GAME FEATURES CLARIFICATIONS
per user demand
Mutation items:
- Lion Meat/GMO cows will work the same no matter what your lion's Fertility is.
- Lion Meat/GMO cows work separately from Fertility, meaning, they can affect one cub on its own, and your lioness' fertility can affect another cub in the litter anyway
- Cotton Root Bark will override any fertility boost/debuff
- GMO cow WILL override CRB's effect BUT it most likely WILL make GMO's mutation rarer if CRB's % triggers. So they benefit each other you could say, IF they both work at the same time. Each has its own % chance to actually trigger.
- GMO Cow will override Bark's % and use cow's % mutation chance BUT the bark might make the mutation super rare.
Instant Birth Feather:
- Cubs are generated upon breeding. With age -3 days (0 being birth) they are already fully made, on our server, waiting to be born. Using IBF does NOT affect anything in your cubs, their looks, mutations, nothing. It just sets their age to 0 and triggers birth notifications/mom reactions (losing pregnancy and nest)/cubs sired effect, etc.
Raffle Lioness
Congrats Asád (#51862)! you have won the last raffle lady along with Hottentots Mountains raffle background!
Newest lady with the Lush Oasis background and Fulvous Glaze is up for impressing in Special Lioness area in Explore or in NEWS section under News Post List!
NEW POLL
New poll is up
LINK
You can now vote which one of big projects you'd like to see first! That means of course, there will be still some time before we code it in, but we are curious what is more of a priority to you!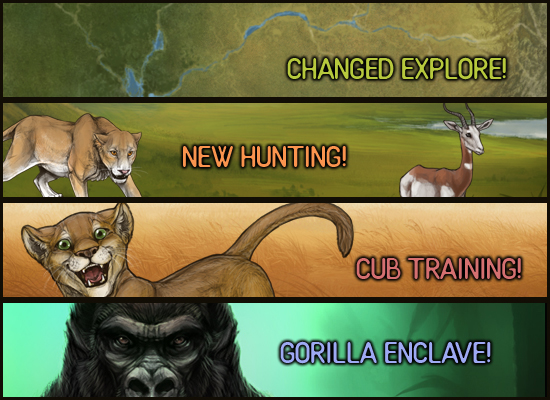 - Changed Explore - 4 new zones added, levels lowered and redistributed, setting max at 25+
- New Hunting - possibly a completely new system with different art/hunting group functions/results/strategies + possible merge with teen training system.
- Cub Training - we're still inventing this, but Cubs and Teens would (preferably) receive lovely hunting/patrolling supporting mechanics and minigames to improve their experience and skills.
- Gorilla Enclave - still inventing this, but by sacrificing cubs there you'd receive small boosts like impression, experience, etc. + chance for special currency that you can spend on exclusive things available only there, like retired decors, special poses, Lion body types.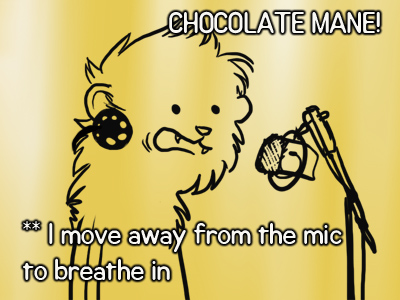 Edit: Fixed typo for CRB