Coding Update
Change of plans - today will be a coding update instead of an art update!
Grandpaw
Inspired by
this
suggestion.
From now on, during retirement, your old king will turn into a "Grandpaw". He will become a non-tradable asset to your pride, taking up his own special slot. He will live one year as a grandfather to your cubs and will interact with them!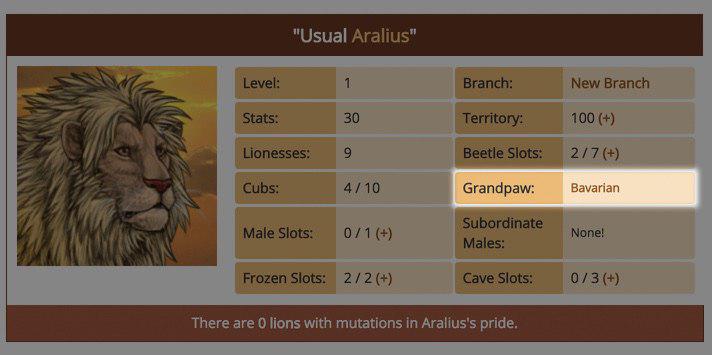 Grandpaw will generate flavour texts (written by our amazing mods and admins).
[rare] - when Cub Training fails - your lion will witness Grandpaw talking to the cub.
[common] - when visiting a Cub page - your lion will witness Grandpaw spending time with the cub.
[uncommon] - when visiting Grandpaw's page - your lion will interact with Grandpaw or witness a situation.
The flavour texts are actually affected by your Grandpaw's personality spectrum, meaning an Evil Grandpaw will have different interactions than a Good Grandpaw.
- Grandpaw slot is unique per account, you can't have more than 1.
- Grandpaw will appear in the Dynasty as alive until he dies.
- Grandpaw can't be retired into (duh!)
- Grandpaw will die when reaching 17 years or when you Retire him on his page. His information will store in Dynasty then.
- When you retire early and previous Grandpaw is still in your pride, he will be replaced by new Grandpaw and immediately appear in your Dynasty.
- Upon Grandpaw's death you will receive a Lion Skull.
- A rare chance a Lion Spirit decor will be granted as well.
- Grandpaw cannot be traded, transferred, raffled, patrolled or sparred with.
- Grandpaw will run away like any lion if he's neglected. He can't be reclaimed if you already filled a Grandpaw slot.
- Grandpaw still can be visited and interacted with. There is a rare chance the interaction will grant you 1 stat point due to mentoring.
- Grandpaw can receive decors and applicators like normal lions.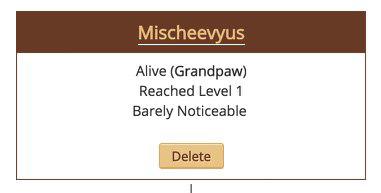 We are open for players to invent more Grandpaw flavour texsts! Please suggest your writing to
this thread!
We are planning a small expansion to Grandpaw's purpose in the pride in future :D

New RR level!
This is the season of gifting and pooping, so we're adding an event-based RR level!
You might notice, on EVENT page, a total sum of your gifts and poops given to other players. Starting since December 1st, we have been counting your generous actions! Based on them, the RR level and skins might unlock!
* Snuhlands - 666 gifts or poops, total & combined, needed.
* Albino Snake skin - 666 gifts needed.
* Mole Snake skin - 666 poops needed.
To unlock the skins and levels, you need to give that many gifts and/or poops! If you're one of the lucky players to already reach those numbers, enjoy your new RR level and skins :D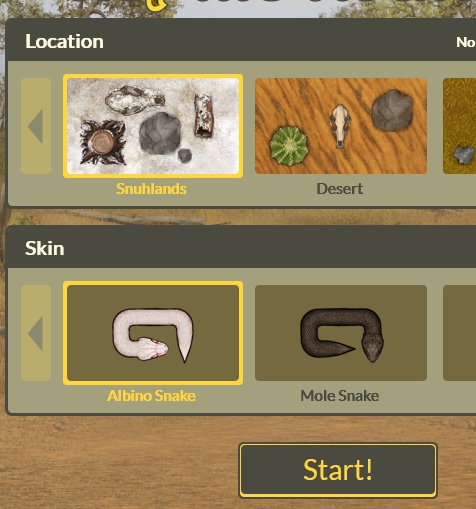 Snuhlands rewards are:
* Lamb Carcass - 25
* (new rare toy) Coal - 30
* Snake Eggs - 38
* Pastel Piebald Snake - 42
* Mole Snake - 42
* Peaceful Lamb - 50
* Cape Holly Branch - 55
* Falling Petals - White - 60
* Poinsettia - 70
* Snake Scent - 80
* Swartberg Mountains - 100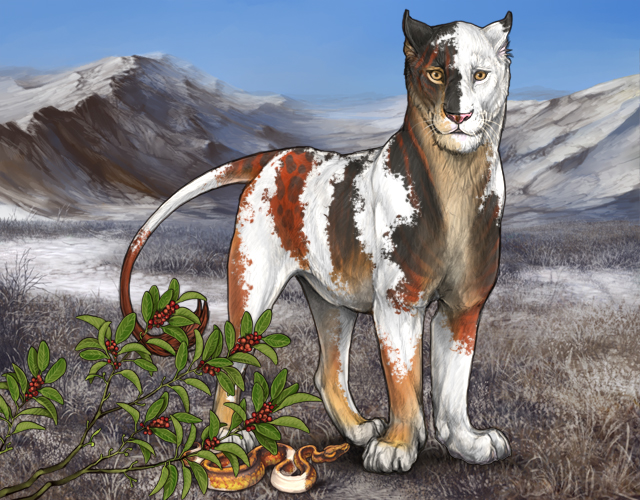 Bug Fixes and Tweaks
* Re-rolling a new king should properly fill your energy to 100%.
* Retiring a rabid king will automatically remove his rabies.
* User Logs will no longer display submales as "lionesses" when they run away due to low hunger, low mood, or lack of space.

Shad has added new tags to December! :D thanks Berenos for few of yours!
Raffle Lioness
Congrats Saerkan (#7887)! You have won the last raffle lady!
New lady with Tangor Crumbing, Tangor Rogue, and the Sunset over Entabeni BG is up for impressing in Special Lioness area in Explore or in NEWS section under News Post List!
Polls and dev notes
Looks like Laharu was a name of your choice for January's NPC! Neat!
LINK
- Could you help us decide which one of our own layout themes to introduce next? We're very open to player suggestions, but considering Aphrodisia theme would be soon, worth polling this one first!