The October event launches on October 1st at 00:00am LDT, and will end on October 31st at 11:59pm LDT. All unused event currency will be stored on your account until next year.
October Event - Rabies and Nightmares!
The month of horrible nightmares has arrived once again. October is scary not only due to the terrors of the night, but the most terrifying disease is being spread throughout Lioden's lands -
rabies!
Rabid animals are noticeable enough - be sure you kill them all to reduce infectivity. Be careful, though, as you may get infected too! Make sure you also beware of exploring at night... the dead do not rest.
Rabies
Rabid animals can be found in Explore during any time of day in all biomes! Winning fights against them will give you some Blood Beetles; however, whether you win or lose, every battle you partake in against rabid animals can give you RABIES! It's a small chance, but it's always there, so be careful.
There are pros and cons when it comes to rabies. Your energy
will not
raise above 80% and your main male
cannot
eat food, whether through Explore or if you try to feed him manually. You can also infect
other players
through PVP! You may also notice, however, that the rabies-induced rage gives you more strength in battles against NPCs!
In order to cure your rabies, you must buy a Devil's Claw in the Blood Beetle Shack. It costs 2 Blood Beetles and has 4 uses.
The more rabid animals that you kill, the more points you will add to the unlockable bars! There are 4 tiers, with the last tier unlocking a creepy crafting altar under the
EVENT
page!
Note: Last year's items are returning. Expect new ones as well!
You are able to dismiss the rabies notification that appears when your main male is rabid. This can be done for 24 hours at a time, or for the entire month of October if you wish.
This only happens on the device you dismiss the notification on; it is not tied to your account. If you dismiss the notification on your phone, it will still appear on your computer (or other device), and vice versa.
This gives you the opportunity to customise your notices based upon your device.
2020 Rabies Updates
* Older art for rabid NPCs received updates: African Wild Dog, Red Fox, White Lion
* A new rabid NPC, Rabid Old Lion, has been added!
Remember that a cute Trick-or-Treat feature on player den pages starts on October 25th! Here's some Wiki info about it!

Halloween!
At night, Halloween-themed creatures appear! You can fight them to gain currency, or you can interact with some in different ways.
General Information for 2020
* Due to Wolvden's release taking much of our time at the end of September, we'll be adding more event decors for October 9th's update.
* Halloween Bundles will contain new bundle-unique decors on October 9th.
* A heap of new decors were added to the Blood Beetle Shack!

Fear of the Dark


Spirit of Goetia: Furfur


Spirit of Goetia: Raum


Spirit of Goetia: Halphas


Spirit of Goetia: Vual


Vual's Hood


Goth Makeup


Matagot


Monstrous Morph [Orient]


Toxic Bubbly Growth


Toxic Oculus Horns

New Applicators
Three new applicators have been added to the Blood Beetle Shack.
* Haunted base applicator
* Haunted mane colour applicator
* Haunted markings applicator

Haunted Body
Base Applicator

Haunted Mark
Marking Applicator

Haunted Fur
Mane Colour Applicator

Haunted base genetics: Red Dark Countershaded Special, tied to Dark skin!
Keep in mind that there is a 4th tier that unlocks an area where you craft Shards of Evil into mane applicators. This year, you can craft a Brimstone mane colour applicator!

Brimstone Mane
We also remind you about the ...
Incubus Mane Shape!
When Tier 4 unlocks, we will enable a unique Monkey Business crafting recipe that lets you craft the Diabolic mane applicator (Possession) and Hellraiser mane applicator (Invocation) into
an Incubus mane applicator!
You will need 7 of each to make the new Incubus mane applicator.

Story
Heaven vs Hell lore! This month isn't as giant as July's branching storyline with its choices, and it does not have an ending yet - we're planning to expand on that in the future. This year turned out to be a "woofy and a half" + big yikes on the global scale that delayed our plans. However, you can side with the Good guys, the Evil guys, or... go neutral!
This year, we hope you will enjoy being introduced to the whole Heaven vs Hell clash, doing daily quests, and picking sides. Don't worry, though - this year's choice won't affect you in future years!
You will meet a Manticore. He will tell you that there is a battle between Heaven and Hell, and he will let you meet either side. Now, be aware that your choice will be permanent
to a degree
(this year). You won't be able to switch sides between Angels and Demons, but you will be able to postpone the decision and hang out with the Manticore, or even come back to him once you're done with either side!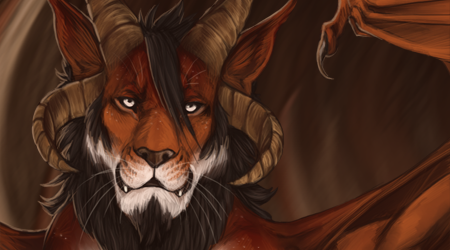 Heaven and Hell's story will also "expand" on October 10th. They need to observe you first before they can trust you further. They might upgrade your powers if you can show your dedication!


Summary
* You will meet a neutral Manticore that will let you pick a side, or not pick a side with the preference to do neutral-aligned quests until you change your mind. You can also choose to never pick a side at all!
* When you choose to side with Heaven or Hell, you will lose access to the Manticore and his shop, unless you buy yourself a way back.
* When you choose a side, you will not be accepted into the opposing faction at any time during this year,
even if you go back to the Manticore.
* When you side with the Angels, you will only battle Demons in Explore - and vice versa.
The side you choose does not affect October's usual explore encounters, including the Halloween ones.
* You will gather new currency and reputation for the two factions as you fight their enemies and finish their daily quests.
* Reputation will allow you to progress on October 10th as well as unlock FREE REWARDS in the faction's shop, such as energy, titles, currency (we saw Monkey Teeth in there!), etc.
* Each faction uses the opposing faction's trinkets as currency. Demons want Nepheline Feathers and Angels want Demonic Scales.
* The Manticore has no care for the incoming apocalypse and prefers Blood Beetles in his shop.
* The Manticore also has unique decors in his shop, as well as the Bloodbourne mane colour applicator, older decors, and rare non-event items.
* Heaven and Hell both have unique decors in their shops as well as special effect items and energy boosts. The Angelic and Demonic mane colour applicators are in each shop, respectively.
* Heaven will sell angelic decors and items. Hell will sell demonic decors and items.
* Your karma will have a
very minor
effect when meeting entities. As an evil lion, you can still join Heaven, although the Angels won't be too nice to you. If you choose to join Heaven as an evil lion, for example, remember that some daily quests will require you to gain karma (thankfully you can swap that quest)... and vice versa for Demons with good karma, of course.
* Daily quests will be randomised and rewards as equal as possible no matter which faction you choose. Remember that you do have upgrade perks after October 10th.
* You will have the option to swap a quest if you are not pleased with the one you have been given. The system will pick a different quest from the pool.
* On October 10th, if your reputation with your chosen faction is high enough, the novel will continue and grant you a special power usable in Explore that reaps special rewards! Things will get hardcore.

* If your reputation is
not
high enough, the novel will inform you that you need to prove yourself via daily quests and the story will not trigger further until you meet that requirement.
* If your reputation with Heaven or Hell reaches various thresholds, you will encounter more Demons or Angels in Explore, respectively.
Be sure to utilise our official Wiki to the fullest during this month!
You may also find the
October storyline Wiki page
helpful.

2020 Updates
* Six new encounters for each faction to battle with and gain special currency!
- If you are on Heaven's side: Tannin, Bahkauv, Rangda, Onoskelis, Ghaddar, Sharabha
- If you are on Hell's side: Cernunnos, Okó, Inanna, Lailah, Narasimha, Haizum
* New decors in all three faction shops (and more will be added on 9th).
Hell

Gateway to Hell


Vile Drool


Oculus Horns


Hellhound


Unholy Eclipse

Heaven
| | | | |
| --- | --- | --- | --- |
| Heavenly Reflection | Holy Light | Halo of Swords | Holy Eclipse |
Manticore

Portal to Oblivion

Bundle Reminder
This month you are able to purchase a Halloween Bundle for the chance to get between 1 to 3 random Halloween decorations.
You can purchase a maximum of 1 Halloween Bundle per day for 1000 SB. You can purchase an unlimited amount for 2 GB each.
The Halloween Bundle may contain exclusive rare decors AND a chance for decors that are only dropped via Explore as well!
October Special
From October 1st 00:00am LDT until October 31st 11:59pm LDT, the Oasis sells an adorable Halloween Costume decor! It grants your lions hilarious and adorable costumes that are different for every stage!