Community Update
Aside from monthly event news posts and the 2nd Friday of each month being focused on art/coding updates, all other Fridays are centered around the community!

Official Lioden Raffle
LINK
- This is our official community update raffle. Everyone gets a chance to win a rare prize, plus something extra for any runner ups. These raffles have a very minimal ticket price, and there is a limit of 1 ticket per account to make it fair!

Good luck!
This raffle will automatically end on 2021-10-01 00:00:00.

Raffle Lioness
Congrats
llikei (#234519)
! You have won last week's Hellebore lady, woo!
A new Goridhe lady with
Bushveld Brindle (NEW!)
,
Bushveld Pelage (NEW!)
, and the FIRST EVER Himba Village background is up for impressing in the
Special Lioness area linked here
!
Marking Note: Feline 1 Lilac is now possible to apply via RMAs/Total Shuffle!

Poll Results
- The majority of votes went to Goridhe, with Fiery not too far behind! We
may
end up releasing raffle markings for all five colours based on vote priority (so Goridhe would be first, Fiery second, Doubloon first, etc.). Anyone excited for Goridhe Crackle and Goridhe Margay, among others?

NEW POLL
- More marking stuff?? We have 10 new proposed marking colours that we may add to Lioden. 4 of these are our own creation and 6 were taken from player suggestions. Vote for your favourite new marking colour out of these 10!
(We may add all of them if the community is in favour, and pick which comes first via poll results!)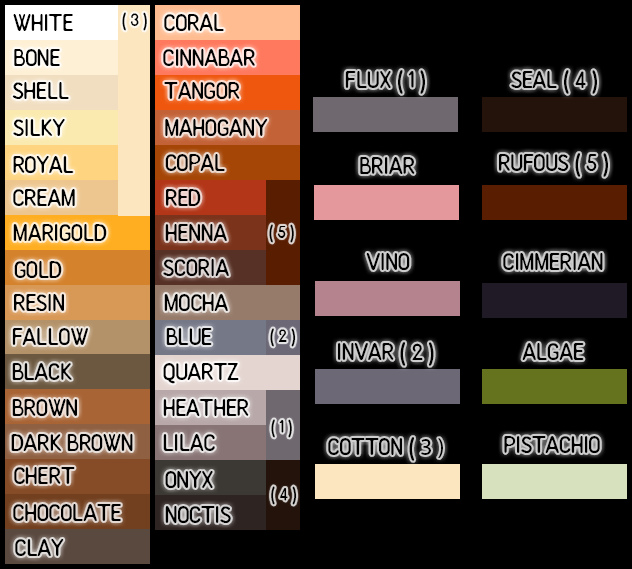 The numbers in parentheses within the mockup above indicate which proposed marking colour is being compared to an existing shade, e.g. ( 3 ) indicates Cotton which is compared to existing light colours (White, Bone, Shell, Silky, etc.).

Next Development Update: October 8th!
Friday goofy doodle comic: