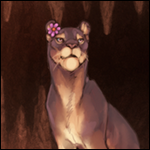 BalancedApple

(#229626)



Famous


View Forum Posts




Posted on
2021-10-08 04:26:11
Hello!

I've been on this game for a long while now and only recently I started forming this desire to collect Golden Beetles to afford all the things I want for my next King after my precious Sultan retires. I already have a plan and a design on how I wish my new Heir to look and yet I still need to get so many things.

Now why I've decided for this method of earning.. I saw my friends do this and since I share the passion on writing and loving backstories, I thought I might give this a shot. I mean anything has to be tried at least once, no?

I made backstories for two of my lionesses if you wish to check them out:
Akina (Dungeon of Sincerity)
Nzuri (King's Pride)

I write either short stories or semi-literate which can be between 5 to 20 sentences long, depends on what each person wants!

Now about pricing my writing....

Short story.... 2GBs

Semi-literate story (10-20 sentences).... 10GBs

Big backstory (Including only one lion).... 15GBs

Big backstory (Including more than one lion).... 20-25GBs

If you have any further questions, you can PM me for answers! I'm available almost everyday!