Special Info
We've had the privilege of training new, talented artists who have joined our team! We're excited that the workload will be distributed among such a big team (8 artists!), and that we now have dedicated artists for storylines, so Xylax (the main artist) will be able to focus more on developing new mutations, poses, etc.!
We're also laying the foundations for October's storyline ending and will work towards it in 2023.

We want to apologise for any art bugs or file delays this summer. With more time now thanks to a bigger team, Xylax will prioritise fixing these issues on Lioden starting Monday!

Anniversary Contest Notice
It seems we had gotten the end date for the anniversary contests slightly incorrect—the contests will end at
11:59pm Lioden time tonight
, and winners will be chosen immediately afterwards. We will be releasing a separate news post tomorrow (Saturday, September 10th) to announce the winners of the anniversary contests!


September Event Content
New Decors
New decors (made by one of the new artists!!!) have been added to the Prophet Shop!

Arabian Horse
Tier 1

Abyssinian Horse
Tier 2

Barb Horse
Tier 2
Additional Event NCL Markings
The following September event NCL markings have been released and can be found on event NCLs until the end of September:
* Noctis Foreshadow
* Noctis Taper
* Noctis Tuxedo
* Onyx Foreshadow
* Onyx Taper
* Onyx Tuxedo

Crafting Content
A few cute decorations have been added to Monkey Business's crafting area. They can be crafted year-round!

Snake Skin Wraps
Snake Scent x15, Nut Grass x15

Large Garden Bumblebee
Carpenter Bee x20, Shiny Green Rock x5

Blue Carpenter Bee
Carpenter Bee x20, Shiny Teal Rock x5

Great Banded Furrow-Bee
Carpenter Bee x20, Shiny Orange Rock x5

Gwynne's Mining Bee
Carpenter Bee x20, Shiny Black Rock x5

Red Mason Bee
Carpenter Bee x20, Shiny Red Rock x5

Vestal Cuckoo Bumblebee
Carpenter Bee x20, Shiny White Rock x5
We've also added a set of Kopje boulder decorations!

Kopje Tree
Large Rock x15, Large Leaves x10

Kopje Ground Formation
Large Rock x25

Kopje Bush
Large Rock x15, Underbrush x10

Kopje Tunnel
Large Rock x25

Kopje Cliff
Large Rock x25

Big Kopje Boulders
Large Rock x25
In addition to this, there is a new set of craftable backgrounds!

Maletsunyane Falls
Underbrush x20, Large Rock x20, Large Leaves x20

Kruger National Park
Underbrush x30, Large Rock x10, Large Leaves x20

Mount Elgon
Underbrush x10, Large Rock x40, Large Leaves x10

Tugela Falls
Underbrush x20, Large Rock x20, Large Leaves x20

New Combo Base!

Styx
is a new combo base, voted for in a poll a long time ago!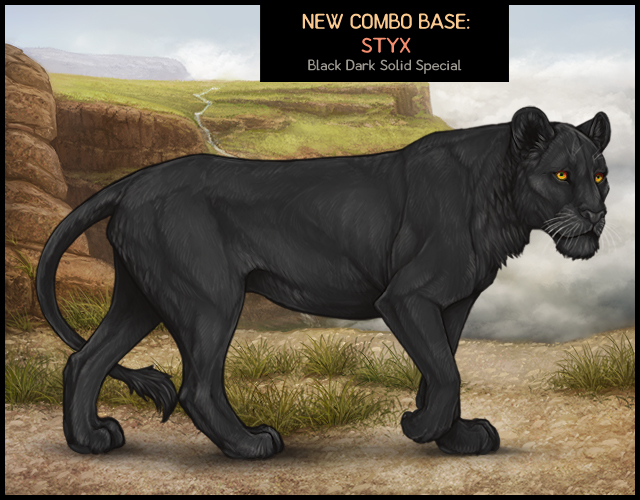 It can be bred by combining the following factors.
Factor 1:
Noctis, Styx
Factor 2:
Jet, Obsidian, Onyx, Titanium, Styx
Of course, Styx can be passed when breeding two Styx lions together, or by combining any of the factor bases with Styx. It can be bred year-round and does not have season or time constraints.
Genetics:
Black Dark Solid Special, tied to
Matte
skin.

Chat Room Updates
We have a few quality of life updates for the chat room today!
New (Returning?) Channel: Clans!
Clans Chat
is back by popular demand! Many of you have been asking for a place to advertise your clans outside of the forums, and now, it's back!

Clans Chat can be used to advertise your clan to other players and seek clans to join that are owned by other players. This channel can also be used to advertise your ongoing clan contests and clan raffles, as well as clan giveaways!
Channel Timers
We have also implemented timers for sending messages in Role Play Chat and Art Sales Chat. Role Play Chat and Art Sales Chat now have a timer of
60 minutes (1 hour)
in between messages, as these channels tend to move slowly and do not see as much activity as Sales Chat and Giveaways Chat. This timer is per-account, which means that multiple players can all send messages at the same time, but each one will incur an individual 60-minute cooldown after sending a message.
With this update, we are no longer considering it to be a rule break if the same player has multiple visible ads in one scroll of the chat room within slow-moving channels. Previously, we had a rule that you could not repost your advertisement if it is visible in the last 10 chat messages within the chat room. As there is now a timer between messages, you are permitted to have your advertisement visible as many times as this timer would allow in one scroll. We may revisit this in the future if the channels move too slowly and one player is overtaking the chat room with their advertisements, however.
To clarify so that all players can be aware, this is the timer information for all chat channels:
*
Main Chat:
No cooldown between messages.
*
Role Play Chat:
60-minute cooldown between messages.
*
Sales Chat:
10-minute cooldown between messages.
*
Art Sales Chat:
60-minute cooldown between messages.
*
Giveaways Chat:
10-minute cooldown between messages.
*
Clans Chat:
60-minute cooldown between messages.
*
Help Chat:
No cooldown between messages.
As a reminder, it is against the rules to post the same advertisement, sale, or service using two accounts in the same timer window.
If you have two accounts, you can post your own advertisement for each individual account in the same timer window, e.g. posting your main account's stud service on your main account, then posting your side account's stud service on your side account immediately after. However, you cannot use your main and side account to advertise your main account's stud services at the same time/within the same timer window.

Trading Center Update - Hiding Trades
After taking into account some of the feedback we received during the discussion of the challenge/paperclip trades, we have implemented a quick and easy way to hide trades from the search results. While these trades can still be viewed, purchased, offered on, etc., any hidden trades will not show up while browsing the Trading Center. Each trade now has an eye icon () next to it while browsing/searching:
Clicking on that icon will immediately mark the trade as hidden. Any future search results will filter out this trade. After hiding the trade, you will also have the option to hide all trades by that player, or to undo the action:
Clicking undo will immediately remove the hidden status of the trade and return it to normal. If you click on "Hide all trades from this player", any other trades belonging to the same player on the current page will be immediately hidden as well:
Hiding a player's trades only affects the Trading Center search results . This is not like a regular player block, where you cannot view any of their information, trades, raffles, posts, etc. If you follow a link to the trade of someone you have hidden, you will still be able to view it as normal and perform any other standard actions with it.
If at any time you want to undo this, you will need to go to the "
Manage Trades
" section of the Trading Center. Here you will find two new sections (previously it only showed your trades and your offers):
Hidden Trades and Hidden Users will allow you to unhide any individual trades or players that you have previously hidden. There are no confirmation prompts when hiding trades or players, to make it as quick and easy as possible to remove unwanted results from the Trading Center. Hopefully this first step will help you to curate your browsing experience. We will continue to monitor feedback on this, and revisit this area if necessary.

Raffle Lioness
Congrats to the winner of last week's raffle lioness!
A new
Ripe
lady with
Goridhe Indri
,
Saffron Crackle
, and the second Bioko background is up for impressing in the
Special Lioness area linked here
! She also has the first
Honey
mane colour, which is new and breed-only!
Tags!
Shad has added 24 new tags this month in the
Beetles
,
Breeding
, and
Event ➜ September
categories!
Poll Results
- Thank you all for voting on last week's poll! It looks like lots of you are interested in Winter folklore creatures. We'll keep this in mind!
NEW POLL
- What would you like us to focus on regarding lion looks? Let us know in this week's poll!

Next Update: Community Update - September 16th!
Next Development Update: October 14th!!
Where's the official raffle and Friday comic?

Community raffles and Friday doodles are only released on community updates. This is a development update, so no raffle or doodle will be released this week, sorry!