Black Friday Reminder
We'd like to remind you that our Black Friday event is coming up - from 12:00am on the 25th November 2022 until 11:59pm on the 28th November 2022 we will be launching our annual Black Friday promotion on Gold Beetles. We are making adjustments to the item tiers this year, with new and old special items to be gained!

November Event Content
New Shop Content

Shamanic Death Mittens
Tier 3


Shamanic Tarot: The Lovers
Tier 2


Mane Markings: Whisper
Tier 3

Whisper Mane Markings
Whisper is a new marking colour - a more vibrant version of blue, following our theme of an ancestral azure hue. Much like Lilac mane markings, the Whisper mane markings come in 16 shapes:
- Whisper Back Hair
- Whisper Beard
- Whisper Cowl
- Whisper Crest
- Whisper Ends
- Whisper Flow
- Whisper Hair Band
- Whisper Half
- Whisper Low Flow
- Whisper Quarter
- Whisper Ringed
- Whisper Side Band
- Whisper Sideburn
- Whisper Ticked
- Whisper Tips
- Whisper Waves
New Gem Crafting Content

Moss Agate Fang Extensions
15x Gem: Moss Agate

Jewelry: Cat's Eye Plated Necklace
15x Gem: Cat's Eye

Jewelry: Bloodstone Earrings
15x Gem: Bloodstone

Shards: Bloodstone
30x Gem: Bloodstone
New Fossil Crafting Content

Megaceroides
15x Ancient Fossil

Falcatodon
15x Crumbled Fossil

Roaring Afrovenator
5x Afrovenator Fossils, 30x Underbrush

Wandering Giraffatitans
10x Ancient Fossils, 20x Large Leaves, 10x Large Rocks

Wading Spinosaurus
10x Ammonite Fossils, 10x Water Roots, 10x Large Rocks, 10x Large Leaves
Bloodstone Mane Colour
Bloodstone mane is a new craftable mane base, matching the Bloodstone base we introduced in a previous November event!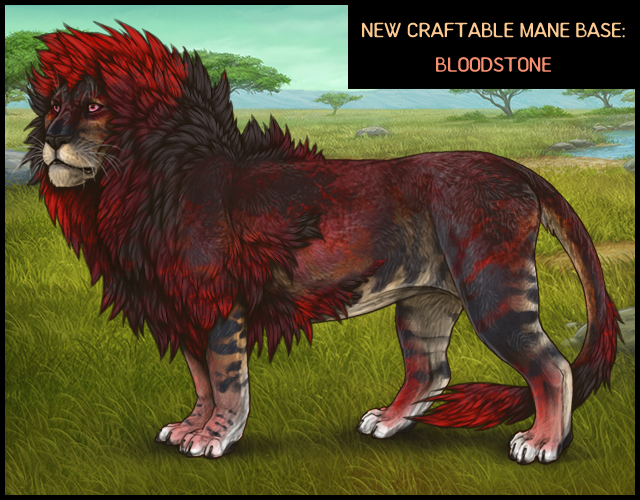 New Submale Patrol Drops
These new decors can be brought back by your submales when you send them out on patrols!

Fancy Guinea Pig [American Shorthair]


Fancy Guinea Pig [Satin]


Fancy Guinea Pig [White Crested]


Fancy Guinea Pig [Himalayan]


Fancy Guinea Pig [Abyssinian]


Fancy Guinea Pig [Peruvian]


Fancy Guinea Pig [Rex]


Fancy Guinea Pig [Texel]


Fancy Guinea Pig [Teddy]


New Beetle Book Descriptions
The first two beetle species have had their descriptions added to the beetle book feature:
Basicryptus costalis
and
Empusa fasciata
! When viewing these species in the beetle book, whether you have these types of beetles stored or not, you will be able to read some neat information about these beetles!
We hope to have more descriptions filled out in the coming updates!


Art Bug Fixes
* Ankole Skirt Skin Wraps was missing for Adult Female Good stage
* Rau Quagga decor was missing for Teen Male and Adult Male stages
* Shamanic Fur Bands [Red] showed up as Yellow
* Shamanic Fur Bands had stray pixels on Cub stage
* Kiko Goat Horns [Dark] and [Light] had an odd angle on Evil pose
* African Flower Ornaments [Watsonia] had a different shade of red on Adult Male stages
* Maneless mutation files updated
* Harbinger Mane decor on Adult Male Crescent mane has had the tail detail adjusted
* The Comet Glow [Eyes] and Comet Glow [Paws] decors fixed for Adult Males
* Swamp Hibiscus decor missing on Kind pose
* Cub Young Pon missing Teeth Coloring on lineart
* Oversaturated Orchid base for Neutral pose den profile crop
* Fossil Plant encounter was adjusted a bit

Raffle Lioness
Congrats to the winner of last week's raffle lioness!
A new
Lilac
lady with
Bandit Cloud
,
Dawn Shine
, and the fourth Climbing Tree background is up for impressing in the
Special Lioness area linked here
! She also has the first
Platinum
mane colour, which is new and breed-only!
Tags!
Shad has added 33 new tags this month in the
Appreciation
,
Breeding
,
Doodles
,
Event ➜ October
,
Event ➜ November
,
Miscellaneous ➜ Landscapes
, and
Miscellaneous ➜ Lions
categories!
Poll Results
- Thank you all for voting on last week's poll! It looks like the most popular choice is to have players reposition static decors and submit those for approval, while our official artists redraw any body-fitting decors. We'll be thinking more on this!
NEW POLL
- Which type of beetle species should get their beetle book descriptions updated first? Let us know in this week's poll!

Next Update: Community Update - November 18th!
Next Development Update: December 9th!!
Where's the official raffle and Friday comic?

Community raffles and Friday doodles are only released on community updates. This is a development update, so no raffle or doodle will be released this week, sorry!