New Rosettes: Shaded!
The new rosettes will launch TOMORROW!
We want to give everyone in both EU and US timezones (majority of our players) a chance to start on even footing and have enough time to read the news to prepare their energy, studs, and lionesses for breedings. It can be a little tricky with the February event getting a lot of your attention, too!
This new rosette type will launch on 11th February, 9am Lioden time.
This means that at that time, it will be available for breeding and will appear in RMAs and Total Shuffles.
Shaded Rosette
and
Inverted Shaded Rosette
come in all colours that all previous rosettes are available in!
* Auburn Shaded Rosette
* Briar Shaded Rosette
* Bushveld Shaded Rosette
* Dark Brown Shaded Rosette
* Doubloon Shaded Rosette
* Ebony Shaded Rosette
* Fiery Shaded Rosette
* Ginger Shaded Rosette
* Goridhe Shaded Rosette
* Noctis Shaded Rosette
* Onyx Shaded Rosette
* Red Shaded Rosette
* Seal Shaded Rosette
* Bone Inverted Shaded Rosette
* Cream Inverted Shaded Rosette
* Fiery Inverted Shaded Rosette
* Gold Inverted Shaded Rosette
* Saffron Inverted Shaded Rosette
* Silky Inverted Shaded Rosette
* White Inverted Shaded Rosette
They both have new and unique requirements to be bred; however, the requirements are less complex than the last set!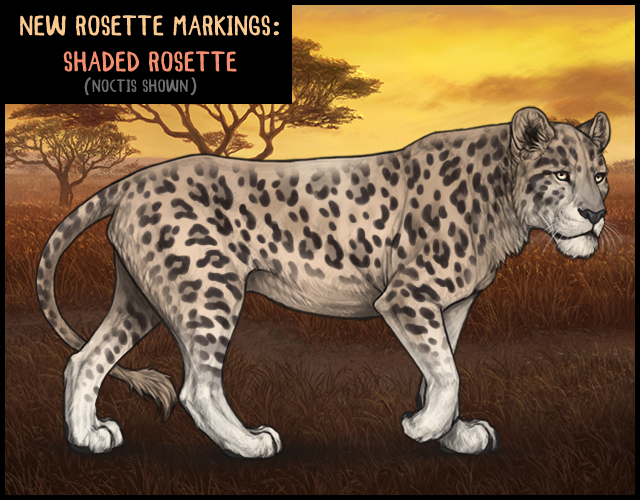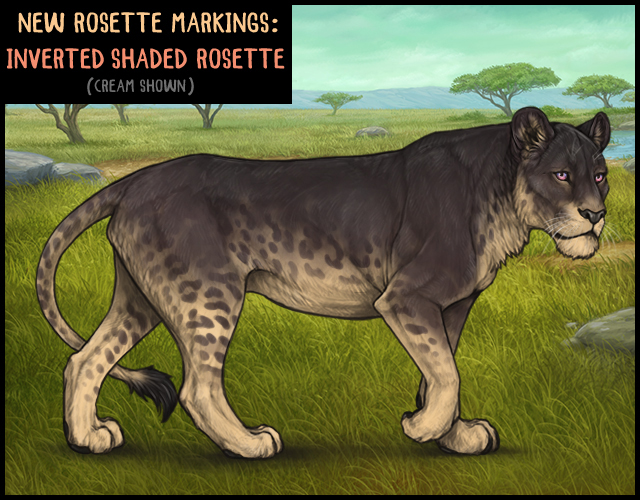 New Combo Base!
A new combo base is now available!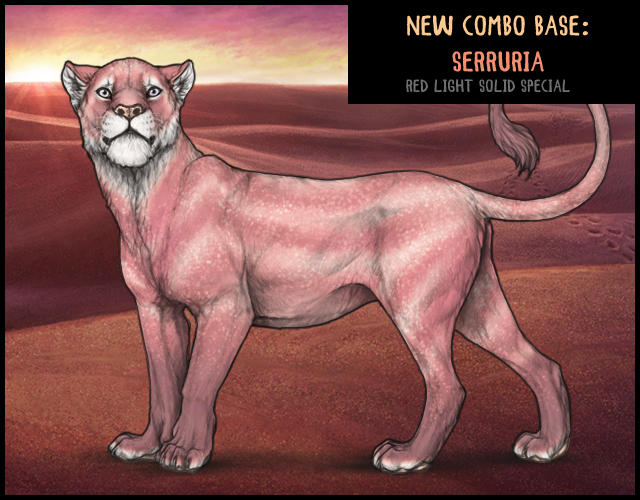 Serruria
is a
Red Light Solid Special
base tied to
Pale
skin. It can only be bred during Day on Lioden, but is otherwise available year-round!
Factor 1:
Serruria, Maroon
Factor 2:
Serruria, Heavenly, Nacre, Pearl
Thank you for the suggestion,
Svalbard [4xRos Ebony] (#129703)
!


New Decors!
Flood Pit
New weather decors can be found in the Flood Pit!

Foggy Aura


Back Fog


Fog Swirls


High Fog


Misty Haze


Drizzle


Light Rain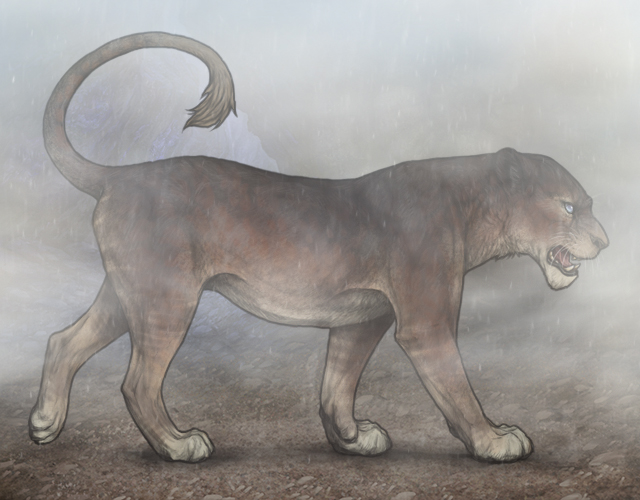 Monkey Business
New cute decors are available in Monkey Business!
| | | | |
| --- | --- | --- | --- |
| African Peach Moth | Mountain Pride | Pair of Giant Charaxes | Violet Tip |

Art Bugs Fixed
* Fixed a missing file for Quartz Bottom Smooth mane marking for Adult Male Primal (Felis).
* Fixed bases "bleeding" with Duat and Ripe bases for Cyclopia.
* Fixed Marula and Ripe bases missing for Teen Male Leopon.
* Sirenomelia and Two Heads were missing a few eye colours.
* Teen Male Primal (default and Smilus) had colour glitching on Blood Moon and Kunzite manes.
* The Heavy Metal Tailbands decor was missing for all Adult Males except Hellraiser.
*
ALL mutation stages are fully up-to-date!!

Anything missing for mutation stages from now on will be looked at by our staff and an artist will be informed to fix it ASAP!
!! Info !!
* Scraped Back markings will appear in the Lion Wardrobe next week!
* Shaded Rosettes are being uploaded and should all be visibly by release time! Bear with usβ€"it's thousands of files!
Coding Bugs Fixed
* Getting rid of a lioness will no longer remove any already-dead cubs she has (e.g. lethals).
* Quotation marks in bookmark titles should no longer break the input fields on the Bookmarks page.

Important Notices!

We might make some dark backgrounds a little lighter
to fix some issues with dark sceneries against our lineart being lighter than black, and ground shadows being lighter and looking odd against a dark background. One good example is the Creepy Tree background. This is a planned change for the April Development Update and shouldn't affect scenes *too much*, but some might have less contrast. We'll list the adjusted backgrounds in that update, of course. We want to give you a heads up, as some lion scenes might look a bit less dark.

Due to a
peculiar situation
during the big eye rehaul, the cutout we used can be visible in one pixel space against bright markings on some stages. We will be figuring out what works best to fix this. You might expect a very, very tiny adjustment in the eye lineart area for some lions. Once it's done, it will be announced in future news!

Raffle Lioness
Congrats to the winner of last week's raffle lioness!
A new
Rose Gold
lady with
Bandit Mirage
,
Dawn Margay
, and the seventh Fourteen Falls background is up for impressing in the
Special Lioness area linked here
!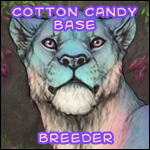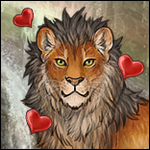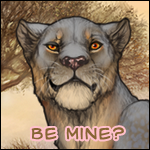 Tags!
Shad has added 11 new tags this month in the
Breeding
and
Event ➜ February
categories!
Poll Results
- Thank you all for voting on last week's poll! We'll definitely keep in mind to release more marbled versions of existing markings, possibly even in both overs and unders!
NEW POLL
- Would you like for more gems to be introduced? Let us know in this week's poll!

Next Update: Community Update - February 17th!
Next Development Update: March 13th!! It's our Anniversary Update!

Where's the official raffle and Friday comic?

Community raffles and Friday doodles are only released on community updates. This is a development update, so no raffle or doodle will be released this week, sorry!