Floodpit Information
The admins discussed the issue of the Vredefort adventuring quest requiring Floodpit access to progress at one point and the entire month of August being absolutely dry. We have decided to manually open the Floodpit twice this month on August 14th and August 28th. The Floodpit will be open on these days only from 12am LDT to 11:59pm LDT.
If you'd like to roleplay it, consider it a flash flood! ;'D

Several systems have received some much-needed TLC in today's update - let's check them out!

Brand New Achievement System!
Achievements have been reworked from the ground up! Not only does this make it easier to add in new achievements - it also ensures that they are awarded much more reliably! Newly-earned achievements will appear at the bottom of your screen. You can click anywhere within the achievement's popup to dismiss it.
We have added in
2 new achievements categories: Events and Games
! Any event-related achievements will be under the
Events
category, while any game-related achievements will be under
Games
.
We have also added in
47 brand new achievements
! Some of these new achievements are public, while others are super special and secret.

Have fun earning them!
Along with this rework, several achievement-related issues have also been squashed.
* The achievements progress bar should no longer show over 100%
* Achievements for collecting a certain amount of items are now awarded at a much higher frequency than they were before
* Selling items to Monkey Business should now correctly reward their achievements
We are planning to add in a way to compare achievements between players for a fun competitive site addition - this will likely be implemented in a future update.
TL;DR: Achievements Adjustments
* 47 new achievements have been added in!
* Newly-earned achievements will pop up at the bottom of your screen and can be clicked or tapped on to dismiss
* Two NEW achievements categories have been added:
Events
and
Games
We'd like to give a big THANK YOU to all the players who suggested these new achievements over the years!



Brand New Title System!
Titles! Titles, too, should now be rewarded properly, as well as stay locked when you tell them to stay locked. On top of that,
all titles can now be positioned before or after your king's name
. Do you want to be known as "Maneater Fluffy", or "Fluffy, the Maneater"? As of today, you can now choose your title's positioning. We hope this will add to all of your fun roleplaying elements on the site.

Some title-related bugs were fixed with this update.
* Sapphic is now properly awarded when equipping a Lab Test Frog to your king
* Maneater is now properly awarded when you visit the Savage Studs page

Clan Activity Logs
Within each clan, there is now an
activity log
linked below the clan's details.
All clan members can view these activity logs. In a future update, if you guys request it, we could implement a toggle option to make the activity logs private so only clan admins can view them.
The activity logs work exactly like your own user logs: they are listed from newest actions to oldest, they are paginated, and you can search through them using specific keywords!
Clan activity logs record all activity for a clan up to two months into the past.
Other Clan Adjustments
* Clan hoards have now been paginated to avoid massive clan hoards crashing browsers and causing issues with lag when viewing them.

Environmental Threats
Some time ago during a neighbourhood cleaning spree (picking up trash left by nasty people), an idea sparked in our heads to add some environmental effects caused by humans into Lioden. It is a reality we sadly live in and have to face daily - now, so do our lions. Today, we've added in
eight
new encounters: four are year-round, and four are August-only.
They will have some choices and various outcomes. Some will affect karma, some will give currency - we'll let you discover them and add them to the Wiki soon.

We'll be adding in more of these from time to time. Perhaps it will inspire you to do something a little extra for our planet. <3

New Combo Base!
A new combo base is now available to be bred during special circumstances!
Ember is a Golden Dark Countershaded Special
base that can be bred from now on year-round from the following factor bases:
Factor 1:
Blazing, Fiery
Factor 2:
Flint, Pewter
You'll need to breed a Factor 1 base to a Factor 2 base in order to have a chance of breeding Ember. Obviously, breeding any factor base to Ember, or even breeding Ember x Ember, will also have a chance to produce Ember. Ember Ember Ember.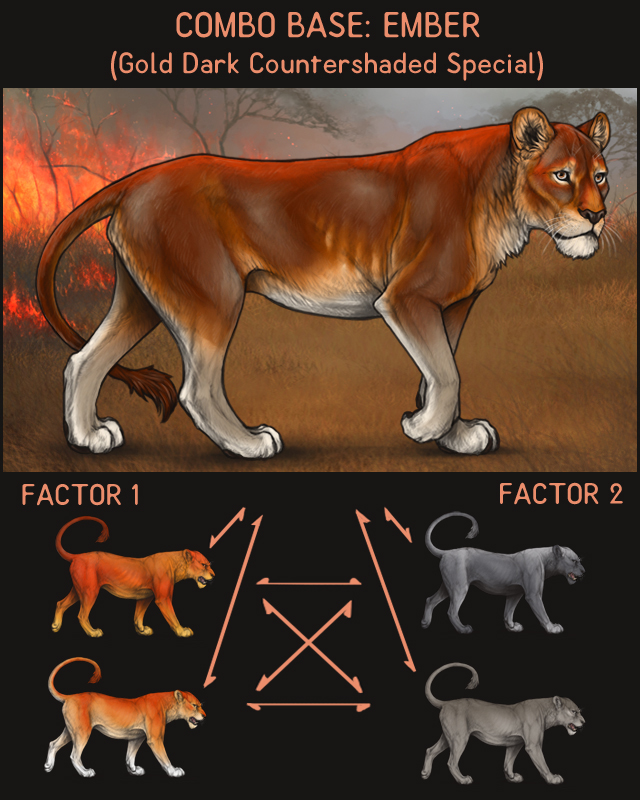 August Shops Update
The following items have been added into the August shops.

Hanging Human Skeleton
The Destroyers

Flaming Tail
The Destroyers

Flaming Mane
The Destroyers

Rhim Gazelle
The Preservers

New Serengeti Shuffle Prizes
Serengeti Shuffle has four new rewards available now within the highest prize tier, shuffling straight in from Madagascar!

Greater Vasa Parrot
Serengeti Shuffle 4444+

Ring-Tailed Mongoose
Serengeti Shuffle 4444+

Subantarctic Fur Seal
Serengeti Shuffle 4444+

Bundle of Lovebirds [Grey-Headed]
Serengeti Shuffle 4444+

Art Updates and Art Fixes
- Dwarf Cub Stage is now fully updated - 515 files were added!
- Maneater Mane [Classic] for good pose - wrong stage file
- Maneater Mane [All] for evil pose - unintentional transparency
- Crown of Horns [Red] for cub newborn - file missing
- Body Paint: Bone for Adult Savage - lowered opacity
- Black Crested Mangabey on teen female - wrong stage file
- Bone Growth [Head] for snarky pose - file missing
- Albino Hyena Pelt for Blade, Hellraiser, Pariah, Razor, and Royal mane - mane clipping
- Body Paint: Ribbed for Regent mane - wrong mane file
- African Flower Ornaments [ALL] - incorrect clipping
- Aging Serval for Jolly pose - missing file
- Black Heron Feathers for Blade mane - missing file
- Changed Amdusias decor to be layered Above per vote polls

Art Resources
Art Style Tutorial Thread -
LINK
had an update:
Flowering Umzimbeet
-
NEW!
Murex Shells
-
NEW!
Ferus Shaman Encounter
-
NEW!
Hen Mask - Step by Step
-
NEW!
Powderpuff Tree and Red Knot
-
NEW!
V'Kai encounter
-
NEW!
V'Kai story picture progress steps
-
NEW!
Vash fight encounter progress steps
-
NEW!
African Rock Python Decor
-
NEW!
Fighting Lions encounter
-
NEW!
BG - Lioness in a shade Step by Step
-
NEW!
Queen Sago Step by Step
-
NEW!
Hanging Human Skeleton
-
NEW!
Demiurge designs
-
NEW!
Whew! It's growing big :D
Brush Thread
- LINK
had an update:
The brush pack was updated with new environmental brushes Xy made last year.
Also, Teke (#87476) was amazing enough to prepare a Procreate version of brush pack from 2018!

Small Reptile Roundup Update
Reptile roundup has received a nifty new
Smooth Rendering
option. It will not affect all players, but for anyone who has noticed that Reptile Roundup looks a bit jagged, this
Smooth Rendering
option should fix those pointy edges for you!
With Smooth Rendering
Without Smooth Rendering

Official Art Sale and Reverse Breeding System Update
The threads for these systems have been locked! We'll take some time to review everything that has been proposed and suggested. While we cannot provide an ETA, we hope to have functioning official systems for them soon. Thank you all for your amazing feedback and insight!

Raffle Lioness
Congrats Mealz On Wheelz (#62485)! You have won last week's Sepia lady, woo!
A new Citrine lady with Tangor Rogue, Feline 3 Silky, and the tenth Mount Kilimanjaro background is up for impressing in the
Special Lioness area linked here
!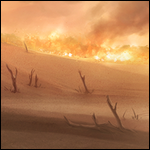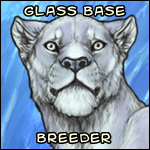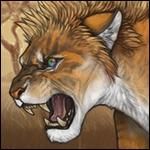 Tags!
Shad has added new tags this week in the
August
,
Breeding
, and
Miscellaneous
categories!
Poll Results
- Oh I see you really enjoy the minigame! You should play some Darude Sandstorm as you jump, totally!
NEW POLL
- Would you guys like a new marking colour that's darker than Onyx?

Keep in mind that the linearts on Lioden are quite light, and we can't go *too* dark without it looking odd.

Next Update: Community Update - August 16th!
Next big Update: September 13th!!
As usual, we greatly appreciate all suggestions from the community. Thank you for helping us improve the game to make your experiences more exciting every month!