My avatar was made by Conure (#191895). If you like the style, they're doing commissions here https://www.lioden.com/topic.php?id=304429384230
About me:
Hi! You can call me Chaos or Kitty (Kitty is my fursona)! My pronouns, in order of least to most liked, are they/them/she/her/it/its/he/his. I'm 3 hours ahead of lioden time. My current plot is to make nimravus the most valuable marking on lioden! I'll settle for it being popular, though. If you want to help me with my goal, think nimravus is pretty, or just want me to shut up about how much I love this marking, join my clan here: https://www.lioden.com/clan.php?id=2779 ! Okay, fine joining it probably wont help with the last one. But its a cool clan, planning to do some giveaways and stuff.
if you stud to one of my girls and don't like the cubs, I will take the cubs back! I will even buy them if I like them enough, so just shoot me a pm if you want to chase them.
https://www.lioden.com/topic.php?id=304429414375 check out my art shop!
I have a birthday giveaway thread! If you want something for your birthday, i can get it for you! Come check it out! https://www.lioden.com/topic.php?id=304429412889&page=2
Come visit me on Wolvden! I dont bite. Usually. https://www.wolvden.com/den/8940
note: any mods/admins can leave stuff here if they want i dont mind
Have a cub you don't want? Especially a female one? Or a lioness? I'll take them, especially if your giving them away for free.
I mostly breed for beauty, so my lions may not be valuable but i think they are pretty. If there is one you want and its not for sale, DM me and maybe i will sell her.
Current Goals: Breed a mut, get enough meteorite shards to get a demiurge app, and get 5000sb for the Interstellar Quest, get 2 cub sex changers for the 2 cubs labled "sex change"
Progress:
Mut: 0/1 bred
Cub Sex Changers: 0/2
Also i am participating in the trick or treat! a bunch of my bags will come with a rare or uncommon based lioness. if you have a problem with this please tell me. They are add ons so the goodiebags can stand alone.
insert text
Repost if...
-You always hear your name even when if it's not being called.
-You hate hearing your voice in recordings.
-You use the word "thingy" when you can't remember what something is called.
-You pretend you're writing in class so the teacher won't call on you.
-You say the entire alphabet because you can't remember what letter comes next.
-You and your best friend can say one word and crack up.
-You hate it when one of your hoodie strings is longer than the other.
-You hate it when someone thinks you like someone when you clearly don't.
-You hate it when your favorite song comes on as you pull in the driveway.
-You feel like if you turn on the lights, you'll be safe from anything.
-You push those little buttons on the lids of fast-food drinks.
insert text
Oath of the Warrior
I'll remember Cinderheart...When I'm torn between two paths
I'll remember Cinderpelt...When I see someone risk something for another
I'll remember the kits... Whenever I am overjoyed
I'll remember Breezepelt... Whenever I feel unloved
I'll remember Brightheart...When I see a scar one someone's face
I will think of WindClan...Every time I win a race.
I'll remember Goosefeather...When nobody believes me
I'll remember Heathertail...When someone wants to be 'just friends'
I will think of StarClan...When I am near the end
I'll remember Leafpool...When I must follow my heart
I'll remember Hollyleaf...If I ever fall apart
I'll remember Bramblestar...When I must prove myself.
I'll remember Spottedleaf...When I'm suffering from bad health
I'll remember Lionblaze...When I am feeling strong
I'll remember Tigerstar...If I choose the path that's wrong
I'll remember Dovewing...When I hear of something far away
I'll remember Cloudtail...When a kitten catches their first prey
I'll remember Feathertail...Whenever I must be brave
I'll remember The Tribe...When I'm in a cave
I'll remember Ashfur...When somebody breaks my heart
I'll remember Bluestar...Whenever I lose faith
I'll remember Ivypool...When I try to be the best
I'll remember Firestar...When my loyalty's put to the test
I'll remember the many battles...When I see conflict or strife
I'll remember Yellowfang...When i'm accused of something i didn't do
I'll remember Scourge... When someones teased for being tiny
I'll remember Barley... For when me and my siblings are far apart
I'll remember Silverstream... For when i see a young mother
I'll remember Mothflight... For when i find it hard to believe
I'll remember Midnight... Whenever i'm at sea
I'll remember Crookedstar... Whenever someone abandons me
I'll remember Ravenpaw... When i have to flee
I'll remember Jayfeather... When i have a strange dream
I'll remember Longtail... When i can see no more
I'll remember Darkstripe... When someone holds a grudge
I promise to remember all of these cats...For the rest of my life
insert text
FRIENDS: Never ask for food.
BEST FRIENDS Are the reasons you have no food.
FRIENDS: Call your parents Mr/Mrs
BEST FRIENDS: Call your parent's DAD/MOM
FRIENDS: Bail you out of jail and tell you what you did was wrong.
BEST FRIENDS: Would sit next to you saying "Dang ... we messed up! "
FRIENDS: Never seen you cry.
BEST FRIENDS: Have a wet shoulder from your tears
FRIENDS: Borrow your stuff for a few days then give it back
BEST FRIENDS: Keep your stuff so long they forget it's yours.
FRIENDS: Know a few things about you.
BEST FRIENDS: Could write a book about you with direct quotes from you.
FRIENDS: Will leave you behind if that is what the crowd is doing.
BEST FRIENDS: Will kick the whole crowd that left you.
FRIENDS: Would knock on your front door.
BEST FRIENDS: Walk right in and say "I'M HOME!"
FRIENDS: Will talk meanly to the person who talks meanly about you.
BEST FRIENDS: Will knock them out.
FRIENDS: Will read this.
BEST FRIENDS: Will steal this, and put this on their page
insert text
♥Spread Awareness♥
It ends with you.
That "gay boy" you punched in the hall today? He just committed suicide.
The girl you laughed at because she had no hair? She survived cancer and will always be stronger than you.
That boy you called lame? He has to work every night to support his family.
That girl you pushed down the stairs? She's abused enough at home.
The old man you made fun of because of the ugly scars? He fought for his country.
The girl you called fat? She's starving herself.
The boy you made fun of for crying? His mother just died.
The girl you called ugly? She hopes beyond hope that people will like her.
You think you know these people, but you don't.
Re-post this if you are against bullying. I bet 99% of you won't, but the 1% with a heart will.
-From lionlover #17056
You are serious and quiet, interested in security and peaceful living. You are extremely thorough, responsible, and dependable. You have well-developed powers of concentration and you are usually interested in supporting and promoting traditions and establishments. You are well-organized and hard working, and work steadily towards identified goals. You can usually accomplish any task once you have set your mind to it.
Your rainbow is strongly shaded
red.
What is says about you: You are a passionate person. You appreciate energetic people. You get bored easily and want friends who will keep up with you.
Find the colors of your rainbow at spacefem.com.
What Warrior Cat Are You?
Hosted By theOtaku.com:
Anime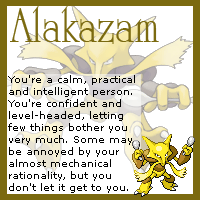 ♡︎ ♡︎



Art of my characters: (art that was bought on lioden)

Quasar (pink and black 'yena):



by Lux#220998 on Lioden