I WILL NOT BE ON VERY OFTEN. Might (aka most likely will) eventually stop rolling over, no idea when I'll be back, so pls don't send any stud requests, they'll just sit there. Uuuuuh some know where I'm gonna be (only one, I'm pretty sure XD) there's also no way to contact me XD I don't use discord even tho I have it, if you're wondering. RP's I'm in? Just ignore my OC's or smt.
















CSS by Cami







ÖMņ̃ HÄßȆ VÖÇ̧





My pride is dedicated to my very first turtle, Scratch.
Pronouns: She/Her
1 Hour ahead of Lioden Time (2 as its daylight savings time right now)

As a ton of people know, i love dwarves and im hoping to breed my own. Any Buffalo scrotums, lion scrotums, great tits, grain of paradises would be greatly apreciated. Any amount of sb and gbs would be helpful too as i do want to breed some combo bases and other muts. Thanks for reading that :)


Goals:
Wishlist:
[ ] Breed Snowflake base
[X] Breed any Primal
[X] Own any Piebald/patches
[X] King a Mutie
[ ] Breed a Black Rose base
[X] get 5 muties (1-10-2021)
[X] Get 20 muts (4-10-2021)
[X] Breed my own dwarf (Feb. 21, 2021)
[X] Have 5 dwarves (some time in February 2021)
[X] Get 10 dwarfies (4-18-2021)
[X] Give away a dwarf/hybrid

PEEK MUT COUNTS
Total Mutations: 26
Piebalds: 3
Dwarves: 10 (1 frozen, 6 bred from me, 3 bought)
Hybrids: 4 (1 pon, 3 gon)

Muts given away:
1 Folded ear [Female]
2 Dwarf [Frozen (Through giveaway), Alive (victim of begging)
-Decor
-BGs
-SB
-GB
-Apps
-Breeding Items (Pennyroyal, CRB, lion meat, buffies, lion scrotes, ect.)
-White lion pelt
-Lion skull
-Crafting Items (Gems, rotting log, ect)



Some things about me! (恩典)

-I have 4 cute lil red eared sliders
-I love drawing and is currently improving my digital drawing skill
-I love animals, any, but i do hate spiders, i cant stand them
-I really really really really really like cats, theyre just sooooo cute, my fav species would probably be the Maine Coo
-I like to rp, but im not the best XD


Now for some random stuff-
♥Spread Awareness♥
It ends with you.
That "gay boy" you punched in the hall today? He just committed suicide.
The girl you laughed at because she had no hair? She survived cancer and will always be stronger than you.
That boy you called lame? He has to work every night to support his family.
That girl you pushed down the stairs? She's abused enough at home.
The old man you made fun of because of the ugly scars? He fought for his country.
The girl you called fat? She's starving herself.
The boy you made fun of for crying? His mother just died.
The girl you called ugly? She hopes beyond hope that people will like her.
You think you know these people, but you don't.
Re-post this if you are against bullying. I bet 99% of you won't, but the 1% with a heart will.
-From lionlover #17056

You overcome my doubt
Your hands are reaching out
You hold me through the storm
And I will fear no more
(Fear No More, Building 429)

We are almost home
Brother, it won't be long
Soon all your burdens will be gone
With all your strength
Sister, run wild, run free
Hold up your head
Keep pressing on
We are almost home
(Almost Home, MercyMe)

Walls I built
Opinions I learned
Covered in the ashes of bridges I burned
Blind to the arrow that headed to my heart
But You hit the mark
(Love Broke Thru, TobyMac)

Together we are dangerous
Together with our differences
Together we are bolder, braver, stronger
(Together, For King and Country)




Feel free to pm me! im always up for a conversation!
SHOUTOUT TO:

Spottedbread (223433) thanks for letting me vent in your dms!
Reaper (113314) how much have you lent me now? smh
Coldfang (185778) thank you for giving me a turritopsis jellyfish to freeze my 13 year old dwarf!
Snowden (225242) very very grateful that you helped me buy my first dwarf!
ɮօօɮɛʀʀʏɮ (15766) thank you VERY much for helping to answer my questions about Lioden, you are a wonderful mentor!
Angel||Dash24601 Main (169351) will never forget that you gave me my first patches!
Cal<3|Pie hoarderu asked me to add u.... but.... thanks for just rping with me (im running out of stuff to say lmao)






Wolf
Your Spirit animal is a Wolf! Wolves are beautiful and mysterious creatures that have often been misunderstood and represented negatively, although in Native American culture they are considered to be a very spiritual totem animal with much to teach us. Wolves are full of stamina, often running for long periods at a time and so represent being tenacious, and perseverance.

Wolves are very family orientated, but yet do manage to preserve some individuality. If the wolf is your spirit animal then do look at your home/work/friends balance, as if it is out of kilter, learning from the wolf will help you correct this.

Wolves are very intelligent, reminding us to think before we speak and act. Those with the wolf as their spirit animal are likely to find themselves drawn to spiritual or metaphysical paths.

Wolves can be a bit uncertain and shy at times and this can lead to a lack of confidence, and so the wolf may have lessons for you about needing to trust yourself. Wolves are very territorial, and this can play out in people as getting angry when you feel someone has crossed a line, which in relationships can be interpreted as aggressive or possessive, so the wolf as a totem animal can also be there to encourage us to let go and not take things so personally.

Like all animals, the wolf represents both negative and positive qualities. In the view of the Native Americans we can learn from our spirit animal by studying both types of qualities and striving to improve further at the positive ones and avoid the negative ones.

Positive Traits: Intelligent, Family Orientated, Ability to not give up, Spiritual, Loyalty
Negative Traits: Vague, Unsure, Shy, Territorial, Can appear aggressive
Your rainbow is intensely shaded black, brown, and blue.



What is says about you: You are a tranquil person. You appreciate mystery. You may meet people who are afraid of you. You feel closer to people when you understand their imperfections.

Find the colors of your rainbow at spacefem.com.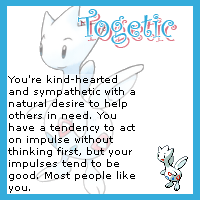 Which Big Cat Are You?
I got Black Panther - Which Big Cat Are You?
You are quiet, serious, sensitive and kind. You do not like conflict, and are not likely to do things which may generate conflict. You are loyal and faithful. You have extremely well-developed senses, and aesthetic appreciation for beauty. You are not interested in leading or controlling others. You are very flexible and open-minded. You are original and creative. You enjoy the present moment.
Click Here to Take This Quiz
Brought to you by YouThink.com quizzes and personality tests.






IF I DONT RESPOND, THEN IM ON MY SIDE ACC, SIDE ACC
Feel free to pm me any time you want. Im not gonna bite, I promise and I accept all friend requests, most of the time I'll send a dm to u after u send the request.
Check out my trades -
CLICK


you are lightcyan
#E0FFFF
Your dominant hues are green and blue. You're smart and you know it, and want to use your power to help people and relate to others. Even though you tend to battle with yourself, you solve other people's conflicts well.

Your saturation level is very low - you have better things to do than jump headfirst into every little project. You make sure your actions are going to really accomplish something before you start because you hate wasting energy making everyone else think you're working.

Your outlook on life is very bright. You are sunny and optimistic about life and others find it very encouraging, but remember to tone it down if you sense irritation.
the spacefem.com html color quiz




Name: Evil of Cuteness

Adopt one yourself! @Pokémon Orphanage


Pet's name: Luna
Adopt virtual pets at Chicken Smoothie!



Pet's name: Nostalgia
Adopt virtual pets at Chicken Smoothie!




glitter-graphics.com



Personal notes:
get reaper 8 gb


You were born during a Full moon



- what it says about you -




You've spent your life in the middle of things, whether it's between people who oppose each other, ideas that oppose each other, or places that are very different. You're very aware of perspectives outside the norm and good at anticipating how different people will see a situation. You value second opinions, because they give you a feeling of balance. You don't have a single group of friends and the people you spend time with may not have a lot in common with each other.

What phase was the moon at on your birthday? Find out at Spacefem.com
This territory has 6 lion(s) that may leave soon due to their low moods or starvation!