[ Support My Other Suggestions? ]
Making Sub Males More Useful
Make Grandpaws How They Were Meant to Be
-------
✪ Summary:
Shaman Piety is an extremely limited currency. Unlike almost every other quest in every Lioden event - potentially *every* other quest - Shaman Quests cannot be properly skipped without detriment to the player. Other quests allow you to skip a quest if it proves too hard. You pay an event beetle fee or SB to be given a new, random quest and you move on with life.
Not so with Shamans. If you skip a quest, you permanently lose a quest for the day. And if you get multiple quests you can't complete, well you're out of luck.
With the sheer amount of new encounters being added to the game constantly - both event and normal encounters - it continuously weighs the RNG odds of getting the correct encounter AGAINST the player. There is also a very incredibly obvious mechanic in place that makes certain encounters - if not all - harder to find if the quest seeking it is active.
After 6 or 7 energy bars, you should have found your quest encounter by now, but that's not the case. But after skipping the quest, miraculously, what you were looking for shows up.
Frankly, this is getting absurd.
✪ What I Am Proposing:
[+] Add a Scarab Beetle 're-roll quest' option instead of a total skip.
[+] DO NOT give players the same quest they just skipped.
I'm suggesting this amount be 10 Scarab Beetles. This month gives low currency drops and if you repeatedly get a quest you can't do, it'll be pricy, but at least you won't be locked out of quests entirely because it continues to ask you to look for that dumb cow or those humans you haven't seen even once since the event started.
You get 2-3 Piety per quest, and the big ticket Piety rewards for many players are Ancestral Markings. It takes thirty (30) to apply a single marking. That's 5-ish days worth of work assuming you can even complete every quest. If you can only complete 2, it stretches into 10 days.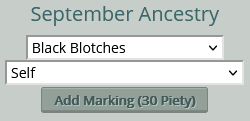 Edit Log:
[ ADDED] 11/23/2020: DO NOT give players the same quest they just skipped.
Since there is an issue with multiple quests through the game already doing this, I'm politely requesting that if this change is implemented, it doesn't give players the same quest they skipped.
If you don't support, I'd like to know why. I appreciate constructive criticism over a simple "no".